Media Watch
1
The Guardian: The quietly magnificent John Stones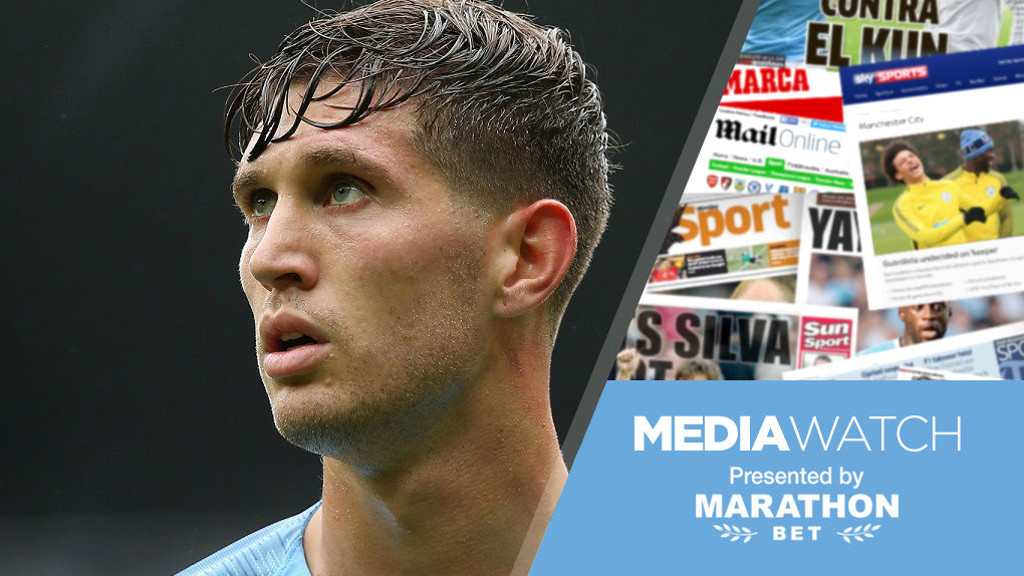 There is some great coverage of the Blues in today's media round-up.
We've a fantastic piece on John Stones, words from Ederson, Fernandinho, Benjamin Mendy and an insightful interview with City youngster Matthew Smith as the dust settles on Sunday's Manchester derby,
READ: Was the 44-pass Manchester derby goal the best yet?
READ: Talking Points: United reflection
Let's kick off with The Guardian's Barney Ronay and his excellent and well-deserved focus on John Stones who he calls 'quietly magnificent'.
Ronay suggests Stones' form is perhaps going unnoticed by the wider populace, claiming that people only talk about the City defender when they want to highlight an error – and adds that's why he hasn't been mentioned very much this season.
He writes: "What does it mean? Does it mean anything? There are of course caveats in any such run. City have become a steamrollering domestic force. This is above all a genuine team, to the extent you could prop up a stained-mahogany Victorian hat-stand in the middle of that defence most weekends and it might have a fair chance of making the Premier League team of the season on the bare numbers alone.
"For all that, Stones was quietly magnificent against United – all long striding authority, aggressive when required, and with a familiar calmness on the ball. Twice in the second half he carried the ball out of defence and feinted and weaved past three United players, an ease in possession that instantly shifts the shape of the game, allows his team to re-gear itself, to take a breath, to retake its starting positions."
Well worth a read in full as there's plenty more and it's all spot-on.
In the Express, Ederson has told the Blues' title rivals what they least wanted to hear – that City haven't even shifted into top gear yet.
Says our unflappable Brazilian: 'Absolutely we can be better. Pep Guardiola is in his third season here, it's my second, and I can see the team has a deeper understanding of his ideas.
'If we keep going like this, we can achieve a lot in the future. We played a great game and [gained] a deserved win against United.
'We were way better than they were and if we had pushed more we could have got a larger result.'
In the same article, Fernandinho admits he is conserving energy as and when he can to ensure he keeps the same Rolls Royce form we've seen this campaign.
He says: 'I've started that way of saving a little today to gain tomorrow. "So, every 10 or 15 minutes off [the field] now can make me have a longer career.
'That substitution (against Shakhtar) was a conscious decision looking for the weekend game against Manchester United.
'I know the club haven't bought a player for my position, so they try to shield me as much as possible. When you are 33, you have to be more careful.'
Meanwhile, in The National, Benjamin Mendy has revealed the half-time chat against the Reds that ensured the Blues remained on course for victory.
It reads: "Pep Guardiola's side beat Manchester United 3-1 on Sunday and were a goal up through David Silva at the interval.
"But left-back Mendy said that they were conscious of their previous meeting in April, when Jose Mourinho's team trailed 2-0 after 45 minutes and recovered to win the game, and eager to avert a sequel.
'In the dressing room at half time we had spoken about what happened in the derby last year, and we were telling each other not to let that happen again,' said the France international.
'We remember it went 2-1, 2-2, 2-3, so we had to stay focused, keep trying to play and make chances. Every player was saying the same thing: "OK, guys, don't do the same as last year; be careful; pay attention." So, when we came back on the pitch, we played better than the first half, so won the derby.
'Kun [Aguero] scored and then Gundogan and it was perfect. We stayed focused. We know it was a derby, and for the fans, and for us, the team and the city it's very important.'
The City striker who had the lot...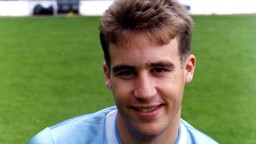 We'll round off today with a nice feature on BBC Sport on our young Welsh star Matthew Smith.

Smith has been quietly going about his business while on loan with FC Twente – and as a fully-fledged Wales international.
Rob Philips writes: "Wales international Matthew Smith is the gift who keeps on giving.
"The Manchester City teenager has already made a mark with Wales and has made a huge impression on loan at Dutch Club FC Twente.
"FC Twente technical director Ted van Leeuwen said: 'Matthew is a gift... I called him a present from Manchester City to us.'
"In return, Smith is unwrapping his potential.
"He has already become a firm favourite at FC Twente who, as former champions, were relegated last season and are looking for an immediate return to the Dutch top-flight.
"Van Leeuwen said: 'Actually it's a league that if you want to go up - like in all second leagues - you do that with 28 to 30-year-olds.
'Matthew was 18 when he arrived, but he plays like a very mature player. His impact has been very, very big.'
Further on, we hear from Smith himself, who says: 'In some countries they want to buy young players to play them. It is nice to stay in England and play first-team football, but it's getting a lot harder now just because the levels of the leagues are getting higher.
'When I first thought about the move I did have my doubts about it.
'But then I look at the players who have done well abroad, Mason Mount (of Derby County) went to Vitesse Arnhem and did well, so I just kind of went with it.
'Now I am in the Wales squad, playing first-team football. I feel if I wasn't it would be a lot more difficult for me to get in the squads.'
Good stuff.
And that's all for today. More of the same tomorrow…