Media Watch
1
Media: Sterling praise and derby predictions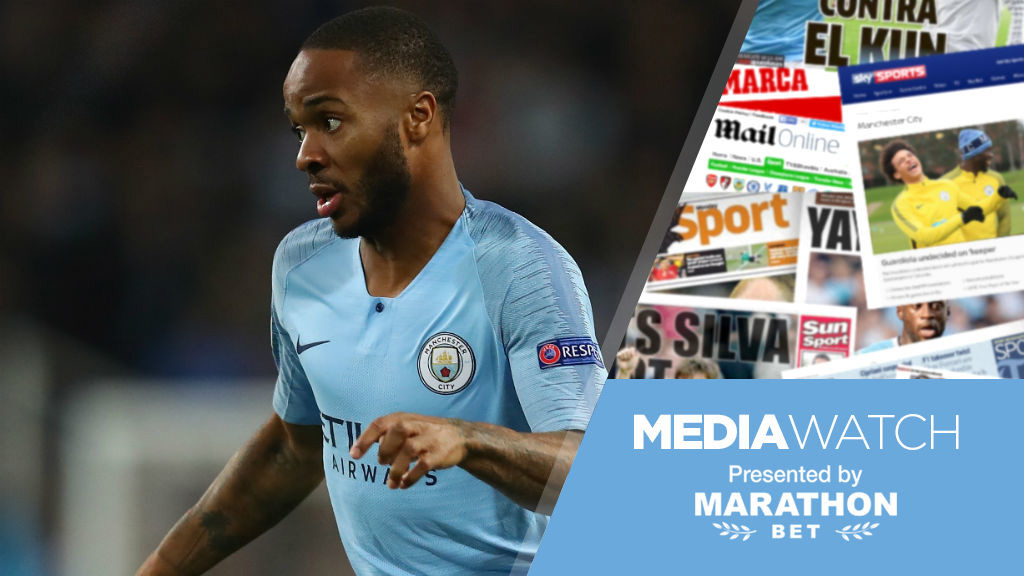 MEDIA WATCH: It's your Saturday media round-up!
It's your Saturday media round-up!
In this morning's media watch, there are plaudits for Raheem Sterling after signing his new contract, a word from a former player and a sprinkling of derby day predictions.
READ: City v United | Team news update
WATCH: David Silva | 'United's respect for us is huge'
GALLERY: City prepare for United
First up, we begin with Raheem, who just signed a three-year contract extension with us.
A comment piece in the Telegraph states that the derby is a perfect opportunity to show our near neighbours just how much our forward has improved under Pep Guardiola.
"There has been a massive improvement in productivity under Guardiola, but what is most exciting is the potential for more," Jamie Carragher writes. "Pep will not stop demanding. Despite his improving goal record, he can score more.
"Sunday is an opportunity for Raheem to show United how much he has improved. If City win they will already have 10 from a possible 12 points against their biggest rivals, well advanced in their title defence.
"He is pivotal member of what is potentially the greatest Premier League team ever – and already is in terms of points accumulated to win a title.
"Just as significantly, he represents everything we want in our best young England players; technically gifted, focused, ambitious, hungry to learn and very intelligent tactically. He is precisely the type of player we have previously stated English academies do not produce. He is the perfect example for this and the next generation."
Next, we hear from former City midfielder Georgi Kinkladzi, who explains in a recent interview why he'd love to have played with our current squad.

"I am blessed to have come to England and played football,' Kinkladze told the Daily Mail. "So I would change nothing. But sometimes I see the way City play and think it would have suited me.
"It is like a team on a PlayStation, isn't it? Silva to Sterling to De Bruyne. Boom, boom, boom.
"If I had the ball now, I could pass it to Aguero without even having to look up. I know it. But every skilful player thinks they could play in this Guardiola team. It's not that easy.
"You would have to play at 100 per cent every game. Even Messi — if he didn't play well — would be on the bench."
Now we turn our attention to tomorrow's big game as we take on United in the 177th Manchester derby.
The predictions from the media are in and one of the pundits eye a big win for us.
Firstly, Mark Lawrenson predicts a draw in his BBC column, while his WWE prediction opponents for the week see us getting the win.

The broadcaster scribes: "The way Jose Mourinho's side have been fighting back in games recently is like the United of old. Even if you have got a lead against them, you know they are going to come back.
"City's fans might turn up at Etihad Stadium thinking they have done Southampton and Shakhtar for six, and now they will take United - but football is rarely that simple.
"On a similar note, United fans might be optimistic because of their win at the Etihad towards the end of last season, but I don't see that happening again.
"I don't see City winning either, though. I usually always fancy them so much to win at home, but with United being so resilient, I am going to go for a draw. 1-1."
WWE star Dolph Ziggler predicts a victory for the Blues.
"I have got to go with the team that I have actually talked to and hung out with and thought they were great, so I am going to stick with Manchester City - although it is going to be a close one. 3-2."

We move on to Sky Sports' predictions now, and Paul Merson sees us securing the three points in style on Sunday.
"United have big problems at centre back" Merson writes. "If United start like they did against Bournemouth, then the game will be over inside 15 minutes.
"It wouldn't surprise me if City win this 5-0, but this is Jose Mourinho, who always turns up in the big games. He'll have a plan to keep United in the game.
"City will be nervous despite United being the bigger club. The pressure is on City as they are expected to win. I think they will. 3-1."
That's all for today's media watch but we will be back with all the latest news and gossip on derby day morning!