Media Watch
1
Southgate: Delph is an outstanding player
MEDIA WATCH: Your Thursday round-up!
It's your Thursday media round-up!
Plenty of praise for a whole host of our players, a word from Wayne Rooney on our boss and Gareth Southgate reveals why Fabian Delph has been named as England captain in today's media watch…
READ: Panel | Goal of the Season so far
READ: Mendy injury update
First up, we take a look at an opinion piece in the Manchester Evening News, as journalist Simon Bajkowski can't pick just one stand out City star this season.
Bajkowski writes: "Manchester City have showed the strength of a team game in the Premier League this season, with no individual greater than the collective.
"It is almost impossible to agree on one standout player from the campaign so far because so many have done their jobs so well.
"Fernandinho has glued defence and attack with relentless energy, David Silva continues to sparkle, Bernardo Silva has helped make up for the loss of Kevin De Bruyne , Sergio Aguero and Raheem Sterling have led the forward line while Aymeric Laporte has been a rock at the back."
Next, we turn our attention towards the current international action.

Four of our City players are currently away on international duty with England, with the Three Lions taking on USA tonight.
Wayne Rooney is set to return to the squad to earn his 120th cap, and the DC United believes that Pep Guardiola has helped to improve young players.
Speaking to Sky Sports, Rooney said: "Maybe if we had those players in this era, when there does seem to be a lot more coaching, a lot more intelligence in terms of how the teams are prepared and set up, I think a lot of coaches, the likes of Guardiola and Klopp coming into the Premier League, are helping a lot of our young players.
The City striker who had the lot...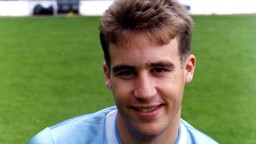 "I know there is a debate over foreign managers in the Premier League but I believe what they're doing for the likes of Raheem Sterling, Kyle Walker, players like that, has given them a massive amount of knowledge of how to play the game. It's my turn to go and watch as a fan now and try to enjoy it that way."

It was announced yesterday that Delph would captain England in their upcoming match, and Southgate has explained exactly why he is the right fit.
"Fabian is captaining his country for the first time and it is brilliant reward for him. He is an outstanding player and outstanding person," Southgate explained in his press conference, as quoted by the Metro. "He is a huge leader within our group and I have really enjoyed working with him.

"You don't give the England captaincy to someone unless they really have the attributes you think can carry it and he has those outstanding attributes.
"He had a huge influence on the group all through the summer. He was one of the big reasons we were successful.
"When you have people who give all of themselves even when they're not in the starting team, then that's why you have successful teams. So a big night for a lot of players."
That's all for today's media watch, but we will be back tomorrow morning with all the latest City news and gossip from the back pages!