Media Watch
1
Media credits 'world class' Sterling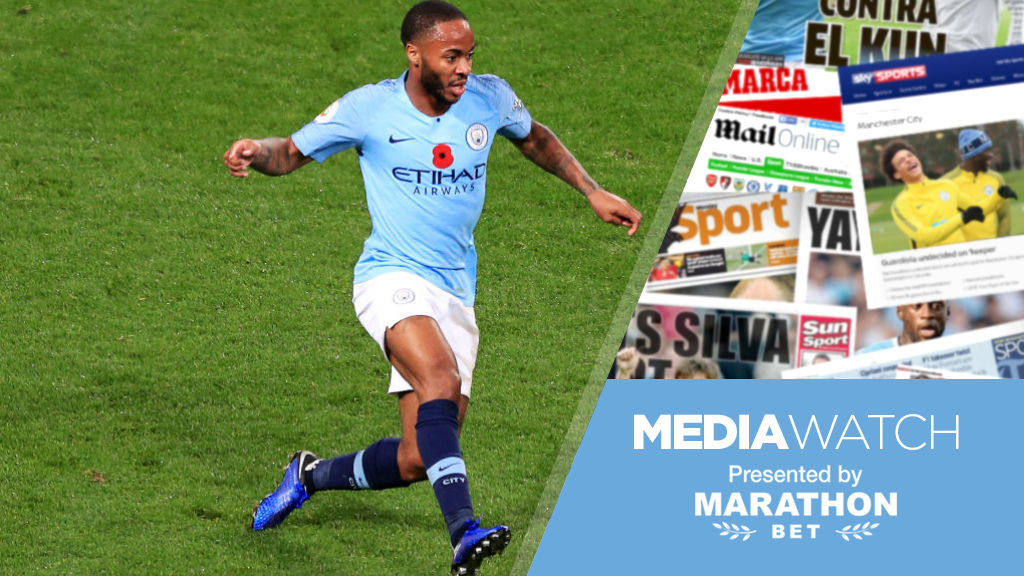 MEDIA WATCH: Your Sunday round-up!
More praise for Raheem Sterling, a word on a club legend and a dose of transfer speculation feature in your Sunday media round-up…
As the international break is in full swing and we eagerly await the return of our Blues, we take a look at what the recent back pages have been saying about City.
First up, Sterling!
With Raheem away with England, ESPN have some very kind words for our winger, stating that his form "makes a mockery of expectations".
READ: City Social | Derby delight, #Steph100 and #PARKLIFE
WATCH: Inside City | Manchester Derby Special
GALLERY: Best of the action | City 3-1 United
Nick Ames writes: "Pick any statistic and it will impress you: His combined number of goals and assists, 11, sits only behind that of his teammate Sergio Aguero. His number of expected goals and assists is, in fact, eight - but Sterling is in the kind of form that makes a mockery of expectations.
"Nobody in the division has made more "second assists" (the key pass before an assist) than his five, and Mohamed Salah is the only player to have touched the ball more inside opponents' penalty boxes. Sterling oozes danger and it is being matched by almost unerring productivity, too.
"This can hardly be described as a breakout season for Sterling, either; perhaps it's more a coming of age. Sterling has become the player who, ever since he was plucked by Liverpool from Queens Park Rangers at 15 years of age, most had hoped he would be, bearing a heavy weight of scrutiny and unfair attention in the process.
"The moment has come to credit him for being a world-class player and for those that know him, it was always a matter of time."
High praise for Raheem, indeed!

Next, we turn our attention to a former midfielder of ours, Georgi Kinkladze.
Ex-Blue Chris Greenacre recently told the Manchester Evening News how Kinkladze was the closest thing to Diego Maradona in terms of ability during his time at City.
"Georgi Kinkladze, oh my goodness! The things he could do were simply unbelievable," Greenacre explained to the MEN's Richard Fay.
"For those who don't know him, I'd probably say he was the nearest thing to Maradona in terms of his ability. He played with a low centre of gravity and that enabled him to shift his hips quite easily and fly past players."
"During training he would pass 3 or 4 players easily and leave us all amazed, and he was quite strong for his size (5'9"). The players and fans just loved him, his ability to make passes was just phenomenal. He's quite arguably the best I've ever been involved with."
Finally, we finish with a sprinkling of transfer gossip…

The latest from the back pages claim that "City are close to sealing a deal for Frenkie De Jong".
Steve Bates of The Mirror scribes: "Manchester City have blown the competition out of the water and are close to sealing a £61million deal for Ajax star Frenkie De Jong.
"The 21-year-old defensive midfielder is seen by City boss Pep Guardiola as the long-term replacement for Fernandinho, who is 34 in May.
"Barcelona and Tottenham have been tracking the young Dutchman for months but both clubs are believed to have accepted that De Jong is heading for the Etihad.
"De Jong's ability to quickly move the ball with speed and accuracy, his creative passing and mobility make him a natural fit for City who have advanced their plans to sign the Holland star in the summer."
Of course, we will always be the first to bring you any confirmed transfer news!
That's all for your Sunday media round-up, but we will be back tomorrow morning with all the latest City headlines from the back pages…