Media Watch
1
Gossip: Jorginho 'keen on City switch?'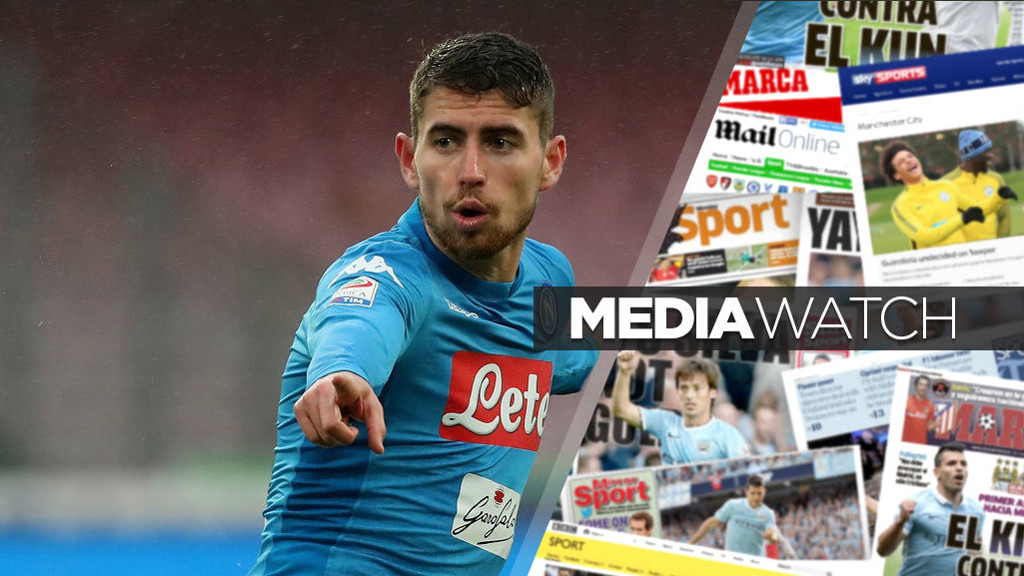 He's one of the best holding midfielder's in Europe and according to today's media, it is City Jorginho would choose to join if he leaves Napoli.
The Italian international has a long list of potential suitors after a stunning season with the Serie A club who would be understandably reluctant to sell one of their prize assets.
Sportskeeda rlaim, however, if the Blues can reach an amicable agreement with the player's club, a deal could be struck.
They report: "Italy international Jorginho is thought to be one of Pep Guardiola's prime transfer targets and the Napoli man is keen on joining Man City.
"Jorginho will join Manchester City if Napoli accept an offer, according to the Italy midfielder's agent.
"The 26-year-old has two years remaining on his contract at the Stadio San Paolo but his superb performances as Maurizio Sarri's side pushed Juventus in the Serie A title race have reportedly caught the eye of Pep Guardiola.
"City's manager told Sky Sports earlier this week he is in the market for two players this close-season – a deep-lying midfielder to replace the outgoing Yaya Toure and another forward.
"Jorginho fits the former bill and his representative Joao Santos says he would be keen on linking up with the Premier League champions.
Record breakers: Most Points
'At the moment, Jorginho is still under contract but if Napoli were to reach an agreement with City, the player will go to Manchester,' he said, as quoted by ESPN.

'Agreeing terms with the English club won't be a problem, given how big a club they are. But, like I say, it depends on Napoli now, considering the player is contracted to them for a further two years.'
Elsewhere, following the news the Pep Guardiola has agreed a new two-year extension to his current deal, fans of other Premier League clubs have been sighing wistfully, especially when the City boss claims there is more to come from his all-conquering side.
Football London write: "Not only did City finish a massive 19 points clear of bitter rivals Manchester United, they also broke the record for number of goals scored, most wins, biggest positive goal difference and became the first team in the competition's history to reach 100 points.
PEP GUARDIOLA: Boss signs two-year extension
"Having signed a three-year-deal upon arriving at the Etihad Stadium in the summer of 2016 Guardiola has gone on record stating that his stay in England won't be a long one.
"However, Tottenham Hotspur, Liverpool, Chelsea, Arsenal and Red Devils supporters won't be seeing the back of the 47-year-old anytime soon as he has plans to ensure his side get better next season.
'There is always more,' Guardiola told ESPN. 'You may think there isn't ... The players you coach are responsible for new ways of thinking and insights.
'Sometimes you discover things you previously didn't know, maybe pairing these two players will give you a good midfield movement, something like that.

'When I left Barcelona, I thought that my space to revolutionise was ended, but no. We have seen that there is always a way to do new things, especially because you have different players.'
Finally, Sergio Aguero says he is feeling fit and pain-free for the first time in five years after a successful knee operation.

City's all-time top goal-scorer also says there's no chance he'll ever link up in club football with best pal Lionel Messi.
The Express quote Sergio: 'Sincerely, before there was that possibility,' he said.
"It is now a question of age for both him and for me.
'He is going to stay at Barcelona, where he's playing well, and I'll do so at City.'
The report continues: "Aguero is currently trying to get himself fit for the World Cup after undergoing knee surgery.
"And he admits that he feels a lot better, adding: 'If I did not get the procedure done, I would've missed the World Cup.
'It's the first time in five years that I can flex my left knee well, without it hurting.'
Great news on all fronts. More gossip and rumour tomorrow.