Media Watch
1
Media Watch: Frank Lampard hails Yaya Toure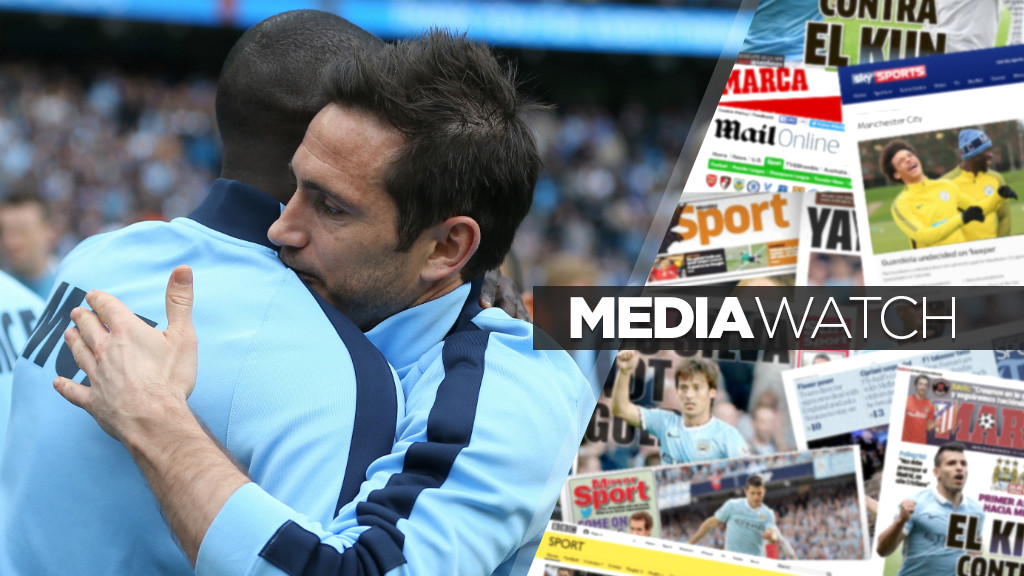 RESPECT: Two legends of the game - Yaya Toure and Frank Lampard
It's a busy day at City Football HQ, as we bid farewell to the past and look to the future.
With tonight's visit of Brighton and Hove Albion, the Etihad Stadium waves goodbye to the Premier League season and a true Club legend in Ivorian midfielder Yaya Toure. Meanwhile, we also welcome the dawning of a new home kit for the 2018/19 campaign, which will make its debut this evening.
With so much going on, there's plenty to discuss and the footballing world have been sharing their thoughts ahead of our final home clash of a remarkable season.
Former Blue Frank Lampard has paid tribute to former teammate Toure in an interview with the BBC, hailing the star a 'special' talent.
The Chelsea and England legend declared: "I would put Yaya Toure in the top five of the toughest midfield opponents I faced in my career, and at his peak he could change games on his own.
READ: Yaya Toure plaque unveiled at CFA
GALLERY: Yaya Toure's City career in pictures
"Every midfielder has different attributes but the best players are the ones you fear, and I certainly did that when I was up against Yaya.
"Even some of the very best play within themselves slightly, but he didn't. He would hurt you by going forward and by scoring goals at the end of it, which is always a great trait that not many midfield players have.
"When I faced him, I knew he was very good on the ball and could pass it around me if he wanted to. He knew the moments to keep it simple and move the ball around.
"But if you got too close to him to try to stop him doing that, he also had that ability to drive through midfield and his physical power and pace - which was deceptive because of his big stride - made it so difficult to stay with him.
"Yaya has played in so many positions but I preferred him as a deep-lying midfielder because he could do things there that others were not capable of.
"He controlled possession and set the tempo for the team - then he unloaded and went forward to create or score. I loved that because it made him different, and made him very difficult to mark.

"He has been a lot quieter this year but, in his first five or six seasons at Etihad Stadium, he was a big factor in the revolution of the club and signified the change that was happening there.
"The big players score big goals in big games and Yaya has always done that for City."
Elsewhere, there's also high praise for Kevin De Bruyne as Brighton boss Chris Hughton previews tonight's encounter.
Quoted on the Seagulls' official website, discussing the PFA Player of the Year Award, the manager states: "For me, De Bruyne is the more complete player.
"I think it's taken an exceptional season from Salah to win it [Player of the Season] ahead of De Bruyne.
READ: 2018/19 home kit unveiled
GALLERY: New home kit in focus
"The progress that De Bruyne has made over the last couple of seasons has been huge. He's a player that could play for any team in the world."
Hughton added he expects a backlash from the Champions, following Sunday's goalless draw with Huddersfield but asserts his side will not change their approach.
"What I wouldn't want to do is take anything away from Huddersfield and say that Manchester City were not at their best - that would be a disservice to a Huddersfield side who worked as hard as they did," he said.
"But it doesn't happen often. They showed what you have to do to have any chance of getting something.
"They normally bounce back, you don't expect them to lose or draw too many games, but our approach has to be exactly the same."

Brighton defender Bruno echoed his manager's sentiments, telling the official website: "It gives us belief – it was a surprising result because they've got a lot of top quality players, but that group also has a lot of people who'll be looking ahead to the World Cup as well.
"We need to have the desire and positivity within the game to compete as well, winning challenges and making sure we put in a good performance for the fans."
Finally, there's a snippet of transfer gossip as 101 Great Goals claim City are amongst four Clubs interested in starlet Matthijs De Ligt.
According to Ben Green: "De Telegraaf, the Dutch newspaper who are usually bang on the money with Ajax news, report on Wednesday that Raiola has told Ajax that De Ligt wants to leave this summer.
"De Telegraaf name four clubs as being in the mix to sign De Ligt: Bayern Munich, Spurs, Manchester City and Barcelona.
"There is a chance, according to the Dutch newspaper, that Ajax will fight to keep De Ligt in Amsterdam against his will.
"But, all of these sides will pay the going rate for De Ligt which we suspect will be around the 50 million euro mark."