Media Watch
1
Gossip: Barcelona legend to reunite with Pep?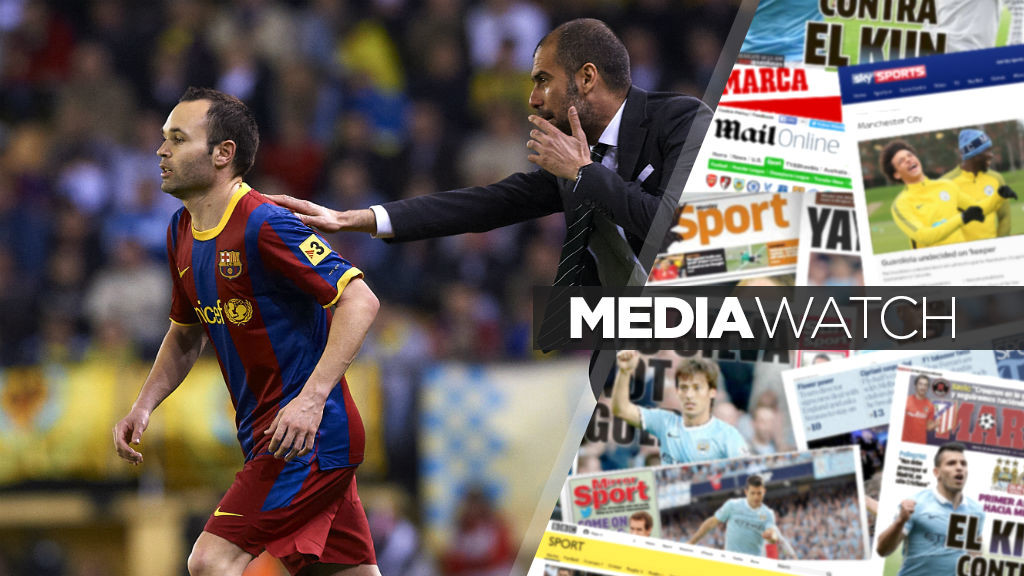 MEDIA WATCH: Your Sunday round-up!
Speculation around a new appointment in the City backroom, interest in a Crystal Palace star and a word from Steph Houghton ahead of the final FA WSL game of the season feature in today's media round-up…
It's that time of the year – where the season draws to a close and the transfer rumours start circulating and that's certainly true of today's back pages!
First up, Yahoo news claim that Barcelona superstar Andres Iniesta could be making the move to Manchester to undertake a player-coaching role at the club.
Sam Elliot writes: "Iniesta, 34, is considering a player-coach offer at the Premier League champions where he would link up with his former Nou Camp team-mate and manager Guardiola.
"A source told Yahoo Sport that club officials are in talks with Iniesta and the Spaniard is keen on a deal.
"Iniesta is on the of the most decorated players in football history. A World Cup and European Championships winner, he has also lifted eight La Liga titles as well four Champions Leagues.
"Originally, Iniesta said he would play on outside of Europe to avoiding risking playing against Barcelona. Moves to China or America were heavily touted.
"But with the chance of a coaching role at one of the world's most-high profile clubs, he has had his head turned."
More rumours now as The Sun have reported that Crystal Palace star, Wilfried Zaha, is on City's transfer radar.

The newspaper state that City have their eye on Zaha, but the Blues will face tough competition from the likes of Everton if they are to swoop.
READ: Record breakers - most wins
READ: From the archives - Mercer's blue-eyed champions
"Everton have joined the race to land Wilfried Zaha in a £60million deal," the newspaper claims. "The Crystal Palace forward is being tracked by Liverpool, Chelsea and Manchester City after his stunning season at Selhurst Park.
"But Palace have signalled that they are prepared to fight for the Ivory Coast international to stay.
"They are willing to offer fresh terms and want a new Premier League transfer fee for him to leave."
Finally, we turn our attention to the final FA Women's Super League game of the season.
The Blues head into Sunday's season finale against Everton in the knowledge a victory would secure Champions League football for the 2018/19 campaign.
With Nick Cushing's side having been unable to replicate the trophy successes of recent years, captain Steph Houghton has issued a rallying call for her teammates to secure a top-two finish with a similar performance to Wednesday's superb triumph over Yeovil to reward the fans' unwavering loyalty.
"On reflection, we haven't reached the levels we had expectations of," she told ManCity.com, "but that's not for a lack of hard work, effort or commitment.

"I really believe this group of players and staff have been committed to making all of our fans and our families proud.
"We have to make sure we enjoy the final game and thank the fans. We need to stick together as a team, working hard for each other and for the football club.
"Football is a funny game and things happen for reasons. We know we haven't played to our best but we also haven't played poorly. We competed all the way along, getting to finals and semi-finals.
"It was disappointing to lose the Continental Tyres Cup Final and lose out in the title race. Now, we need to make sure we keep fighting for the Champions League.
"We just ran out of legs towards the end for a mixture of reasons – coming back off the European Championships and the Spring Series; then carrying on non-stop all the way through until now.
"Plus, there have been a few decisions here and there that may have gone our way on another day. The most important thing is that we look at ourselves as individuals and as a team to see where we can improve. We also have to focus on what we've done well and we'll look to build on all of our experience next year."
Follow the game live on our matchday Twitter channel: @ManCityWomen.
That's all for today's media watch, but we will be back tomorrow with the latest from the back pages!