Media Watch
1
Kompany's incredible journey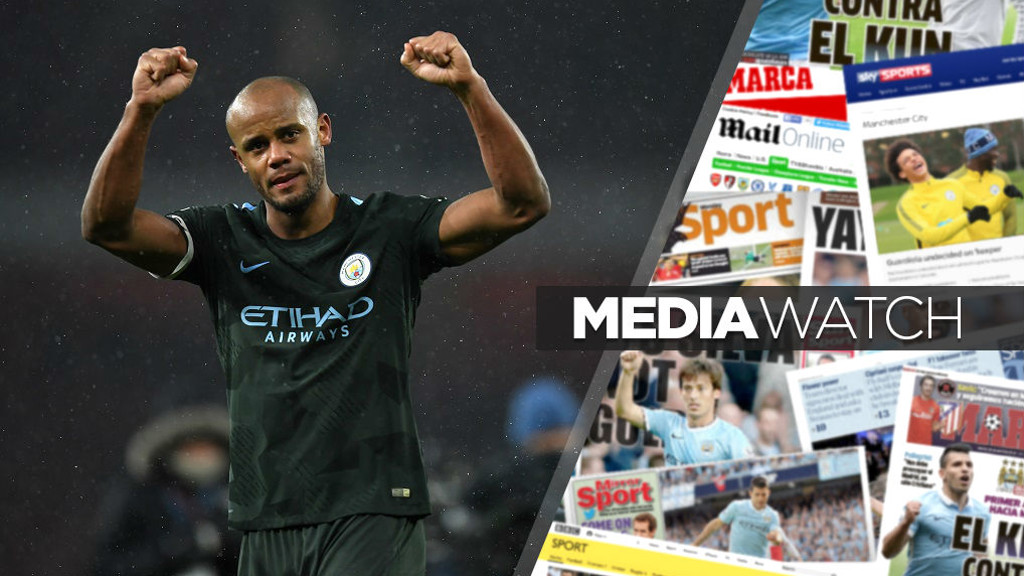 Few would argue Vincent Kompany is better placed than most to speak of City's progression over the past decade.
The skipper has played a huge part in the Blues becoming a genuine Premier League force and, speaking to The National during the recent Abu Dhabi training camp, he talks about the journey to date.
The report reads: "Some have suggested Pep Guardiola's side play the best football in Europe, perhaps that England has ever seen. While that is open to debate, there is little doubt City have come a long way from when Kompany arrived.
"His position within that progression is unique. No City player understands better the journey.
WATCH: Inside City Episode 287
READ: City's International call-ups
'It's difficult to describe to be honest,' Kompany says, as City spent five days in Abu Dhabi this week on a warm-weather break. 'It's been incredible. It's just witnessing evolution that's been interesting. I'd come to a club that was really, really interesting already, lovely, with a very rich past and so much passion.
'But there was a lot to do still. And then when Sheikh Mansour and [chairman] Khaldoon [Al Mubarak] came in they really transformed the club. But not just in that the investment was necessary, but it was more in the strategy of how to get to a certain goal.
'Today we see the first years of what probably they envisaged to do with the club. And for me to be a part of the entire process is, I don't know, there's so much value to that.'
Well worth a full read.
Meanwhile, The Sport Review pick up on Spanish football expert Guillem Balague's thoughts on the City v Liverpool Champions League draw as they write: "Balague feels that Manchester City will have the edge when they take on Liverpool FC in the quarter-finals of the Champions League next month.
The two Premier League sides were pitted against each other as they both prepare to face off in the Champions League clash for a place in the semi-finals.
'City are playing the best football in Europe but Klopp is the manager that has beaten Guardiola more than any other.
'Many say City are favourites, but I feel Pep has in consideration the fact that City has only played 52 games in Europe. It is a work in progress! Juventus, Real, Barcelona, Bayern… those are the favourites.
'Against Liverpool it feels very much like a coin in the air, they will attack. So will City. Let's see who blinks first.
'I give City a bit of advantage because they have shown such a consistency this season and their defence is stronger. But those will be games not to miss."
Sport Lens have picked up on a transfer rumour from Spain concerning alleged long-time City target Isco.
They report: "According to Diario Gol, Real Madrid have put midfielder Isco up for sale as the Spanish international has become a negative influence around the camp.
"Club president Florentino Perez has been made aware of problems surrounding Isco's confrontational behaviour towards head coach Zinedine Zidane, which has led to the players wanting him out of the Santiago Bernabéu.
"Real Madrid have put the £617m star up for sale as a result, which is good news for Manchester City and Chelsea. Diario Gol say the Premier League duo could be the next destination for Isco, although Paris Saint-Germain are paying an interest amid rumours of a swap deal involving Neymar.
"Isco doesn't fancy a move to the Parc des Princes, however, which opens the door to a Premier League switch. The 25-year-old has made 230 appearances for Real Madrid since his 2013-move from Malaga. He's one of the best playmakers in the world and would certainly improve both City and Chelsea."
Wow. £617m…
Moving swiftly on and Reuters Africa suggest Yaya Toure could be about to come out of international retirement for Ivory Coast.
The City and Elephants legend has reportedly been named in the latest squad for his nation as the report reads: "Ivory Coast's Manchester City midfielder Yaya Toure, who turns 35 in May, will return to international football more than three years since his last game for his country after being named in the squad for friendlies in France next week.
They write: "Toure has shunned internationals since leading the Ivorians to the African Nations Cup title in early 2015 but made a surprise announcement in December that he wanted to return despite the country failing to reach this year's World Cup."
Finally, though today's game against Sunderland Ladies has been postponed, great news from the next crop of youngsters coming through on She Kicks who write: "Manchester City will meet Reading in the FA Girls' U-16 Cup Final after edging Leicester City on penalties.
"Leicester were home in today's second semi-final, with the tie ending goalless.
"With the place in the final to then be determined by a shoot-out, Man City won 4-2 on penalties.
"They now join Reading in the final at St George's Park next month, the Royals having eliminated Manchester United last Saturday."
That's all for today – more of the same tomorrow…