Media Watch
1
Media Watch: Stoke defenders target upset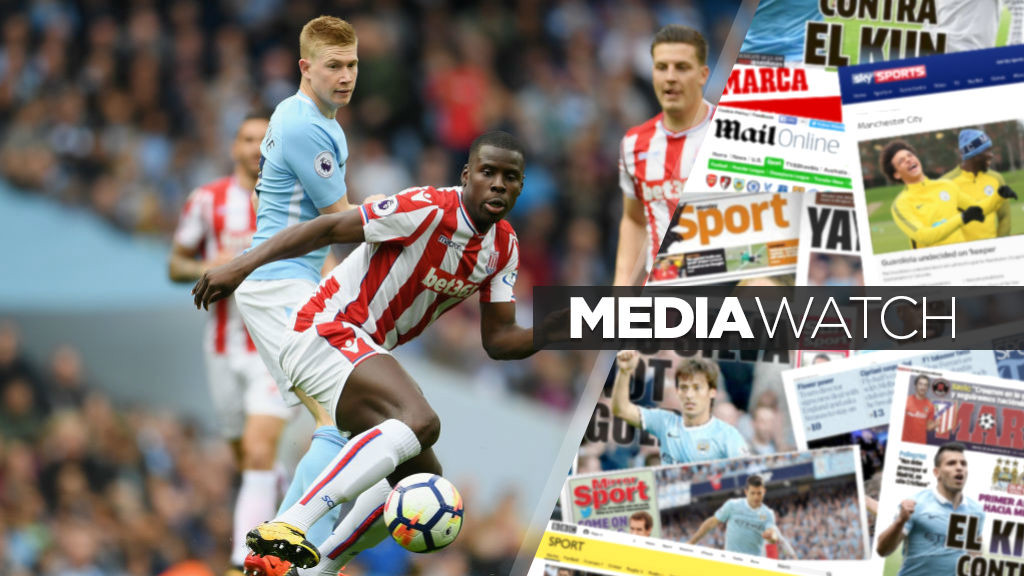 BATTLE: Kurt Zouma has told journalists he wants to avenge Stoke's 7-2 defeat in October.
Two of the men tasked with stopping Manchester City have revealed their aims ahead of Monday night's trip to Stoke.
Kurt Zouma and Kostas Stafylidis have both told journalists their team-mates must make life as difficult as possible for Pep Guardiola's men, while elsewhere in the press, Yaya Toure's influence is acknowledged.
But first, to the Potteries, where the on-loan Zouma is determined there will not be a repeat of the 7-2 defeat City inflicted on Stoke earlier in the season.
Speaking to The Telegraph, he said: "This was the worst defeat I've ever had in my career in football.
"But it can happen and I forgot about it, and I don't want to think about it. I don't think about that game.
"Man City are a top side. But our job is to make it difficult and they have to feel we want to win the game.
"The mistakes we made in the 7-2 we can't make again and we have to try to win to make the fans happy and us happy as well."
READ: Aguero suffers knee injury
WATCH: There's nobody like David Silva, says Pep
Fellow defender and new recruit, Stafylidis, is also keen to ensure City don't have an easy ride at the bet365 Stadium.
He told the Stoke Sentinel: "It's always difficult when you play against Man City.
"They have so many good players, top quality – Aguero, Silva, you know the rest. We have to enjoy the game first of all, we have to be narrow and defend better… then after the game we have to make sure we have a minimum one point.
"We have to fight, fight, fight for… 90 minutes, 98 minutes, or I don't know how many. Of course it's going to be hard, they are the best team in England, one of the best in Europe – but in the Premier League you never know."
Meanwhile, at the Manchester Evening News, Simon Bajkowski has highlighted the impact Toure has had when it's mattered most down the years.
Remembering his role in both Premier League title triumphs, Bajkowski points to the completeness of the Ivorian's game.

He writes: "The former Barcelona man has given City the best years of his career and stepped up on the big occasion more than any other player to drive City's title charge.
"Yet that reputation for grabbing games by the scruff of the neck or destroying opponents - as well as the having the build of an American footballer and a languid running style - should not stereotype the big man as being all about power and brute force.
"From the clipped finish against Newcastle in 2012 to the curling effort against Sunderland in the 2014 league cup final, Toure's touch can't be forgotten.
"As memorable as the lung-bursting runs have been, the game awareness and tempo-setting distribution in recent years have been as important to City's game."