Media Watch
1
Media: David Silva described as Spain's Messi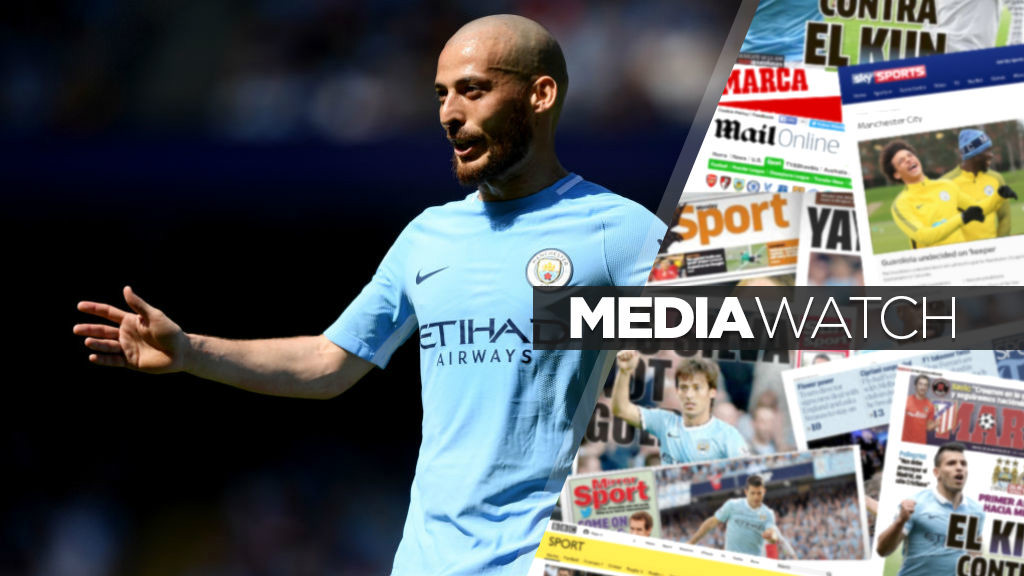 MEDIA WATCH: It's your Saturday round-up!
In your Saturday media round-up we take a look at a feature on David Silva's exceptional talent, Fernandinho's big compliment from Pep and all the latest from the Women's FA Awards…
First up, we turn our attention to the recent FWA awards held in London last night.
City duo Jill Scott and Georgia Stanway both bagged awards to bring back to Manchester! Scott was named FA WSL 1's joint Players' Player of the Year alongside Ann-Katrin Berger while Stanway's goal against Chelsea back in February secured FA WSL's goal of the season!
A huge achievement for the pair, and we will provide a full round-up of the awards later on today.
Next, on ESPN, Fernandinho has recently revealed that Pep Guardiola admitted our midfielder would've knocked him out of the squad during the Catalan's playing days.

Speaking during Brazil's World Cup training camp press conference, Ferna explained: "Guardiola said I would keep him out of the team because he was asked if he would play in the Manchester City team of 2017-18,"
"He said 'no', as, from his view, I'm better than he was when he played.
"This thing about me playing in many positions, that is something I've always had since I was very young,
"The ability of understanding what the coach wants, what he asks, and that's helped me a lot during all my career.
"So, be it at City or here with the Brazil squad, if the coach needs me to play in a different position, I can do it."
What a compliment from the boss!
Finally, an article in the Guardian has described David Silva as having the stamina of a 'long-distance runner' due to the fact that he has the ability to make crucial decisions on the pitch after running around for 90 minutes.

World Cup expert, Diego Torres writes: "David Silva has never weighed more than 70kg – if he were a boxer, he would be a welterweight. Yet the Canary Islander is the embodiment of an unorthodox team that will represent Spain at the World Cup in Russia.
"Silva is not particularly powerful or fast. He doesn't play as a traditional No 9 or No 10 yet he has chalked up 11 goals in 15 matches since September 2016, when World Cup qualifying began.
"Pep Guardiola's arrival at the helm of Manchester City in the summer of 2016 caused a commotion among analysts and scouts of major European clubs. 'Guardiola has Silva playing as an interior midfielder in a 4-3-3 setup,' explains an expert working for Chelsea who prefers to remain unnamed. "We are all astonished at Silva's physical response. Playing on the inside he needs to cover much more ground than as the attacking midfielder. He's doing a superb job. He has proven that he has the stamina of a long-distance runner. After running for 90 minutes he still has the mental spark to make the right decisions.
"Silva's transformation at Manchester City coincided with Julen Lopetegui's arrival as Spain's coach and the start of World Cup qualifying.
"Lopetegui has played him as a winger, working from the sideline to the box, with freedom of movement in a unique system set up to utilise short passes. 'I used to advance with the ball and dribble a lot,' said Silva, 'Now I'm devoted to the passing game.'
"With his clinical eye for a pass, Silva is a key piece of Spain's attacking jigsaw.
"His status as Spain's joint top scorer in qualifying is best illustrated by the leading scorers of the other favourites heading to Russia: Portugal's Cristiano Ronaldo (15 goals), Belgium's Romelu Lukaku (11), Uruguay's Edinson Cavani (10), Brazil's Gabriel Jesus (seven), Germany's Thomas Müller (five), England's Harry Kane (five) and France's Olivier Giroud (four).
"Silva and Lionel Messi are exceptions here. The little Argentinian – top scorer for his team in qualifying with seven goals – and Silva are the only cases among that long list of leading scorers where physical attributes do not go hand-in-hand with their talent. Silva, just like Messi, pushes the boundaries: wizardry first, then goals."
That's all for today's media watch but we will be back tomorrow with all the latest City news from the back pages!