Media Watch
1
Mail: Right, said Fred?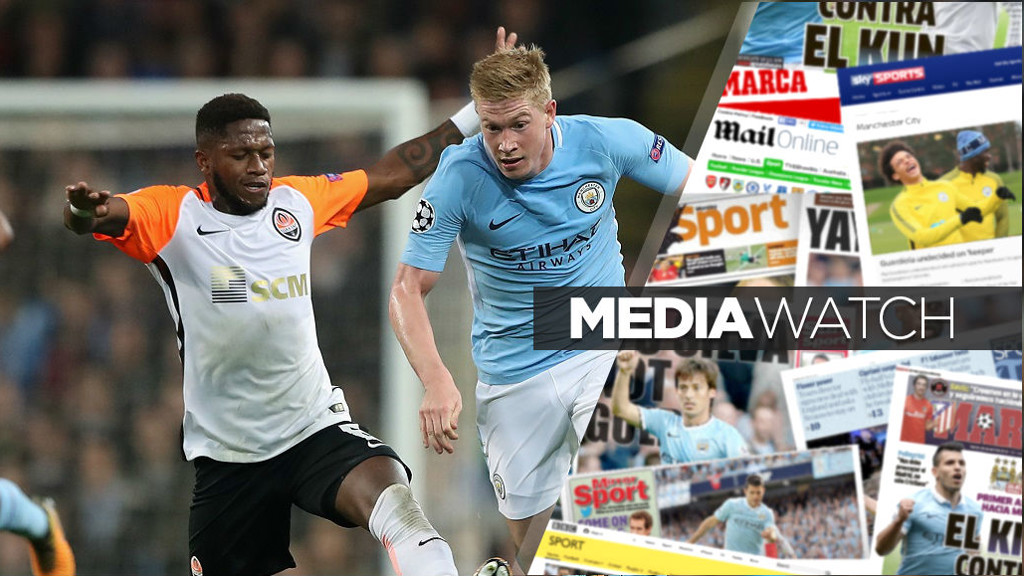 With 10 days of the transfer window remaining, City – according to reports – are looking to add one or possibly two players to the squad.
Top of the list, say the Daily Mail, is Shakhtar's Fred, a player the Blues know well from two Champions League encounters this season.
The report reads: "Manchester City are pushing for Shakhtar Donetsk midfielder Fred after proposing a £50million deal to secure his signature in January.
"Shakhtar are reluctant to lose the Brazilian while they are still in the Champions League but City are wary of rival interest from the likes of Manchester United and want to get a deal tied up.
"Shakhtar had planned to sell winger Bernard to China but a proposed deal has now fallen through. City's offer can help Shakhtar as they consider a stadium move also amid security fears."
Turning attention to last night's win over Newcastle and The Independent reflect on the Magpies' defensive mindset by suggesting it was perhaps doomed to failure at the Etihad.
Mark Critchley writes:"City's all-time leading scorer (Aguero) improved upon his already-outstanding scoring record against this opposition with a 'perfect' hat-trick that maintained his side's 12-point lead at the top of the table and banished any faint hopes or fears on either side of Manchester that last Sunday could be the start of a spectacular collapse.
"When the two sides met last month, Newcastle manager Rafael Benitez ordered his players to keep their backs firmly pressed against the wall in the hope of taking, at best, a point. His side came close to breaking the Premier League record for the lowest share of possession that night, eventually ending on only 22 per cent and keeping the score down to 1-0.
"In the few weeks since, Crystal Palace, Bristol City and of course Liverpool have shown that a sense of adventure may be the best way to upset City. Would Benitez, a naturally conservative coach who can boast more Etihad clean sheets than any other current Premier League manager, heed those lessons?"
And the Mail believe Aguero's latest striker masterclass is proof the Blues don't need any striker reinforcements during the transfer window.
They carry the words of Pep who said: 'We are not going to buy a striker because we have him (Aguero) and in two to three weeks Gabriel (Jesus) is back.
'Sergio has his special talent because he didn't touch the ball before his first goal, and there are no words to describe how good he is in a special position, and I am so happy for him.
'The club always tries to improve the team and tries to help the guys to be closer to reach our targets, (but) if one person decides not to come we are not going to be sad - this chapter is over, it is finished and we are going to think about the future.
'I said after the game (against Liverpool) we need this kind of result to realise what we have done and the way we ran and fought against a team that defended with 10 or 11 players in the box was so good.
Finally, ahead of Tuesday's game against Bristol City, The Bristol Post believe the Robins and the Blues could be set to form an alliance that will benefit both clubs as they report: "Bristol City and Manchester City may be rivals in the coming days as they prepare for the second-leg of their Carabao Cup semi-final, but the two clubs have gained a great mutual respect for each other.
"Lee Johnson's side took the game to Man City at the Etihad in the first leg, and but for a late Sergio Aguero winner, could have returned to Ashton Gate with the scores level.
"Now it appears the Robins could be set to reap even further rewards from their cup exploits, with Manchester City reportedly looking to loan out their young stars to Johnson's side.
"Man City are looking to change their policy of loaning their most talented young players abroad, and see Ashton Gate as the perfect place to develop those players following the Robins' enterprising style this season."
That's all for today – more tomorrow…