Media Watch
1
Media Watch: Carabao Cup final focus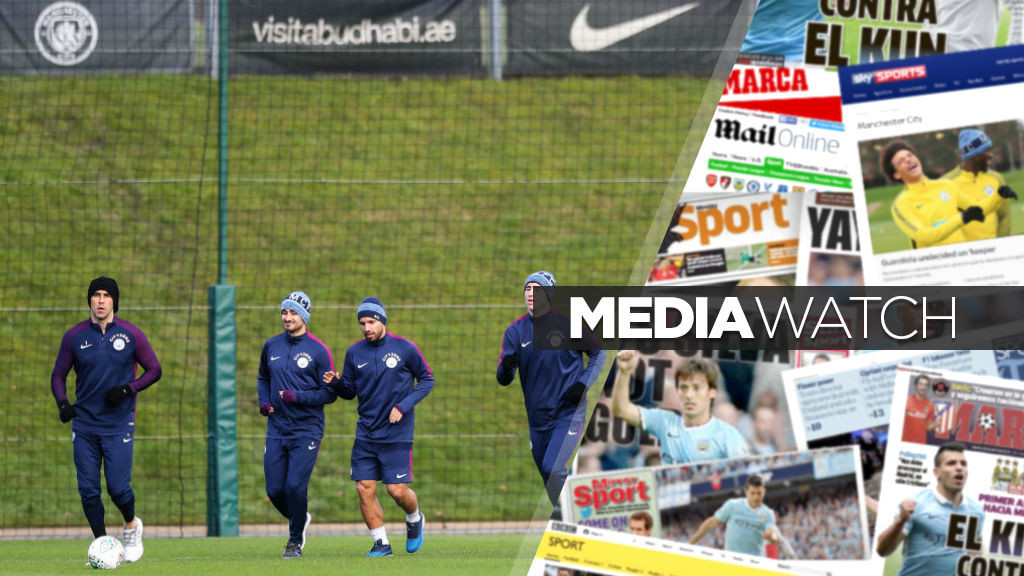 FINAL: City are gearing up for Sunday's Wembley showdown against Arsenal
As Manchester City prepare to face Arsenal in the Carabao Cup final this weekend, the press are running the rule over the two sides ahead of the Wembley showdown.
Let's start with an article by Sky Sports' Nick Wright, who believes the improvements City have made under Pep Guardiola have been significant.
He feels Guardiola laid the foundations for success in his first season, and says the Carabao Cup could be the catalyst for more silverware.
"In the middle of May last year, when Manchester City were nearing the end of a difficult campaign, Pep Guardiola was asked how he reflected on the first trophyless season of his managerial career," Wright writes. ""The team played like we did at Barcelona and Bayern, how I always want my teams to play," he said. "It is more important to me than winning a trophy."
"Guardiola admitted he would have been sacked for failing to win silverware at either of his previous clubs, but at City, the first season was about laying the right foundations. And while there were times when his determination to do things his way seemed at odds with the players available to him, its benefits have been obvious in his second season.
"With the imperfections now ironed out, the squad strengthened, and Guardiola's style implemented to such devastating effect, the emphasis has shifted. "It is nice to have good performances but you have to lift titles," he said recently. "Nobody can take away what we've done so far. But I think it's a big mistake just to be happy with that.
""We have to lift titles. Without them it's not enough."
"Monday's shock FA Cup defeat by Wigan was a major setback. A gaping 16-point lead at the top of the Premier League table provides a sense of inevitability about City's success in that competition, but Sunday's Carabao Cup showdown with Arsenal could be a symbolic moment nonetheless. It is Guardiola's first final as Manchester City's manager and a chance to translate that fine football and on-field dominance into a tangible trophy.
"There are parallels with his first season in charge of Barcelona. Guardiola's side were mesmerizingly brilliant throughout that 2008/09 campaign - just as City have been this year - but it was the silverware that assured their place in history. And it was by thrashing Atheltic Bilbao 4-1 in the Copa del Rey final that they took the first step towards their famous treble."
That one is an excellent read and well worth your time this morning.
READ: City U19s beat Inter Milan to reach UYL quarter-final
PICTURES: Training gallery | City focused on Wembley showdown
Meanwhile, Sky Sports have also produced a focus piece on Arsenal's form going into the game.
They have compiled statistics showing the Gunners' struggles against the Premier League's Big Six this season.
"Arsenal face Manchester City in the Carabao Cup final live on Sky Sports this Sunday - but their woeful record against big-six rivals is a reason for concern," they write.
"Arsene Wenger's men have only taken six points from a possible 24 against 'big-six' clubs in the Premier League this term - compared with Pep Guardiola's Manchester City who have won 15 points from a possible 18.
"Arsenal grabbed a point from both league fixtures with Chelsea this season, hosted Liverpool in a 3-3 thriller and beat Tottenham 2-0 at the Emirates in November.
"Of the current top-six clubs, Arsenal have won the smallest share of potential points from head-to-head meetings this season with just 25 per cent."
And, finally. Simon Bajkowski of the Manchester Evening News says City are still in a fine position to win silverware this season, despite Monday's shock FA Cup exit at the hands of Wigan, describing our football this season as "formidable".

"The team is well on track to have the best Premier League campaign ever, smashing the records for most points and goals," Bajkowski writes.
"With the League Cup final on Sunday and a quarter-final berth in the Champions League all but assured, they are better placed than any other English side to win multiple trophies.
"The formidable football they have served up has punished opponents in outlandish ways, such as smashing seven past Stoke or scoring more goals in 90 minutes in Naples than the Serie A leaders had conceded at home all season."
That's all for this morning's roundup, Blues. Stay with us throughout the day as we build up to Sunday's big game.