Media Watch
1
Media: Can City join elite list?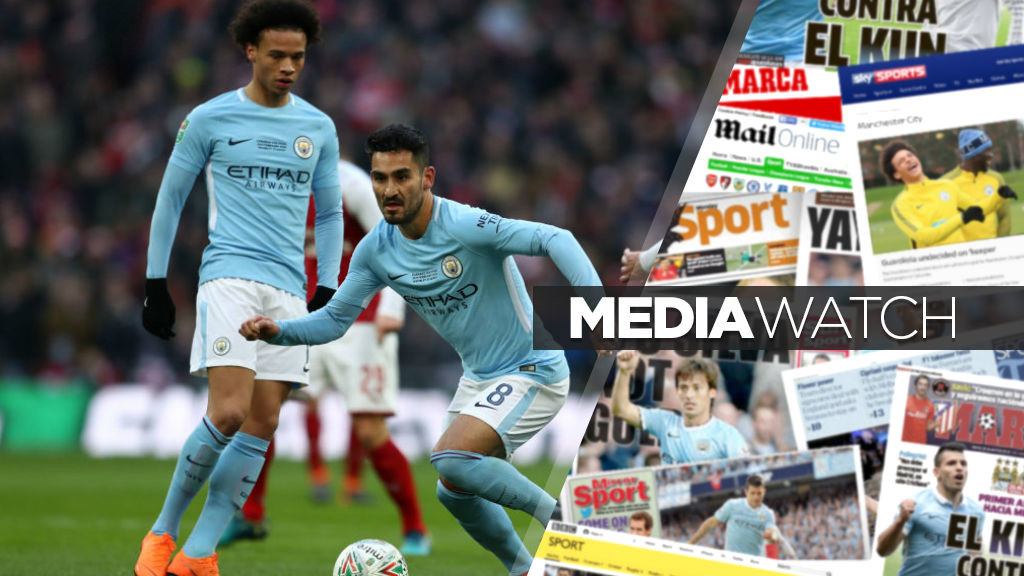 MEDIA WATCH: Alan Shearer has heaped praise on City after the 3-0 Carabao Cup final win over Arsenal
Good morning, Blues! Manchester City's brilliant display in the Carabao Cup final continues to dominate the agenda on the back pages today.
Let's start today's media roundup with the thoughts of Alan Shearer, writing for the BBC.
The Match of the Day pundit believes City were worthy winners in the Carabao Cup final, describing the Blues as "better in every position".
And he says we have put ourselves in a great position to add more silverware to the collection.
"With 37 wins and only three defeats in their 43 games so far in 2017-18, City could not really have done much better than they have done so far," Shearer writes.
"They have been in magnificent form for the past seven months - it is the end of February and that Wigan game was their first real setback of the campaign.
"City are 13 points clear at the top of the Premier League and the title is as good as in the bag. At most, they only need to win six of their remaining 11 games to become champions.
"By doing that they would emulate the Premier League and League Cup double they managed under Manuel Pellegrini in 2014, which would be impressive enough.
READ: Trio predict more trophies
READ: Gundogan hails cup success
"But they would turn an excellent season into an unbelievable one if they were to win the Champions League as well.
"Only two English teams have ever done a Treble combining the European Cup or Champions League, the league title and a domestic cup in a single season - Liverpool in 1984 and Manchester United in 1999.
"That shows how just hard it is to do. As good as City have been, and as strong as their squad is, it will be a big ask for them to join that elite list."
Meanwhile, Vincent Kompany says playing under Pep Guardiola is akin to undertaking a higher education course.

The Belgian centre-back, who was brilliant in City's 3-0 win over Arsenal at Wembley, believes Guardiola's detailed instructions before each game gives the Blues an advantage over their opponents.
He told talkSPORT: "I think the best way he has ever been described is he is intense and relentless.
"You never feel satisfaction and I'm sure even today [Monday] we'll be back at it and focusing on the next game.
"Whether it's Wigan [Athletic], whether it's Arsenal, it doesn't really matter in the way we prepare for games. What he gives us is that incredible amount of knowledge he shares, and he is really good at delivering his message as well.
"We always feel we have an advantage over other teams just because he's been very precise with the information and what he wants us to do.
"Working with him is like doing 10 years of studying, I compare it with going to university, that's the level. We never stop learning every single day."
That's all for this morning's media roundup, Blues. Stick with us throughout the day as we start looking ahead to Thursday's Premier League trip to Arsenal.