Media Watch
1
Praise heaped on City after Carabao Cup win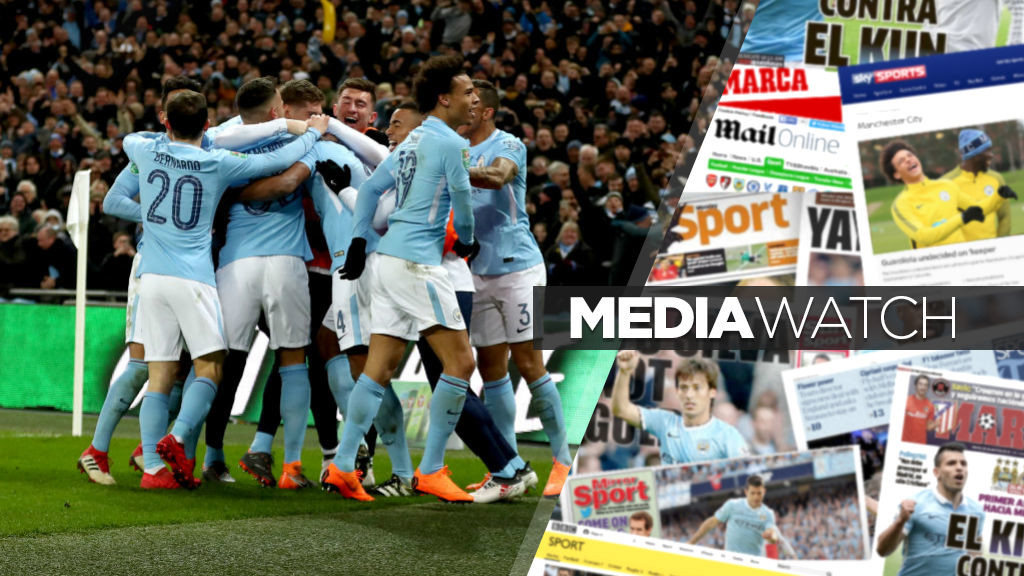 REACTION: City have received plenty of plaudits for the Carabao Cup win.
Manchester City dominate Monday morning's back pages after the 3-0 Carabao Cup final win over Arsenal.
Pep Guardiola's first trophy in English football has generated plenty of post-match analysis and praise from journalists and pundits alike.
Captain and goal scorer, Vincent Kompany is one man who's earned rave reviews and we start with a word from former Arsenal centre-half, Martin Keown, who was thoroughly impressed with the Belgian.
In his Daily Mail column, Keown writes: "Conversely for City, they had everything in their captain's performance that Arsenal lacked.
"Kompany has shown great dignity in the trophies they have won over the years while he has not been able to play a part on the pitch. On Sunday he was magnificent.
"He was like a brick wall and got a goal to cap his performance. What an emotional day for the City captain."
Sky Sports' Jamie Redknapp is another pundit to lavish praise on the Blues, suggesting the Carabao Cup is the first of many trophies we can expect to be brought back to the Etihad Stadium.
He said: "The style of football they play, the manager is an incredible human being with the way he gets his team playing and the belief that he has.
"They deserve it and it's quite scary for everyone else in the Premier League right now and Europe because they are quite capable of dominating everything."
Meanwhile, over at the BBC, Phil McNulty is keen to highlight the impact three of City's more seasoned campaigners had on the Wembley proceedings.

He writes: As well as Kompany, this EFL Cup victory was shaped by the predatory instincts of Aguero, still a world-class striker at 29.
"The Argentine set City on their way with his usual expertise as he took full advantage of flimsy defending from Arsenal's Mustafi.
"And it was another member of the old guard, 32-year-old Silva, who provided his usual range of subtlety and creation in midfield, completing the win with a thumping finish across Ospina.
"Guardiola's first silverware in England ushers in the new era for City - but he has wisely retained the battle-hardened core of the club's previous successes."
For Anthony Jepson at the Manchester Evening News, it was not just the trademark intricate passing of the second half which most impressed, but City's efforts without the ball too.
He reports: "Arsenal may be one of the few teams around capable of emulating City in terms of their passing, but Pep Guardiola's men have so much more in their armoury.
"And they showed it at Wembley.
"While the Gunners never convinced with their organisation or effort, City, in the image of their coach, showed steel to go with their silk, defending with the same relentless passion as they attacked, right to the death.
"With or without the ball, City never stop working and that as much as their cool, efficient possession game, will give their manager belief this is the first of many trophies."