Media Watch
1
Gossip: Ferna focus, defensive duo linked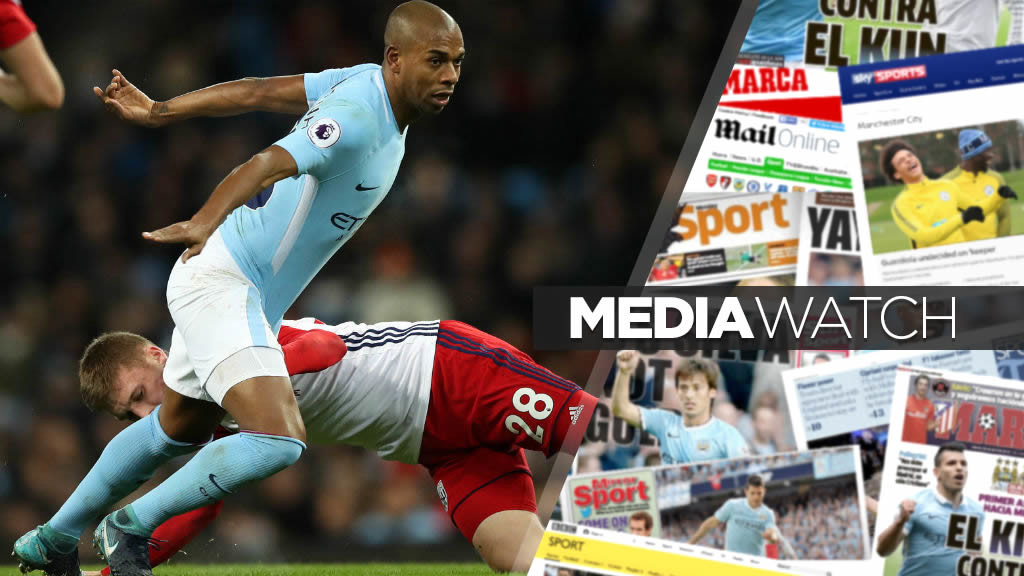 100 % FOCUS: Fernandinho
Good morning and welcome to Thursday's media round-up, in which City fans can bask in the afterglow of Tuesday evening's success while casting an eye towards the next cup clash at Wigan.
And this being Media Watch, there's a dash of transfer speculation to throw into the mix involving defenders at home and abroad.
First to Fernandinho, who was in typically dynamic form against Basel, and who has hinted at what he thinks City's edge is at the moment.
The Daily Mail's Chris Wheeler reports: "Fernandinho insists they will not be distracted by talk of a Quadruple but are prepared to meet the challenge of competing for all four trophies.
"'We can't deny that our confidence is really high, seeing that we're getting good results, the way we've been playing and scoring,' said the Brazil midfielder.
"'The team is getting more and more confident and that's the way to get our goals: go through in Champions League, keep our position in the Premier League and try to get the title as soon as possible, plus our chances in the English cups.
"'We know the defining moments are coming in the next three or four months. But we keep thinking game by game and that's important. We're not trying to reach further than is possible. That's a virtue we've got.
"'We have an incredible preparation for each game. The focus is 100 per cent. Probably that's our uniqueness. We don't listen to the buzz around us.'"
READ: Basel v City talking points
Elsewhere, Wigan boss Paul Cook has been speaking ahead of Monday's FA Cup match.

"How can you say it's just a normal game when you're going to play possibly one of the best teams in the world at the moment?" he said. "It's going to be such a challenge for us all but if we can't go into the tie thinking we can't win it, then there's no point for us.
"We'll turn all of our attentions onto them now, we'll watch them, we'll study them and then we've got to come up with a plan."
That lofty praise is echoed by former City boss Roberto Mancini - now with Zenit St Petersburg - who believes this could be City's year in the Champions League.
READ: Things We Love: Brilliant Bernardo and Walker prank
He told Sky Sports when asked if City could win the competition: "Maybe they can. Manchester City improved a lot this year.
"Now the level is very high and they could have a chance to win the Champions League."
And finally, two spots of transfer speculation news.
First the Daily Mirror have included City in a clutch of clubs reportedly eyeing Toby Alderweireld.
And over at TEAMtalk, City are linked with Inter Milan's Slovakian defender Milan Skriniar.
That's your lot for today, we'll be back same time, same place for more media chat.