Media Watch
1
Express: 'Fred decides on next club'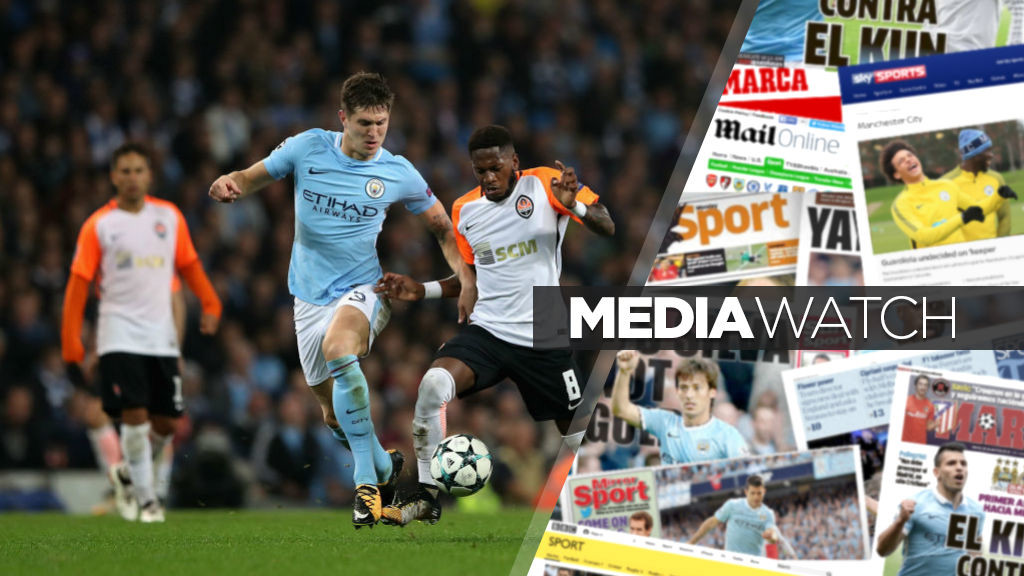 RIGHT SAID FRED? A headline so good we'll use it again!
City were linked heavily with Shahktar Donetsk midfielder Fred during the January transfer window, as were neighbours United
This morning, the Daily Express, Metro and Mirror all claim the Brazilian has decided on which side of Manchester he will be playing in next season.

All purely speculation, of course, but the Express report: "Manchester United will lose out Manchester City in the battle to sign Brazilian midfielder Fred this summer, according to the player's former manager.
"The current league leaders were keen to get the 24-year-old in January and pushed for a deal but Shakhtar wanted to hang on to the player, at least until the summer.
"Manchester United also came up against the same resistance.
"But Fred's former boss Mircea Lucescu, who signed him from Brazilian side Internacional during his time in charge of Shakhtar, predicts that he will follow the path of Fernandinho and end up at the Etihad Stadium.
'He will go to City like Fernandinho before him,' said Lucescu.
"Now boss of the Turkish national team, Lucescu believes that Fred has developed the discipline to play at a higher level."
Read the rest of the report here.
Another player linked many times to a move to the Etihad is Real Madrid's isco.
The Spanish playmaker was believed to be close to signing for Manuel Pellegrini's City four years ago, and it seems the Blues are still interested in signing him.
101 Great Goals write: "Zidane's plan, as revealed in AS, is to sell Isco in the off-season as Real Madrid hope to sign Eden Hazard from Chelsea.
"Of course, Hazard has long been tipped to leave Chelsea to join Madrid.
"If Real Madrid sell Isco, where will the Spanish attacking midfielder go?
"AS cover that issue as well on Thursday, listing five clubs who would all try to sign Isco in the summer.
"From the Premier League, it's believed Man City, Liverpool and Arsenal would all be in the market.
"Beginning with Man City, AS claim that Isco has the style which Pep Guardiola likes. Moreover, the Sky Blues have the financial clout to make the deal happen.
"And, after trying and failing to sign Riyad Mahrez in January, Man City have shown there's room in their squad for another attacking talent."
Finally, a thread we touched on a few months back here on mancity.com when Ederson revealed he would be happy to give it a go in midfield.
Though FourFourTwo ran the story, the Daily Mail report: "Manchester City goalkeeper Ederson has made the bold claim that he could cut it in the Premier League as a midfielder.
The Brazilian has impressed in goal since arriving at City from Benfica last summer for £34.9m.

But he has suggested that he could perhaps handle the challenge of playing in midfield.

n an interview with FourFourTwo, Ederson said that he used to occasionally feature as an outfield player when playing in Benfica's youth team.

He said: 'When I played in the Benfica youth teams, they would always call me to play in midfield if someone was missing and I didn't ever embarrass myself.
'So, if necessary I'm definitely up to the task. It wouldn't be easy, especially in the Premier League, but I think I could manage the challenge.'
Ederson also believes the players in front of him at City help make his life easier on the pitch because they retain possession so well and rarely lose the ball.
He added: 'There are so many good players in this team who are ahead of me," he laughs. "I was always comfortable with the ball at my feet, and this helps me during games. I think it's a natural talent.'
More gossip and City-related rumours tomorrow…