Media Watch
1
Media Watch: 'City are spectacular'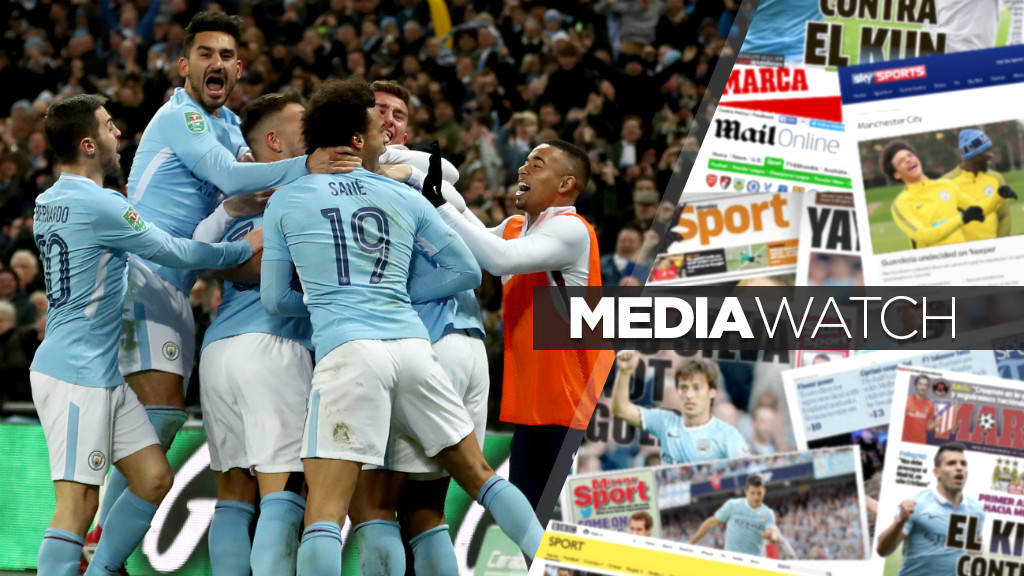 SPECTACULAR: High praise indeed for the boys in Blue...
The City-centric headlines make for very pleasant reading at the moment.
The press are still purring over the Blues' impressive Carabao Cup Final triumph over Arsenal and some of the comments are a joy to behold.
There's even praise from an unlikely source but first, let's kick off with Andre Villas-Boas commendation.
As Goal's Rob Lancaster explains: "Andre Villas-Boas believes Pep Guardiola has Manchester City playing 'fantastic' football this season - and feels the foundations are in place for the club to enjoy long-term success."
Speaking at the Laureus Awards, the former Chelsea and Tottenham manager hailed: "In the league, they're running away with it. [They won a] trophy on Sunday and their football is spectacular.
"It took one year for Guardiola to settle, but the way the team is playing now is fantastic.
"Not only that, but it's the consistency in terms of results. This consistency means that they go into every game with a lot of confidence.
READ: Premier League April TV fixture changes announced
WATCH: Carabao Cup Final match highlights
"With such young players and quality players, they are really a team to look out for."
Perhaps surprisingly, former United star Ryan Giggs shares that opinion.
As Sports Mole report, he declared: "City have been fantastic.
"I think if United come second and win an FA Cup or do well in the Champions League, it will be a successful season.
"It's a step up from sixth last year but City have been outstanding. [United need to] do well this year – win a trophy, come second – and then challenge next year."
In other news, Ederson has received further acclaim with Nuno Gomes holding him in very high regard.
The Benfica legend told Goal: "Ederson is already one of the top three goalkeepers in the world.
"He may already be the best in the world and much of that is down to his humility. I hope in that sense that he never changes.

"He also has a lot of work focus. He felt early in his career that nothing can be achieved without work and he had a difficult time in Portugal.
"He only got to where he is now because of hard work, maintaining focus and giving even more than others do.
"He has already reached such a high level but he can be even greater because he continues working in the same way. He knows he cannot stop to rest.
"Today he has the stardom, the success but he has experienced failure because it did not work at the beginning with Benfica.
"He was loaned to a team [GD Ribeirao in 2011-12] that maybe no-one knew but he went, played, worked, grew up and got a new opportunity to play for Benfica. He proved that he deserved to play and never left the team [at Benfica]."
Gomes is also an admirer of another City star.
He added: "Bernardo Silva is a player that enchants me – one that I like very much.
READ: Arsenal v City match preview
WATCH: Carabao Cup Final Tunnel Cam
"Although he is not yet an undisputed starter of the national team and because he depends a lot on how Fernando Santos will set up the team, Bernardo – for his charm, for his intelligence, for being balanced – is another important figure for Portugal."
Elsewhere, looking ahead to Thursday night's Premier League trip to Arsenal, Ilkay Gundogan has warned of a backlash.
He told Sky Sports: "We know Arsenal are able to play. They have a strong team.
"It is going to be challenging and we need to be ready.
"It won't be easy. It is just maybe a bit weird to play them twice in four days."
Finally, there's a snippet of transfer gossip as the Manchester Evening News believe City will renew interest in Riyad Mahrez in the summer.
According to Simon Bajkowski: "City are still intent on signing an attacker in the summer and their January target has gone about things in the right way at the King Power."

Following Mahrez's return to action, Foxes captain Wes Morgan told the Leicester Mercury: "He's a good player – he's getting straight back into it and I was glad to see him out there.
"I think he looked more like himself. Everyone knows what's happened after the transfer window but he has come in and got straight back to work.
"He's always been focused. He's been great – he's settled back in as if he never went away so it's fantastic for us and it's fantastic for him."