Media Watch
1
Media watch: Guardiola is a serial winner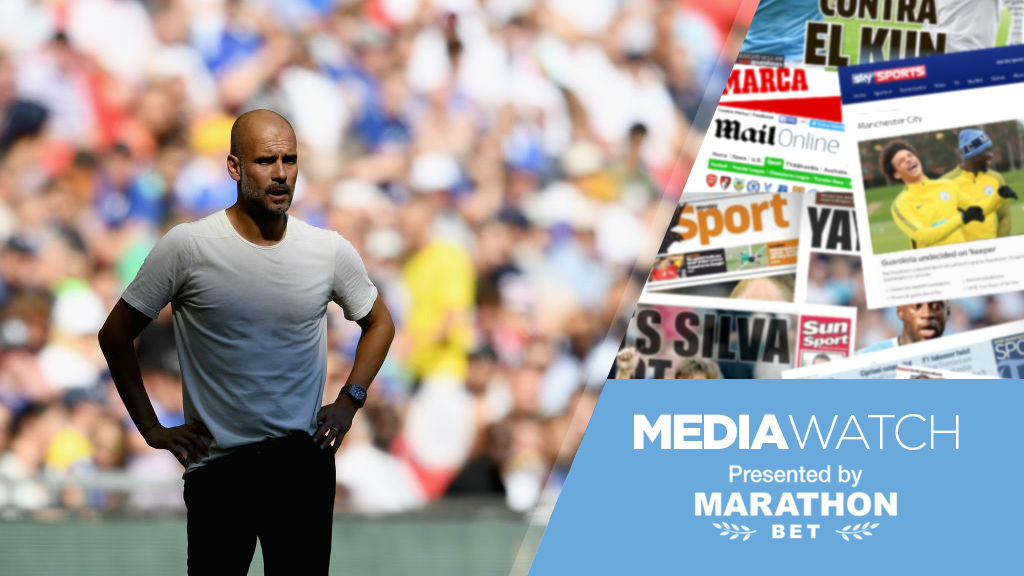 MEDIA WATCH: Your Thursday morning round-up!
It's your transfer deadline day media round-up!
We take a look at the last-minute transfer rumours and gossip surrounding City as well as season predictions and huge praise for our very own Phil Foden.
READ: David Silva | season preview
READ: Fixture changes
First up, predictions!
With this weekend's opener against Arsenal looming closer, we take a look at some of the BBC pundits' predictions ahead of the season.
Out of the 24 journalists, a resounding 21 votes believe that we will retain our Premier League crown in the 2018/19 campaign (with Liverpool getting the other three votes).
Alan Shearer wrote: "It has been a long time since anyone won back-to-back titles but I think City will win the Premier League again because of Pep - he won't want their standards slipping. He will play exactly the same way and they are going to be very hard to stop, although I think Liverpool and United will both be a lot closer to them this time."
Chris Sutton: "Pep will not allow City to become complacent. Their consistency levels last season, when they won 32 out of their 38 league games, including a run of 18 wins in a row, were unbelievable."
Paul Ince: "Guardiola is a serial winner - you can see that from the way he rants and raves on the touchline demanding more even when his team are two or 3-0 up. That is his mentality, and his players buy into it."
Sue Smith: "If anything City will be stronger because their problem area was left-back last season. Benjamin Mendy is now back and fit and is a real threat down that flank. Look through the rest of the team and it is top quality throughout."
Confident talk from the media!
Next, Foden. We know how brilliant he is, but Rio Ferdinand has recently said that he believes Phil is becoming an integral part of City's squad.
READ: Joe Hart | Five best City games
WATCH: Gabriel Jesus' contract extension
Speaking on BT Sport, the former United defender said: "The biggest compliment I can pay Foden is that you didn't even feel City were missing Kevin De Bruyne or David Silva on Sunday – there is no higher praise I can give him.
"Although we all enjoyed England's World Cup run, at times they were crying out for a creative influence in midfield, and this kid has the potential to operate in that position.
"In the Community Shield, I liked his weight of pass, and I liked the way he made the right decisions with the ball most of the time – which, for a boy of his age, is something you don't often see. Usually, you have to wait a few years for that aspect to emerge.
"But most of all, I like his demeanour. He already looks like an integral part of the squad.
"It can be difficult for young players to establish themselves at a big club where the accent is heavily on winning trophies, but Pep Guardiola must take huge credit for the way he has managed Foden.
"He has trained with the first team for a year now, he understands how City play, and he is going to be a real asset for them."
Finally, we look at the remaining transfer news circulating the back pages on deadline day.
Simon Bajkowski of the Manchester Evening News scribes: "Manchester City are expecting an entire squad of superstars at their gates on transfer deadline day as Pep Guardiola prepares his players for their Premier League opener with Arsenal.

"But anyone hoping for transfer activity may be disappointed, with neither significant ins nor outs planned for the last day of summer business.
"City completed their only major signing in July when Riyad Mahrez arrived from Leicester for £60m. They had also hoped to sign a midfielder, but after the collapse of a deal for Jorginho that aim was shelved.
"Reports of interest in Miralem Pjanic, Marco Verratti, Thiago Alcantara and Julian Weigl have only seen reiterations of that view as they have cropped up and City are still not interest in spending a sizable chunk of money on a big-name midfielder.
"And while the club have been looking for a more low-key signing in that position, it does not look like anything will materialise."
That's all for today, but we will be back tomorrow with all the latest City news with your Friday media watch!