Media Watch
1
Media Watch: Klopp hails City team 'Europe's best'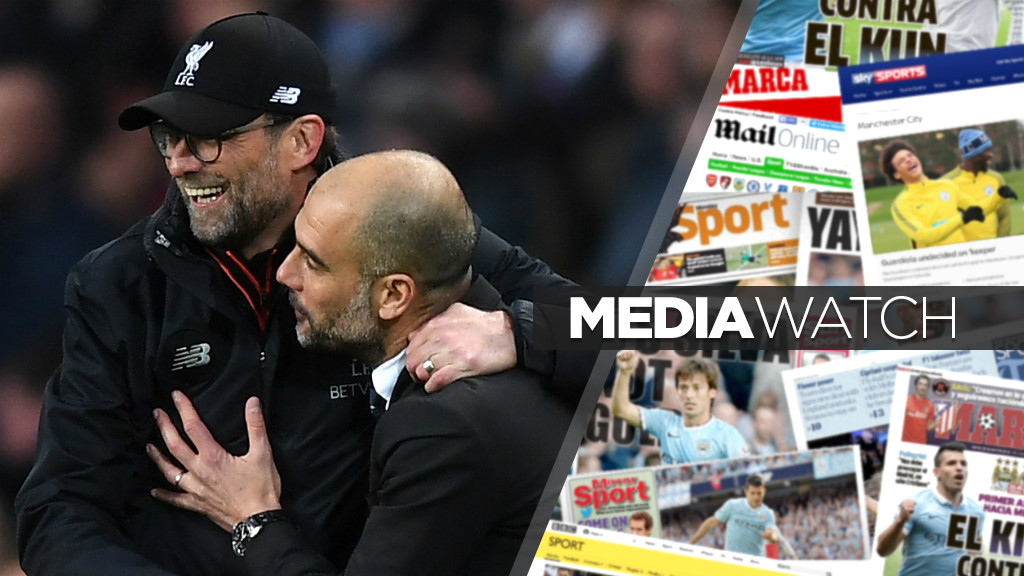 COUNTERPARTS: Jurgen Klopp and Pep Guardiola hold a lot of respect for each other
Tonight's the night…
It's the one we've been waiting for: City's European adventure continues with a trip to Anfield to face Liverpool in the Champions League quarter-final first leg and unsurprisingly, it's the topic on everyone's lips.
With both teams' press conferences occurring yesterday, there has been much to discuss – with predictions, praise and plenty of fighting talk.
Separately, as usual, there's also a transfer tale to throw in for good measure.
We'll kick-off with tonight's mouth-watering Champions League clash.
Addressing the media, Reds boss Jurgen Klopp hailed City as the continent's best team, adding his side must 'be brave' to conquer Pep Guardiola's men.
He told press: "They are the best team in Europe at the moment and so that makes it quite difficult.
"But if you are brave, if you are ready to make mistakes, if you are ready to enjoy the work and your attitude is at the highest level, if your character is at the highest level, then you have a chance. And that's the only thing I need.
READ: Aguero, Delph injury latest
WATCH: De Bruyne unconcerned by Anfield record
"I would never expect to have in the quarter final of the Champions' League any easy game.
"So that is a very difficult one – but for Manchester City as well, and that's the only thing I need.
"If you want go far in this competition it is clear you would face the best teams in the world. Sitting back is not a solution against City. That is how it is.
"Man City are quite a special team who will be absolutely deserved champions of the Premier League. But it is not about being the best but being perfectly prepared for the next game to be your best.
"It's clear that City, with the things they have and the heights they have reached this season, their confidence is probably at an outstandingly high level.

"What they do, they do at the highest level. They play football, they have a specific way of playing and that makes it all difficult, but we still know there's a chance – it is possible to defend it."
He added: "For those who have seen our two clashes in the Premier League this year, and in the last few years as well since Pep arrived - and, to be honest, before his era - they know that it's always an exciting match. And that's the way football should be.
"The main focus probably won't be on the result, instead it'll be about doing more things right than the opponent, because you can't simply defend against Man City and hope that they won't score on the day. They're just too good."
Liverpool left-back Andy Robertson echoed his manager's sentiments.
"I don't think we can be afraid," he insisted. "They won't be afraid of us and we won't be afraid of them.
"They've been the best team in our league this season and are going to win the league, undoubtedly, but this is two games in the Champions League – a one-off.
READ: Silva is my Player of the Year, says De Bruyne
WATCH: City gear up for Anfield clash
"We have as much right to be in the quarter-finals as they do and there is no seeding in it. It will be a big occasion.
"Their movement is a joy to watch at times, and as a defender you need to be aware of that, but hopefully we'll be attacking as well and we can push them back into areas where they don't want to go."
Meanwhile, former Blue Frank Lampard believes City have what it takes to go on to lift the Champions League trophy for the first time.
Asked on his views ahead of the clash – and ultimately, who will triumph come May – he stated: "I am going to go for City.
"In terms of the way they play, if they play with the quality and the teamwork and the individuals that they have in their team, I think they're ready to take on the best."
Finally, as always, a switch in topic heralds a snippet of transfer gossip.
According to TalkSPORT: "Arsenal and Manchester City target Robert Navarro will hold showdown talks about his future with Barcelona this week.
"The 15-year-old is one of the stars of the Spanish club's youth academy and he has been tipped for a big future.
"The wonderkid midfielder turns 16 on April 12 and at that point he will have to decide whether he signs new terms with Barca or leaves.
"Arsenal and Manchester City are interested in Navarro, as are Juventus and Monaco too."