Media Watch
1
Media Watch: De Bruyne refutes Salah comparisons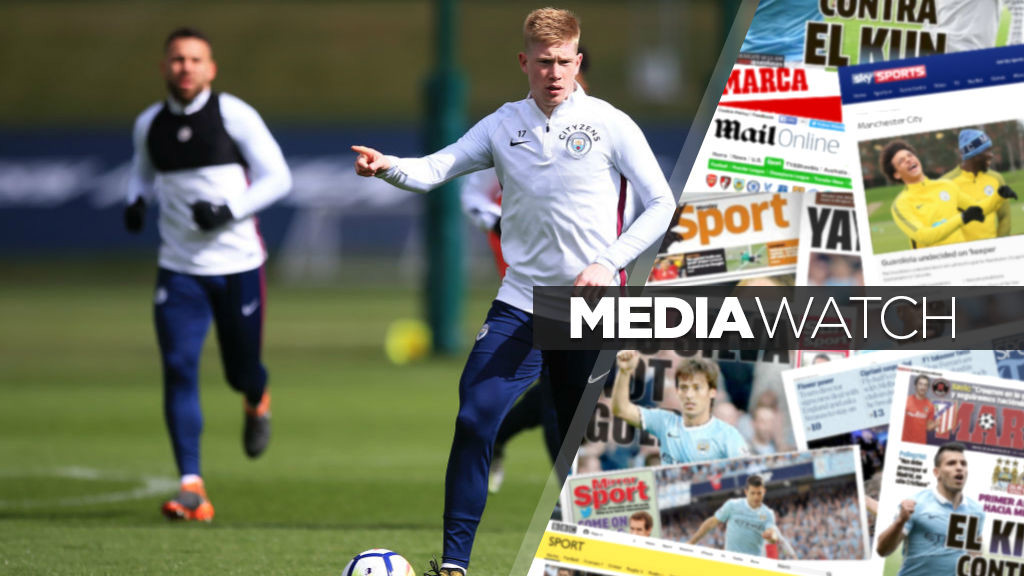 City v Liverpool, Kevin De Bruyne's Player of the Year credentials and Pep Guardiola's status as one of the game's greats are all up for discussion in Tuesday's Media Watch.
Indeed, Wednesday night's Champions League quarter-final has filled many column inches, but we'll start with De Bruyne, who has been speaking about the media-fuelled duel between himself and Mohamed Salah for the Player of the Year award.
The midfielder, who expressed his satisfaction with his own form, has been keen to highlight how impressive the Egyptian has been, but says the two cannot be compared.
READ: Gundogan - My debt to Klopp
READ: Liverpool v City - Scouting report
He told the Telegraph: "I think there is almost no game where my standard has dropped, so I have been very constant, and I am very happy with myself.
"To maintain the level the amount of games I have played, the amount of minutes, I am very pleased with that.
"Salah has a remarkable goalscoring run, and he plays very well like an inside forward type of role, for me. This season he has been incredible.
"To compare us, I don't know. With the statistics how are we going to compare ourselves?
"It's totally different, I played (against Everton) like a defensive midfielder, how you can compare me to an inside forward? I have no idea."
Salah is, of course, tipped to have a big impact over the course of the two-legged quarter-final and team-mate, Virgil Van Dijk, has issued a warning to City ahead of the tie.
Speaking to the Mirror, the Dutch defender explained: "That's what everyone knows, that with a player like Mo we can do damage to any team. That's how we feel as well.
"Everybody can see how much quality he has got, how many goals he has been scoring, and that's important.

"It makes us better. That's what we want, that's what it's going to be like at a top club. When he is 100% and in the zone then he can beat anyone."
Meanwhile, Guardiola has received great praise from former Barcelona team-mate, Ronald Koeman, who has suggested the Catalan has surpassed Johan Cryuff as a manager.
The Mirror have this story, with Koeman saying: "In my opinion, Pep is the best football coach in the world.
"The football he's bringing is sensational and he gets the best out of every player.
"Pep has taken Cruyff's ideas even more to the extreme. His tactical plans start with the keeper in the build up and his right and left-back become attacking players on the wings.
"The football Pep wants his teams to play is the most difficult there is at top level. It is fantastic to watch and I cannot underline enough how much we should all admire it."