Media Watch
1
Ederson: City fans helping me settle in England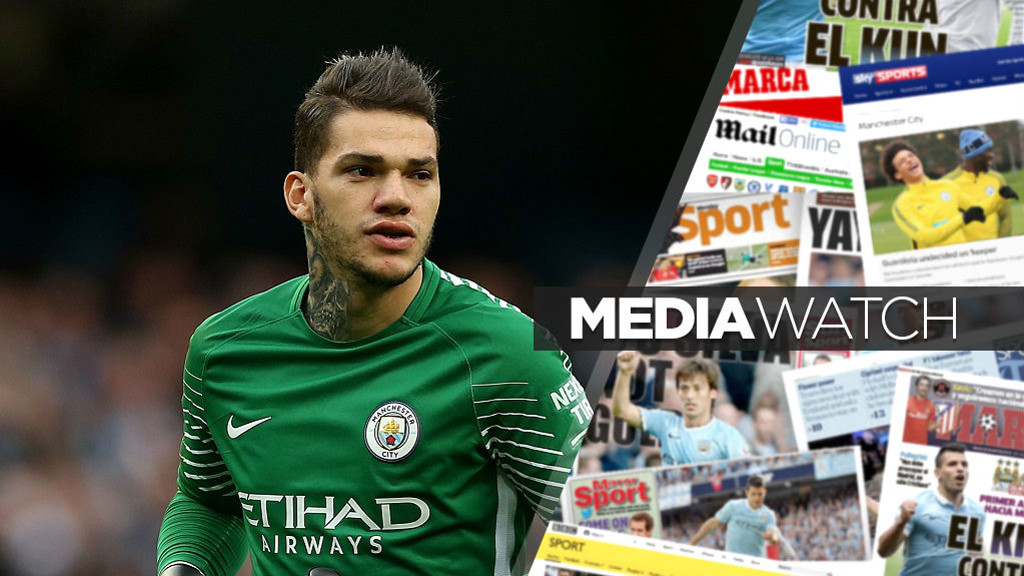 Ederson, Nicolas Otamendi and former crowd favourite Edin Dzeko all feature in Thursday's media round-up – not to mention Steven Gerrard tipping City for Champions League glory.
We'll begin with Ederson who is this morning quoted at length on NBC Sports' website about his first few months at the Club.
The talented Brazilian told NBC: 'It has been a good start for me here at City. It has been a very positive experience for me so far and the fans help me a lot and their support is very important for me.
"It has been a really positive experience so far. Obviously, the cities are a little different. Lisbon is more tropical, here it is more cold and rainy. But I am settled in well, I like life here and I am ready and prepare for any circumstances. I am settling in here very well.
'What happened in the Liverpool game with Sadio Mane, those things can happen in football. I got injured and I could have continued playing but the cut was quite big so they wouldn't let me continue…'
Continuing on to his excellent distribution, he said: "I was born with those skills, being able to play with my feet. When I started playing as a player I was playing as a defender or a full back. That helped me with my adaptation to play with my feet.

"Through time I have developed those skills and even now I keep training with my feet because it is very important. In the past, maybe I didn't spend so much time training with the players that were in front of me. Now we are more involved and maybe that is why I can now show my qualities with the football.'
Meanwhile, Nicolas Otamendi has revealed a snippet of what life is like with Pep Guardiola as coach.
Sportsmole write: "The Argentina international told Fox Sports Radio: 'After games, it is obligatory to eat at the club. Diet and rest is very important as we have a very intense calendar.

'Pep is demanding about food and also that we study English, as every meeting is in that language. In December, I even have an exam!
'Pep has everything in hand so that when the game comes around, everything flows well. It's all designed for the team to function perfectly. Nothing is left to chance.'
Elsewhere, former Liverpool and England midfielder Steven Gerrard believes City have what it takes to land the ultimate club prize this season.
The Mirror report: "Gerrard has backed Manchester City to win the Champions League this season following their 2-1 win over Napoli on Tuesday night.
"The Blues continued their fine league form by producing another attacking display with Raheem Sterling and Gabriel Jesus both getting themselves on the scoresheet.
"City's win at the Etihad mean Pep Guardiola's side currently top Group F with nine points, putting themselves in pole position to progress into the last-16.
"Despite the fact an English club hasn't won the competition since 2012 - when Chelsea beat Bayern Munich on penalties - Gerrard believes City can prosper this season.
'They put down a real marker with their result last night,' said Gerrard on BT Sport. 'I think Man City will win the Champions League.'
And finally…
You won't find many City fans who don't recall Edin Dzeko's time at the Etihad with anything other than great affection, so here's a couple of snippets on our old Bosnian friend.
First off, a clip of The Guardian's match report that hints Chelsea can't escape City's influence, even when they're not facing us!
Last night's Champions League tie with Roma very nearly ended badly for the Londoners, courtesy of two ex-Blues as Dzeko scored twice and Aleks Kolarov grabbed another plus an assist in the 3-3 draw at Stamford Bridge: "There had been moments when Antonio Conte's side gasped at the ferocity of Roma's muscular approach, and periods when they were left flailing desperately in pursuit of the ball.
"The head coach will shudder at the memory of another opponent, this time crammed with former Manchester City players rather than Pep Guardiola's current crop, dominating the play here so confidently."
Finally, Edin was asked who was the best player he's ever played with and, via 101 Great Goals, he told Roma's official website: "'his is a difficult choice as I've played with so many great players.
'I think I would have to go with David Silva, he does amazing things with the ball and they don't call him the Little Magician for nothing.
'This guy was brilliant with his feet, he could take any ball you gave him, control it, and pass it on.

'All of us were always amazed by his ability and technique. He is definitely the best I've played with.'
No surprises there, then!