Media Watch
1
Gossip: City 'target' Kimmich to stay in Germany?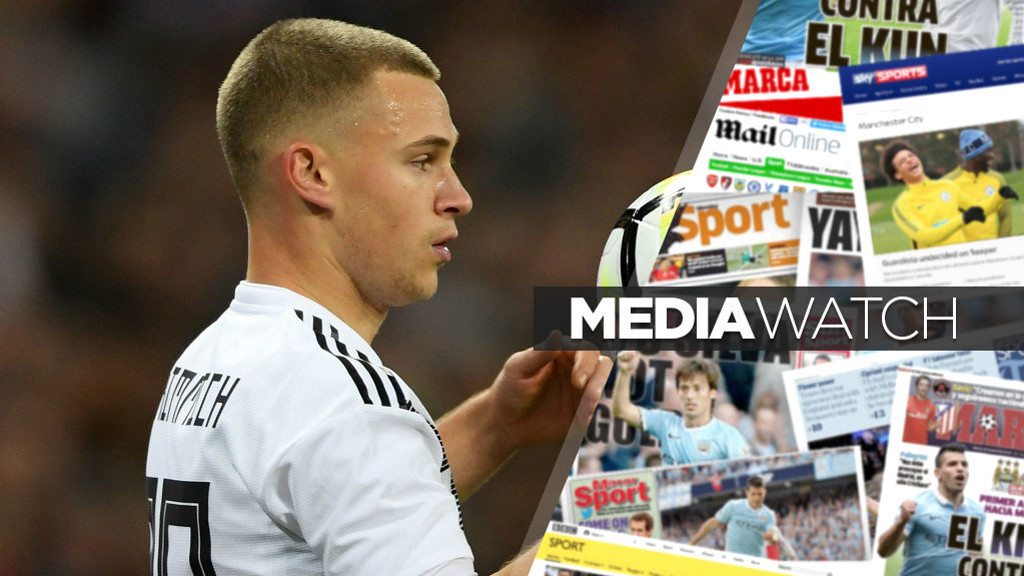 Alleged interest in a Bundesliga youngster, City's potential Round of 16 opponents and Noel Gallagher are among this morning's press snippets.
We'll kick off with TalkSPORT and their report that a rumoured Bayern target is considering extending his stay in Germany as they write: "The agent of Manchester City target Joshua Kimmich has confirmed his client is currently locked in contract talks with Bayern Munich.
"Having joined Bayern from Stuttgart in 2015, the 22-year-old was given his chance at the Allianz Arena by current City boss Pep Guardiola.
"The German international has since emerged as one of the best young defenders in Europe, with the possibility of a big-money switch to the Premier League in the offing.
"Guardiola remains a big fan of the player and it has been claimed that he is exploring the possibility on bringing him to England in the near future.
"However, Bayern are keen to make sure Kimmich remains part of their long-term plans and the player's agent, Uli Ferber, confirmed that his client is currently engaged in contract talks at the Allianz Arena."
Meanwhile, Tim Rich in The Independent says City's late winner against Feyenoord and Napoli's win over Shakhtar mean the Blues can save their top guns for the final Group F game in Donetsk ahead of the Manchester derby – something the Reds are unlikely to be able to do following last night's 1-0 defeat to Basel.
He writes: "As it is, Guardiola can keep the bulk of his first team back to prepare for the Manchester derby while giving Phil Foden and Brahim Diaz their full debuts.
"The sight of Foden, the star of England's Under-17 World Cup triumph in India, replacing Yaya Toure against Feyenoord was one that would linger.
"For all the money lavished on it, the City academy seemed to lack a role model at a club where so little is actually from Manchester. What chance did a graduate have of first-team football, when the world's finest manager had unlimited resources to bring in the world's finest footballers?
"On a rain-blown November night in Manchester the academy delivered its answer in the sight of a 17-year-old from Stockport, who had been part of the club since he was eight, replacing Toure. It was a poignant changing of the guard. Foden's only regret was that a lack of a signal in the home dressing room meant he could not ring his mum."
Keeping with the Champions League theme, the same paper weighs up who City could face in the Round of 16 – as highlighted in yesterday's Talking Points.
It reads: "Potential opponents: Basel, Bayern Munich, Juventus, Sevilla, Porto, Real Madrid.
"As with the other English teams, Bayern Munich, Juventus and Real Madrid are the teams to avoid. Although playing as they currently are, City will surely fancy their chances against all three.
"Basel, Sevilla and Porto shouldn't pose too many problems to Pep Guardiola's side."
Of course – not all of those sides are confirmed with one game still to play…
The Huddersfield Examiner focus on Aaron Mooy and this weekend's clash against the Blues…
"Aaron Mooy will face his former side Manchester City on Sunday - although the midfielder won't recognise too many familiar faces considering he never played a game for the league leaders.
"Mooy burst onto the English scene during Huddersfield Town's spectacular promotion-winning campaign last year. The Australian international signed for Town on loan six days after signing a three-year deal with City and was instrumental in such a successful season for the club.
"Heading into the 2017/18 season City's side held some real talent, with the likes of Ilkay Gundogan, Kevin De Bruyne, Fernandinho and David Silva all providing Pep Guardiola with excellent options in the middle. So, it wasn't much of a surprise when the Spaniard allowed Mooy to depart for Huddersfield permanently in an £8m deal.
"Despite the hefty price tag, there is not many football fans that would have recognised Mooy's name before he arrived in West Yorkshire last year. In fact, some would have assumed he was a young up-and-coming player, but Mooy is 27 years old and has been playing senior football since 2010. "
Great lad, Aaron and he will be a threat on Sunday.
And finally… our matchday programme's 'Playlist' feature has made the pages of the NME – who appear in this column perhaps for the first time?
It reads: "Lifelong Manchester City fan Noel Gallagher has unveiled his handpicked 'Match Day Playlist' for the football club. Check it out below.
"After attending a City match with fellow fan and local music hero Johnny Marr (much to the internet's amusement), now Gallagher has chosen a selection of tracks to get the team and fans into the mood. The former Oasis frontman didn't choose any tracks by his former band, but did select two tracks from his upcoming album 'Who Built The Moon?' with The High Flying Birds – featuring 'Fort Knox' and 'Holy Mountain'.
"Beyond that, he's included fellow Mancunians New Order and Blossoms, a nod to the team colours with a track from Shocking Blue, and other pre-match energy-building numbers by AC/DC, Young Fathers, AC/DC, The Animals and many more."
That's all for today…