Media Watch
1
Gossip: KDB can join greats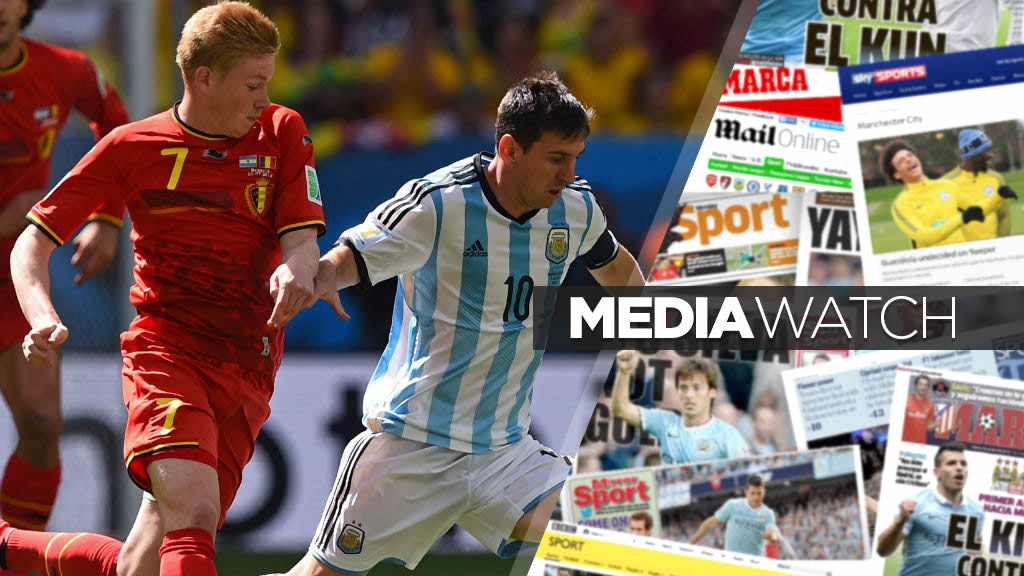 STAR QUALITY: Kevin De Bruyne and Lionel Messi
The Premier League may be on a break this weekend but you can't keep our City stars out of the spotlight!
A host of Blues are in action for their national teams, with the outstanding form of Belgium's Kevin De Bruyne a hot topic of conversation. Elsewhere a young City star makes it into the top 10 of FourFourTwo's best 100 teenagers list.
First, though, to KDB and comparisons with Lionel Messi and Cristiano Ronaldo from his national boss Roberto Martinez.
ESPN's Tom Marshall reports: "Martinez said it will take time and consistency for him to get there, but suggested the Belgium midfielder is on the right path.
Watch: Every City goal this season
"'Absolutely [he can]," said Martinez in an interview with ESPN FC at the Belgium team's training facility. 'I think when you see the players that you mention [Messi and Ronaldo], obviously you [have to] become consistent with your performances in order to reach that level. That happens over the course of a few seasons.
"'The level of performance that Kevin is having this season [and] the level of performance he had last campaign shows you that he has the potential of reaching those highs. And there are not many players that you could say that about.'"
Martinez is not the only one to have praised De Bruyne, with Chelsea counterpart and compatriot Eden Hazard also admitting the City man's form has been something else this season.

Dom Farrell writes: "Manchester City are leading the charge to dethrone Chelsea this season and De Bruyne has been their standout performer with a series of impeccable midfield performances.
"Speaking ahead of Belgium's friendly at home to Mexico on Friday, Hazard was quick to concede his compatriot is currently number one in England's top flight.
"'Kevin is definitely the best player in the Premier League at the moment," he said.
"'City are the best Premier League team and Kevin is an important player in [Pep] Guardiola's system.
"'It's easy to play with Kevin because we're good players.'"
"Kevin is definitely the best player in the Premier League at the moment"
Finally to FourFourTwo, who have highlighted the talents of Douglas Luiz – on loan at Girona from City – in their top teenagers rundown.
They declare: "Douglas has only started once in Spain so far – against Barcelona, of all sides – but performed well in the big game and is likely to get a lot of playing time throughout the season. Even Brazil coach Tite is delighted with the youngster, noting his passing range and magnificent first touch.
"It's way too early for the midfielder to think about the Seleção, but his time could come in a couple of years."
That's all for today's Media Watch - stay tuned to ManCity.com for all the latest on City's international stars...