Media Watch
1
Messi: City amongst Champions League favourites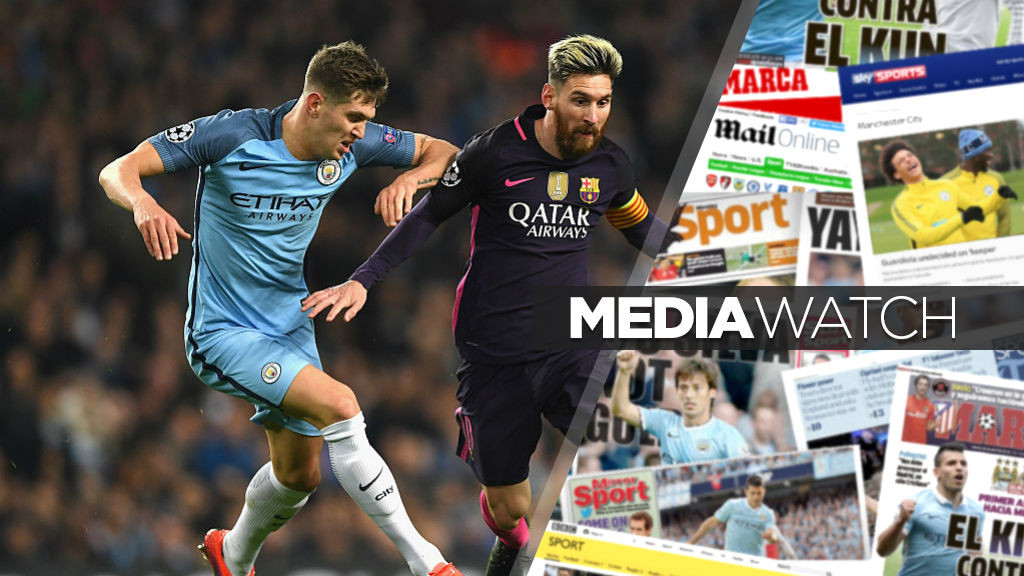 PAPER TALK: Lionel Messi has praised City's current form.
Talk from the opposite camp forms the media preamble to Manchester City's trip to Huddersfield on Sunday, while Saturday's newspaper round-up also includes a word of praise from Lionel Messi.
We'll start with the Argentine forward, who has suggested that the Blues scintillating start to the season makes them one of the favourites for the Champions League.
Goal have the quotes from Spanish outlet, Marca, in which Barcelona's No.10 says: "City is one of the strongest teams at the moment together with PSG.
"So far, they have been the two teams that have shown themselves to be favourites, but this is a very long and tough competition.
"Bayern is another big team that will also be there at the end, but it's true that today City and PSG are the best."
Switching our focus back to domestic action, Huddersfield boss, David Wagner, claims the Blues are one of the best teams in the world, as his side prepare to welcome them to the John Smith's Stadium.
Speaking to Yorkshire Post, he said: ""Everyone knows that Manchester City, at the minute, are the best team in the Premier League.
"This also means they are probably one of the best teams in Europe, and the world.
"Personally, I think they are playing fantastic football at the minute. They have a very, very good manager in Pep and we know exactly what is in front of us.

"The good thing is that everyone is aware how exciting this moment will be for us. These opponents are why we were so happy when celebrating our promotion in Wembley."
Wagner's right-back, Tommy Smith, is one Terrier who knows City particularly well.
The 28-year-old spent nearly a decade in the Academy and says he still thinks fondly of the Club where his career began.
He told the Yorkshire Post: "Manchester City is a totally new club to the one I was at.
"But one that is still close to my heart. I joined at 11 and went to all the matches with my dad. You form a bond when there for so long. I spent three or four days per week there so that bond will always be there, regardless of where my career takes me.
"When I was there, I wanted to play with people like Vincent Kompany. That is what I was thinking about when I saw him in the corridors.
"It was only after I left that I started thinking, 'Okay, one day I might play against you'. Hopefully, that can now happen."
That's your lot for today, Blues, but we'll be back with more of the same tomorrow.