Media Watch
1
Gossip: City on Griezmann trail?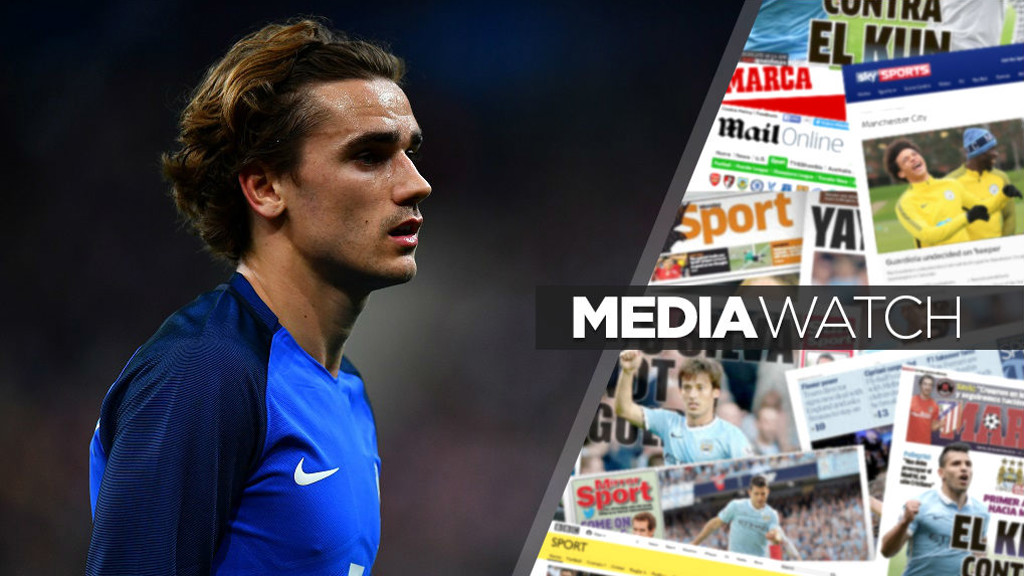 ANTOINE GRIEZMANN: Wanted man
A top Spanish newspaper believes City are keen to bring Antoine Griezmann to the Etihad.
The France striker has long been linked with a move across the city, to Manchester United, but the report, highlighted by 101 Great Goals, could prove an interesting twist in the race for one of Europe's most exciting talents.
It reads:"The front page of Spanish paper Sport on Thursday attracts the interest of three Premier League clubs: Man United, Man City and Liverpool.
"Starting with the two Manchester clubs, it's reported that they are fighting to sign Atletico Madrid forward Antoine Griezmann.
"Griezmann, who found the target for France during the international break, has been tipped with a move from Atleti for some time.
"Indeed, many thought he'd join United last summer, only for that deal to tank when Atletico's transfer embargo was upheld.
"Griezmann, however, has struggled somewhat this campaign. He's only scored twice in nine La Liga matches, although Griezmann has scored five goals in 19 games in all competitions for club and country."
"According to Sport, while Man City and Man United both want to sign Griezmann, the striker could join Barcelona instead.
"Sport report that Barcelona are willing to pay Griezmann's clause in the summer, which stands at 100 million euros.
"It's also claimed that the Catalans have an advantage over Manchester United and City in the race for Griezmann. Whether that's true remains to be seen."
Indeed.
And there's plenty more this morning including Lionel Messi (not the first time he's been linked!), Jack Wilshere and interesting features on John Stones and Robinho.
We'll continue with ESPN's snipped on Wilshere who is struggling to get game-time at Arsenal but still has plenty of suitors elsewhere if rumours are to be believed.
"Last month, Chelsea and Manchester City were reported to be potential destinations for Arsenal's Jack Wilshere -- but now he could be on his way to La Liga instead," write ESPN.
"Wilshere's deal expires in the summer, meaning he can leave on a free transfer in July, and the Sun says Real Betis "believe they are close to pulling off a coup by convincing him to move to Spain."
"It reports that Betis 'have made contact with Wilshere, with the player open to moving.'
"And it adds that the high-fliers 'could push for a cut-price deal in January if talks between Wilshere and Arsenal either don't happen or reach a stalemate.'
Away from transfer speculation for a moment or two and onto Darren Lewis' excellent article on Stones in The Mirror.

We'll let Lewis take the slack…
"The critics have gone strangely quiet regarding John Stones after England games.
"No more batterings on Twitter. No more suggestions the Manchester City centre-back is a naive liability.
"Now they are purring over the player he has become. The leader he is maturing into. The towering potential he is already realising for both club and country.
"Stones has allowed his football to do the talking. And how.
"Joe Gomez may have impressed against ¬Germany and Brazil but it was the guidance of Stones before and during those two goalless draws this week that enabled the Liverpool youngster to play without fear.
"Some may fret over their places in Gareth Southgate's future England set-up. Stones is unlikely to be one of them."
Couldn't agree more.
Moving on, the Daily Mail's man in Brazil has sent back a fascinating interview with former City favourite Robinho.
The Brazilian has been impressed with Gabriel Jesus and, at length and with affection, recalls his days in sky blue.
Adam Crafton writes: "Jumping out of his convertible car and bounding into a meeting room at Atletico Mineiro's training ground, Robinho breaks into a grin, puts on his finest impression of a Mancunian and shouts, 'Come on you Blues!'
'Ha ha ha!', he chuckles. 'This reminds me, I need to go to Manchester and see a Gabriel Jesus goal. Phwoar, what a player - strong, fast, a big hope for Brazil. But Manchester - how is Chappy (Les Chapman) the kit man? I need to see him. He taught me some English and I taught him Portuguese. At home, I still have the boots I played with at City and I have a shirt on the wall.
'I liked Manchester, the club, the restaurants... but let us not forget the discos.'
You can read the full article here. Even Chappy gets a mention.
And finally, we'll buck the trend by ending with a Lionel Messi story rather than headlining with it.
It's from The Express and it reads: "Barcelona star Messi is seriously considering a move to China, it is being reported.
"Chelsea, Manchester City and Paris Saint-Germain are also keen on signing the Argentine, should he wish to leave the Nou Camp.
"Spanish football expert Eduardo Inda claims that Messi was offered £134m per season to play in the Chinese Super League. And he is apparently considering the move after feeling down with life in Catalonia.
"If he wishes to move onto pastures new, Inda claims that he has offers aplenty.
'A few months ago Messi was a little down and was thinking seriously before the World Cup in Russia to go to China,' Inda said on Spanish TV show El Chiringuito de Jugones.
'They tell me that he would have received offers of €150million (£134m) euros per season. Despite this, his intention is to stay, although he has three offers in case he decides to leave the Barca team.
'City, Chelsea and Paris Saint-Germain all love him.'
Who doesn't?
That's a wrap for today – more tomorrow including plenty of build-up to our return to Premier League action against Leicester City. Until then…