Media Watch
1
UCL glory would be Pep's greatest says Toure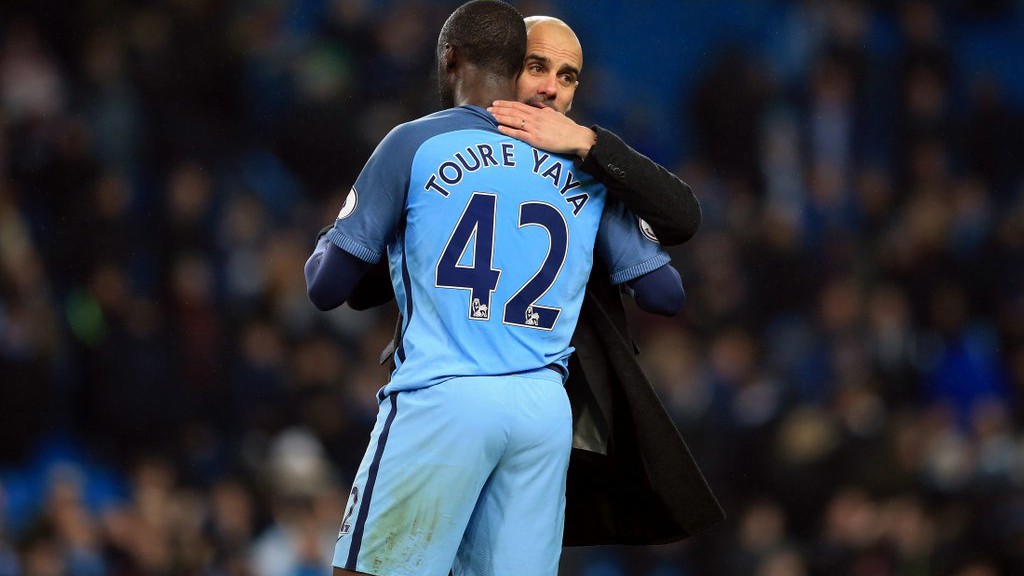 PEP AND YAYA: A match made in heaven
The attentions of the Sunday media swiftly turn to City's showdown in Monaco with the highflying Ligue 1 outfit following the Blues' comfortable negotiation of Middlesbrough in the FA Cup Quarter Final.
"Yaya Toure believes that if Pep Guardiola makes Manchester City champions of Europe, it will be the biggest achievement of his career."
That's the headline emblazoning Simon Mullock's Mirror piece which goes on to quote City's Ivorian powerhouse which we've snipped out below.
""I think this could be Pep's biggest achievement," said Toure. "It is his biggest test. But this guy likes challenges – and so do the players. So it is good.
""This team is so young. We already had good ­players, but now Pep brings in young players and that is so demanding for him.
""But it is starting to feel like something big is ­happening at City. The fans feel it, everyone feels it.
""We are getting a winning mentality in Europe and playing very well." ­Guardiola has enjoyed a ­gloried career as both a player and coach.
""When we play like we did against Monaco, we come close to the great teams like Real Madrid, ­Barcelona and Bayern. We cannot dream about anything yet because we still have a second leg to play.
""But if you ask the fans, they believe it. You saw their reaction against Monaco."
"However, Toure has warned that there will be a backlash from the French League leaders when City travel to the Stade Louis II.
"The Ivorian's midfield ­battle with his powerful young countryman Tiemoue Bakayoko will be crucial. Toure, who played for ­Monaco before moving to ­Barcelona, said: "Bakayoko comes from the Ivory Coast so I know about him.
""But don't be too fast to say he is like me. I work a lot and I've won a lot of things.
""Monaco are very good, but we have the winning mentality – and scoring killer away goals is going to be very important."
The Manchester Evening News believe Leroy Sane is guaranteed a spot in the City starting line-up at the Stade Louis II next Wednesday following another outstanding showing from the German winger at the Riverside on Saturday lunchtime.
"Pep Guardiola will unleash Leroy Sane on Monaco - describing the winger as 'special' ahead of Wednesday's Champions League tie.
"Despite City leading the round of 16 tie 5-3 after the first leg, City's manager is adamant his side will need to score against the French league leaders to secure their place in the quarter finals.
"Sane will be pivotal to that, with the forward establishing himself as a key element City's attack in recent weeks.
"The game against Boro looked like an ideal opportunity to rest the summer signing from Schalke, but such is his growing importance, Guardiola has continued to rely on him over a period when he has given breaks to David Silva, Kevin de Bruyne and Raheem Sterling.
""Sane has a lot of minutes in his legs, five or six games with 90 or 95 minutes on the pitch because he is a special guy," he said.
""I've told him he can improve in front of goal, but he is young.
""We took him off, not because the game was done, because it is still dangerous at 2-0, but because we want him to play again on Wednesday."
Let's wrap up with a bit of transfer news shall we and the Daily Star's claim that City will be monitoring Bayer Leverkusen right-back Benjamin Henrichs again on Wednesday night.
"City have Henrichs under regular surveillance as boss Pep Guardiola targets youngsters to replace his ageing back line.
"And the Germany international is set to be watched again in Madrid this week, when he plays against Atletico in the Champions League.
"City also saw Henrichs last week and Guardiola is understood to rate him highly. Leverkusen already class Henrichs, 20, in the £20million bracket.
"As we reported last month, City are again eyeing Athletic Bilbao centr-back Aymeric Laporte, 22, as Guardiola plans a summer revamp."