Media Watch
1
Monaco reaction dominates back pages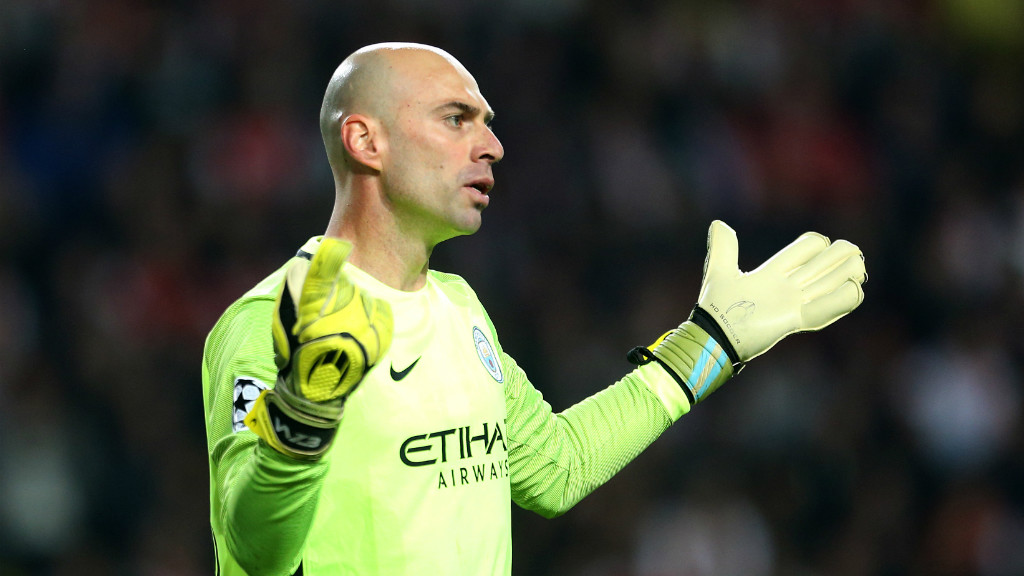 FRUSTRATION: Willy tries to lift his team-mates
The morning after the night before and the fall-out to last night's defeat in Monaco has produced varying overviews of City's display.
The media post-mortem will no continue for the next few days, but the god think about football is there is always another game around the corner and a chance to move on.
Still, we have to deal with today's coverage so, in the words of numerous gung-ho US action movies, "let's do this…"
The only actual match report we'll quote is from The Independent's Jack Pitt-Brooke who writes: "But there was a sense of inevitability building and sure enough City got their goal. De Bruyne darted another diagonal out to Sterling on the right. He cut inside and shot, and Subasic could only palm it into Sane's path, and he did the rest.
"That made it 2-1 to Monaco, 6-5 to City and would have been a smash and grab on the balance of play, if only City could hold onto it. But they never looked in control for that seven minutes, not against a team so much stronger and hungrier than them. City were giving away silly free-kicks and it was dramatic, but not surprising, when they were punished.
"De Bruyne pulled down Fabinho and Monaco had their chance. Thomas Lemar whipped in the free-kick and Bakayoko got behind Kolarov, unmarked, to head in the ball at the near post. City tried to get their second but never had enough. They never had enough all night."
The Daily Mail carry the quotes of an obviously delighted Monaco boss Leonardo Jardim – sure to attract the interest of even bigger European clubs this summer after his team's exploits this season – as he said: "Everyone is happy. We've achieved our objective, qualifying with a big performance. In that first half, we didn't let City play at all anywhere on the pitch, high pressing, and we scored goals. It was tighter in the second half but, if you analyse the two matches, home and away, Monaco deserved to qualify.'
Jardim had predicted before the game that Monaco would have to score three goals to go through.
'Yes because I couldn't see them not scoring at all,' he added. 'I know their team. They've got some of the best attacking players in the world, so keeping them out was always going to be tough. But we've got some good attacking players, too. They believed me when I said that, if we scored three, we'd go through."
The Mail also have a snippet on a former Blue who watched on helplessly from the stands. They write: "It's been four years since Mario Balotelli departed Manchester City but the striker still appears to have an interest in how his former side fare.
"As it happens, that's not very well. Pep Guardiola's team were defeated 3-1 by Monaco in a UEFA Champions League last-16 tie that saw them crash out the competition on away goals following a 6-6 aggregate draw.
"Balotelli was among those looking on from inside the Stade Louis II which is just a short trip across the south of France from where the Italian now lines up for Nice."
So let's end on a more positive note with BT Sport pundit hailing the Blues' attack – and Raheem Sterling in particular – in yet another Daily Mail feature.
"Manchester City forward Raheem Sterling is the 'most improved player in the Premier League' having been 'made a scapegoat' for England's Euro 2016 failure, Rio Ferdinand has claimed.
"The former England international also said City's forward line of Sterling, Leroy Sane and Sergio Aguero is 'as exciting' as any in Europe.
"A year after moving to the Etihad for $49million from Liverpool, Sterling came in for criticism for his performances in England's dismal Euro 2016 campaign.
'Sterling has been the most improved player in the Premier League from last year,' the former England captain claimed on BT Sport ahead of City's Champions League clash in Monaco.
'He was made the scapegoat for England and he has shown character - that mettle - to come through and show his true worth. [He had] a huge price tag [but he's] a young English man doing his thing.'
That's it for today, folks….