Media Watch
1
Sane, Silva and Aguero lauded after Sunderland win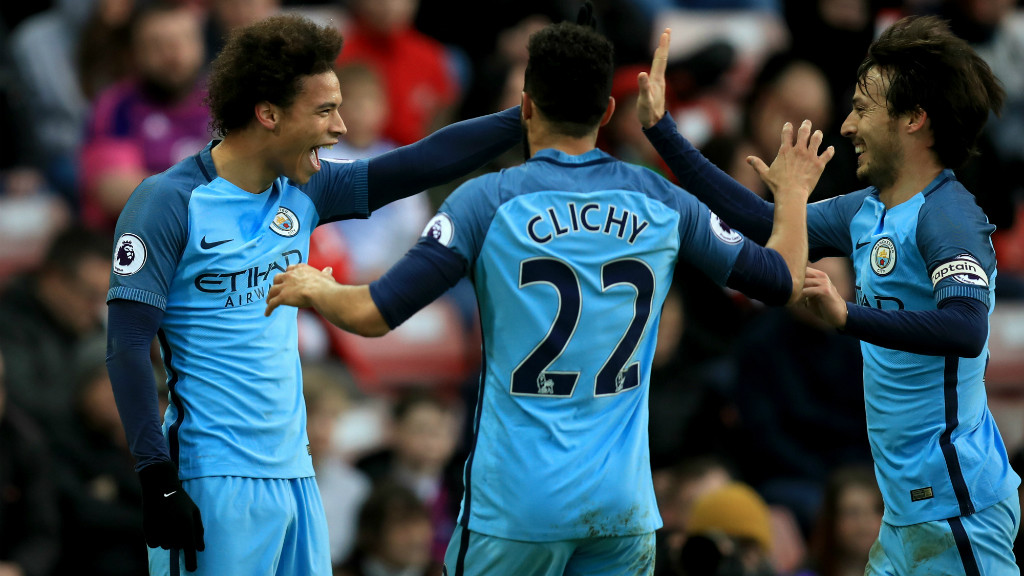 HIGH FIVE: David and Gael greet City's second goalscorer.
With Man City's victory over Sunderland on Sunday still fresh in everyone's minds as they wake up to start a new week, the headlines focus on what we learned at the Stadium of Light.
Leroy Sane scored City's second goal in the win, coming in off the left wing and firing across goal, and has received universal praise.
James Robson in the Manchester Evening News writes: "Such speed, balance deadly finishing from wide areas made him impossible to stop in the win over Sunderland.
"His six goals in all competitions have come from just eight shots. That is a remarkable statistic - and it feels like he is just scratching the surface of how good he can be."
Match of the Day's Phil Neville made a striking and exciting comparison between Sane and a young Gareth Bale when the Welsh winger burst into life at Tottenham Hotspur.
As reported by Goal: "He is forming a potent wide combination with fellow youngster Raheem Sterling and was briefly part of an exciting front three with 19-year-old Gabriel Jesus before the Brazilian's injury.
"And Sane's new-found confidence reminds Neville of a player he has first-hand experience of facing before he became one of the English top flight's most famous recent exports.
""When I see Sane play I remember Gareth Bale when he went from Southampton to Tottenham," Neville said on the BBC's Match of the Day 2.
""The way he has devastating pace, the way he goes past people with that power and pace. Simplicity at times, he's not someone who'll do two, three step-overs, it's running behind, pace and devastating finish."
Sane, however, didn't make the grade for Garth Crooks' Team of the Week for the BBC. He did select David Silva though.
He stated: "They controlled the game for long periods and David Silva practically ran the show from start to finish. There is no doubt that when Silva and Yaya Toure are playing well at the same time City look impressive."
Finally, Sergio Aguero netted his fifth goal in three matches in the first half and appears to be in fine form.
Sky Sports' Nick Wright believes the Argentinian is adapting his game: "While the sight of Aguero celebrating is nothing new, there are other areas of his game which appear to be evolving.
"For his high-pressing tactics, Guardiola required a striker who could provide off-the-ball intensity as well as goals.
"Aguero, though, has risen to the challenge since coming back into the team last month. He took the headlines for his goals in City's 5-3 victory against Monaco in the Champions League, but the increase in his defensive work-rate was also significant."
That's all for today's media round-up. We'll have more reaction to Sunderland 0-2 Manchester City on mancity.com throughout the day!