Media Watch
1
Gossip: Pep philosophy, plus strike duo linked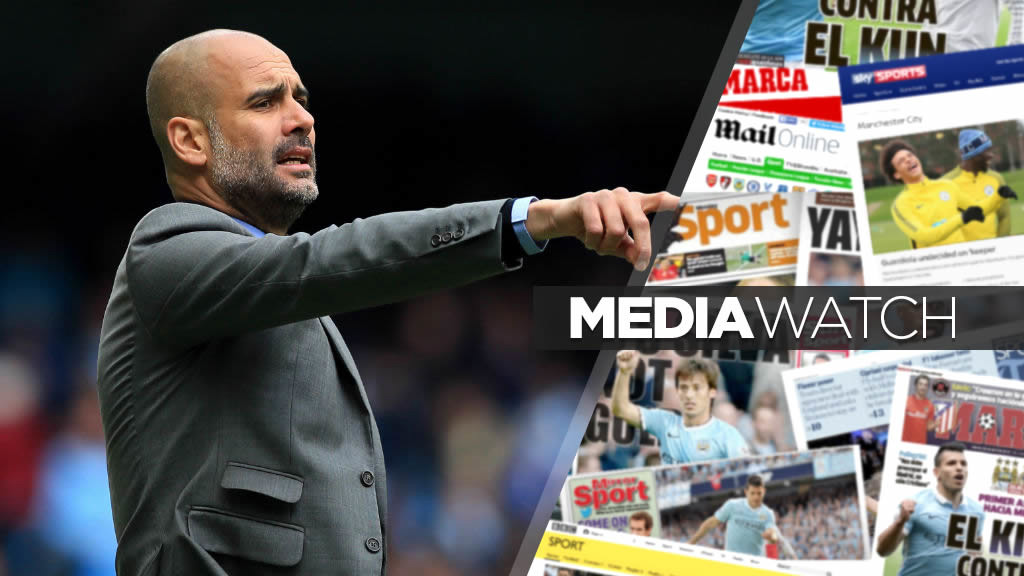 THE BOSS: Pep Guardiola
With the City Football Academy drenched in sunshine this Saturday there's a continental theme to our media watch...
Transfer rumours continue to bubble away - La Liga, Premier League and Ligue 1 'targets' feature today - but let's start with an interesting interview Guardian journalist Sid Lowe conducted with Joan Laporta, in which the former Barcelona president spoke about at length about Pep Guardiola.
"'Pep looked very well,' Laporta says. 'He was here for a few days, so we met up and he was very upbeat. He's happy at City, optimistic he can build something. The way they plan to go about strengthening the team, I think they're going to be extremely strong. The fans will be very excited.
"There is a pause and a cheeky grin, which there is often with Laporta, always famously good company, and he adds: 'I don't know what they're going to do, eh!' He continues: 'What I do know, and very well, is Pep and Txiki and that they're capable of building a team that will enthuse people.'
The piece continues: "'Pep's record speaks for itself.
"'Everywhere has its idiosyncrasies. He knew Barcelona as a kid but was successful at Bayern and I'm convinced he will be at City. He's lucky to work with Txiki and Ferran, who trust him. That's peace of mind. When I saw Pep he was animated, enthusiastic, excited for the future. He's smart, has emotional intelligence, an ability to convince. It's not easy: the Premier League's a challenge and there are two great teams in the city but he's the world's best coach and could've gone anywhere. He chose City because they'd have the faith, letting him build the project he has in mind.
"He'll make his mark."
"'If you watch City last season they passed the ball well but it doesn't happen overnight. You need the right players. They'll bring in players who suit the system he wants, which doesn't have to be identical to Barça. He's intelligent, he'll adapt. He'll create an identity, a connection.
"'The philosophy will be controlling possession, the first defender being the striker, pressing. When they came here , yes, they lost but had it not been for some mistakes … they made life difficult for us. Very. He's only just arrived: now, let his imagination run, let things flow, and City fans are going to enjoy their football."
Watch our latest player focus video here
A peek at the gossip columns reveals a couple of familiar names linked with the Blues including Kylian Mbappe and Alexis Sanchez.
The MEN's James Robson writes: "City have refused to rule out interest in the French international - but have so far been unwilling to meet Monaco's price tag of more than £100m.
"Guardiola's top target this summer is Alexis Sanchez, although Arsenal are determined not to sell their leading scorer to a direct rival.
"Sources close to the Emirates insist the FA Cup winners are resolute in their intention to rebuff City's interest - even with the threat the Chilean could walk away for free in 12 months.
"Mbappe was not seen as purely an alternative to Sanchez - but if City are forced to abandon their pursuit of the Arsenal striker they could focus their attentions elsewhere."
Finally that the Sun believe City might be one of a clutch of clubs tracking Barcelona midfielder Ivan Rakitic.
George Bolton reports: "Barcelona could part ways with Ivan Rakitic this summer as Manchester United, Man City and Bayern Munich show interest.
"It is believed the Catalan giants could get £45million for the Croatian – which would make him the most expensive player to leave the Nou Camp.
"According to Mundo Deportivo, Barca are reluctant to sell the midfielder after he has been a key player since arriving in 2014.
"But with Marco Verrati in Barca's sights, they may sell the player to raise funds to sign the PSG star.
"Rakitic was Xavi's successor at the Nou Camp and he has made the position his own – which has led to the likes of United, City and Bayern looking to sign him."
That's all for today, we'll be back same time, same place on Sunday!