Media Watch
1
Gossip: City to tie up double deal in next 48hrs?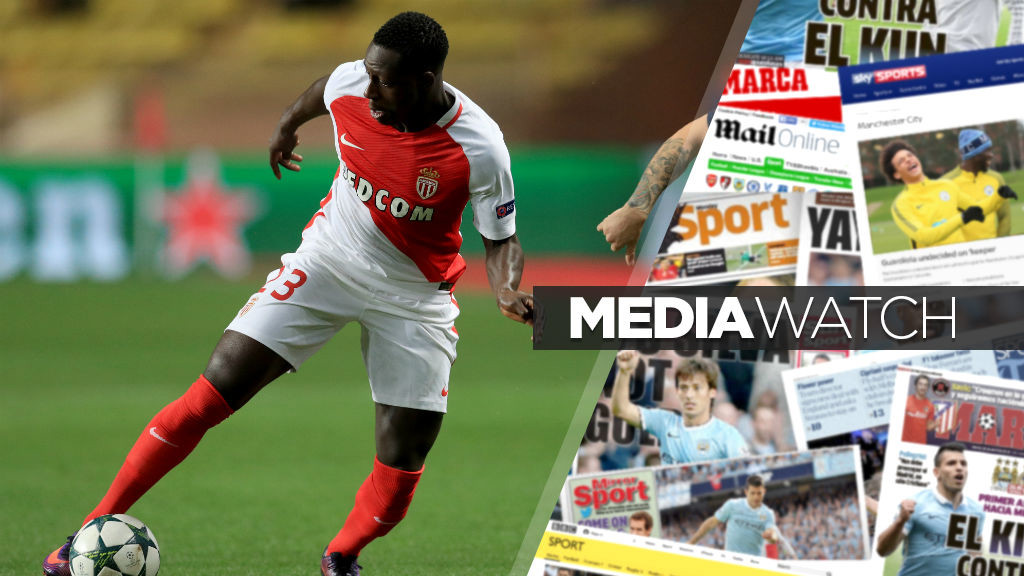 GOSSIP: Are City set to sign Monaco's Benjamin Mendy?
With the first pre-season friendly completed and the next one looming on the horizon, it seems City are determined to add new faces to the squad as quickly as possible.
Reports suggest a deal for Real Madrid Danilo, is very close to being finalised and several stories this morning suggest good progress has been made on the rumoured move for Benjamin Mendy.
Let's start with the IB Times who mention both players: "Manchester City are closing in on completing the double transfer of Real Madrid's Danilo and AS Monaco star Benjamin Mendy.
"According to the Telegraph, the two full-backs are expected to make a switch to the Etihad in the next 48 hours. The Citizens are keen on wrapping up the signings of the two defenders as they look to bolster their defence for the new season.
"Pep Guardiola already allowed three of his full-backs from last season - Pablo Zabaleta, Gael Clichy and Bacary Sagna - to leave the club this summer."
One full-back who has signed, Kyle Walker, has revealed he has been studying former MCFC legend Pablo Zabaleta in a bid to become an even better player.
City fans won't have a problem with that!
The Manchester Evening News report: "After making the big move from City's title rivals Spurs, Walker has revealed to the Manchester Evening News that he has been studying new Hammers signing Pablo Zabaleta for inspiration having replaced the Blues legend at the Etihad.
'I watched Zabaleta countless times on YouTube and clips, because I think his timing of runs into the box is fantastic,' Walker told the MEN.
'It's something I can get into my game with my pace. If I can time my runs as well I don't think anyone can stop me.
'I'm all about assists, I'm not really greedy. I don't want to score, as long as I set people up and then they get the goals, that's all I'm bothered about.'
Meanwhile the story of the summer could be about to end -i n disappointment.
For several months Arsenal forward Alexis Sanchez has been strongly linked with a move to the Etihad, but if rumours are to believed, the Chilean could be about to join PSG.
The usually reliable Football London write: "Sanchez has travelled to Paris today in order to finalise his transfer to Paris Saint-Germain, according to reports from French media.
"The Chilean forward has reportedly been spotted in a hotel in the city's eighth district as he prepares to seal his move to the French giants this summer.
"With just a year left on his current deal, the Arsenal striker had been linked with a move to Manchester City as he turned down the offer of a new contract.
"But Arsene Wenger has insisted all along that Arsenal would not sell Alexis to a direct rival, and if the reports from France are true then he will keep that promise.
"The Gunners are currently in China preparing for the season ahead, but has still not joined up with the main squad as he recovers from the Confederations Cup, where Chile were defeated in the final by Germany."
Finally, The Houston Chronicle have picked up on Sergio Aguero's meet with NFL star J.J. Watt earlier this week which led to an ill-fitting shirt swap as they report: "Texans defensive end J.J. Watt almost busted a seem Wednesday after a couple of soccer clubs came to NRG Stadium for a visit.
"Watt and Manchester City's Sergio Aguero swapped jerseys for a photo op celebrating the team's matchup with Manchester United Thursday.
"Watt's Texans jersey fit the 5'8", 150 pound Aguero nicely, while the soccer star's jersey was more than a little snug on 6-foot 5-inch, 289 pound football player."
Good morning my friend 🏈🏈🏈 https://t.co/Wxz3yO16nd

— Sergio Kun Aguero (@aguerosergiokun) July 20, 2017
More tomorrow!