Media Watch
1
Press purr over FA Cup hammering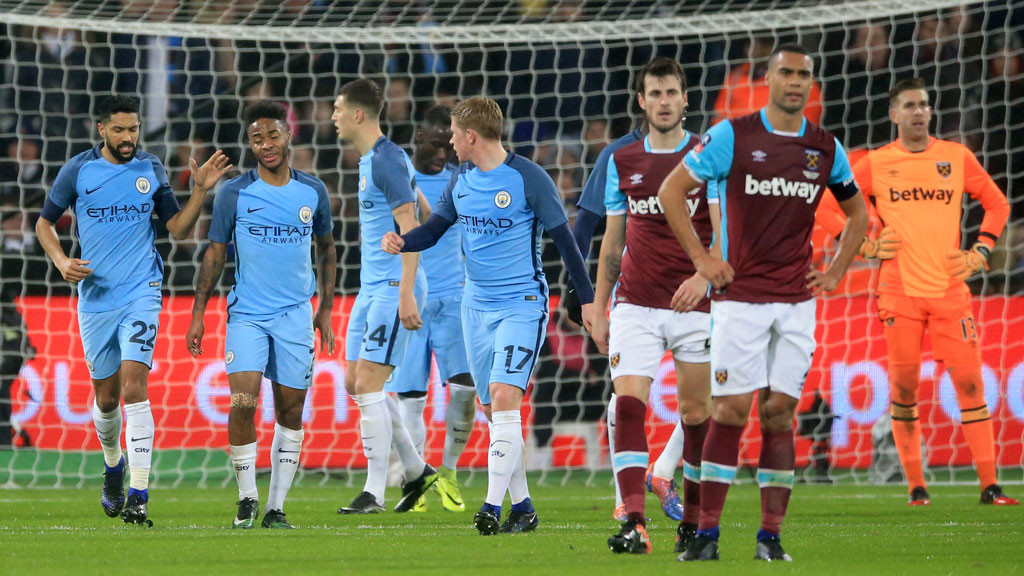 Celebrations
To say the footballing world approved of Man City's 5-0 FA Cup thrashing of West Ham would be an understatement.
The press have been purring, heaping praise on Pep Guardiola for his strong starting line-up and hailing the performances of a few impressive individuals.
Without further ado, let's dive in to the acclaim…
The Independent's Jack Pitt-Brooke reflected: "What more could Pep Guardiola have asked for than this?
"His Manchester City team finished a difficult week by picking West Ham United to pieces at the London Stadium, delivering a 5-0 win in which the hosts could barely lay a finger on City.
"Now City can enjoy their weekend before waiting to see who they play in the fourth round.
"City dominated the game, mixing possession with penetration and never surrendering control."
Darren Lewis of the Mirror declared City 'oozed class'.
"This was the City of August and September," he scribed. "Ruthless, rampant and ready to rumble again. They were superb.
"At times you had to watch through your fingers as they sliced through the Hammers like a knife through butter. Few teams will want to be paired with Guardiola's men when the draw is made on Monday night.
"While West Ham are now left to focus on a top-half finish and continue their search for a striker, City can continue to have big ambitions.
"The FA Cup is not a competition for which they have to settle. Guardiola's resurgent side also have four Premier League wins from their last five.
"If Spurs, on the same number of points, are back in the title race then surely the Spaniard's men are also still in the mix.
"This bloodless stroll on the London Stadium park will definitely have done their confidence the power of good."
Squawka's Greg Stobart echoed: "It was a perfect night for Guardiola as City look to rediscover the menace and consistency of their early-season performances, having had their confidence rocked by some high-profile defeats.
"While several rival Premier League managers are expected to ring the changes this weekend, Guardiola took no such risks in his first campaign in the FA Cup, a competition he described as 'special' before kick-off."
Guardiola said ahead of the game: "Everybody talks about this competition in other countries. Now is my first time, so hopefully we can make a good performance and go through."
"City certainly did that," the article continues, "with a display of such complete control that they were able to ease off in the second half and conserve some energy, despite a nine-day break until their next Premier League fixture when they travel to Everton on 15th January."
David Hytner, for the Guardian, stated: "His [Guardiola's] City team gave a powerhouse performance, shaped by a virtuoso display from David Silva, the floating midfield sprite, and marked by ruthlessness.
"It was an occasion when everything went right for Guardiola's team.
"Guardiola's lineups are routinely difficult to classify, such is the movement of his players and the manner in which they interchange positions, and nobody is harder to pin down than Silva. His licence to roam was pronounced and so, too, was his threat.
"Watching football in this vast bowl remains a curious experience. There were moments here when the noise levels rose sharply but many more when it all seemed to drift away on the breeze. Perhaps City simply succeeded in taking the sting out of the occasion.
"Their passing was too slick for West Ham and it felt symbolic that Bilic's team did not even pick up a yellow card in what was a humiliation. They could not get close to their City counterparts."
James Robson of the Manchester Evening News echoed: "Domestically, this was as good as City have been since his 10-game winning start at the Etihad.
"Fluid, inventive and ruthlessly effective.
"Raheem Sterling was devastating.
"David Silva imperious.
"Yaya Toure dominant - while even John Stones and Nicolas Otamendi looked commanding at the back.
"West Ham ran out of fingers to plug leaks as City found more angles from which to attack.
"Ricky Hatton claimed fighting Floyd Mayweather was like trying to punch confetti - and it must have felt likewise for the home side, who were chasing the game from the moment Toure fired City ahead from the penalty spot after 33 minutes."
ESPN's Nick Miller wrote: "In games like this, it's often difficult to work out whether one team has been very good or the other catastrophically bad.
"This time, it was a combination of both, because as poor as West Ham's spineless performance was, some of City's most illustrious talents showed their worth, notably [Raheem] Sterling and Silva."
Eurosport dubbed Sterling Man of the Match for his display.
"All of City's front three tormented the West Ham defence in the first half, but Sterling appeared to be the most threatening throughout," said Alexander Netherton.
"His play from the left gave David Silva, Sergio Aguero and Kevin De Bruyne room to manoeuvre, and he was at the heart of several chances too."
What did you make of the performance? Tweet us @ManCity!