Media Watch
1
Aguero recalls Messi meeting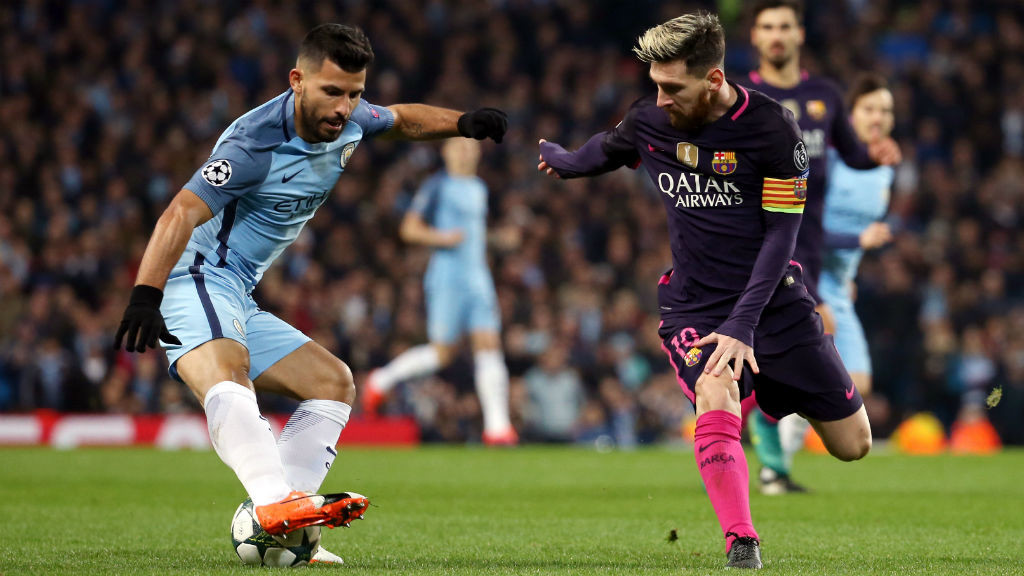 APPRECIATION: Sergio Aguero has hailed his compatriot Lionel Messi
There's plenty of Man City-centric media talk this morning as we build up to the FA Cup clash with West Ham.
Do the names Sergio Aguero, Gabriel Jesus and Lionel Messi pique your interest? Then read on...
First to City's Argentinian forward Aguero, who has recounted the time when he first met compatriot Messi.
Aguero told Fifa.com: "We were having lunch with the national U-20 team. Lionel was sitting next to me. All my team-mates were talking about the boots he'd brought from the USA, and I just couldn't work out how he'd got hold of them. Who was this kid?"
The report continues: "Already a first division player with Independiente, the 17-year-old Kun had evidently not been keeping a close eye on the latest developments in Spanish football, as he acknowledged: 'I asked him his name and he said: 'Lionel, Lionel Messi,' but I had no idea who he was.
"'I was just trying to work out how he'd managed to get those boots. Then one of my team-mates said to me: 'You don't know who he is? It's Messi, the kid from Barcelona'. That's when I realised who he was. I tell you one thing, though: he knew who I was!'"
Messi is up for the Best FIFA Men's Player of 2016 along with Cristiano Ronaldo and Antoine Griezmann.
The City forward added: "He's ahead of the rest, including the other nominees... And I'm not just saying that because he's my friend. I train with him and I see it with my own eyes. He does things I don't see anyone else doing. He's the best there is."
Staying on the striker theme and Pep Guardiola discussed incoming forward Gabriel Jesus at Thursday's press conference ahead of the Hammers game.
ESPN's Jonathan Smith writes: "Guardiola added that Gabriel can play anywhere across the front three but sees his role as more central and believes he will work well with striker Sergio Aguero.
"'He has played as a winger, to make movements, outside and inside, but of course he has to play close to the goal," Guardiola said.
"'He's not a typical winger down the line, like Raz [Raheem Sterling] for example or Jesus Navas, who makes the actions for the crosses.
"'He makes a good movement, runs in behind, and you have to use him close to Sergio, close to our strikers.'"
The manager briefly addressed his tranfer window thoughts, and speculation that the Blues are interested in Sevilla midfielder Steven N'Zonzi.
Goal.com's Sam Lee reports: "Guardiola would not be drawn on the speculation, insisting that "now is not the moment to talk". The City boss did suggest, however, that he has no need to bring in a midfielder.
"'Since I am manager from Manchester City, we are interested in a thousand million players so we are going to play with the team. If we need something, maybe it's at the back, central defenders or full-backs, maybe, but that is a position we have cover enough and the next season is the next season.'"
Finally the Daily Star have compiled a run down of the Premier League's top chance creators - guess which City player features highly? Take a look!