Media Watch
1
Griezmann availability 'would interest' Man City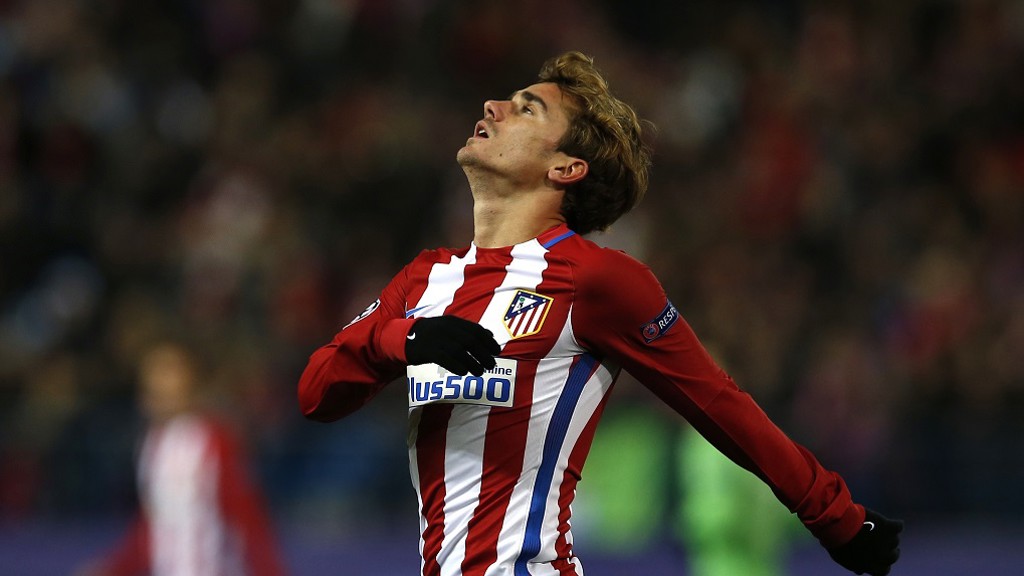 CLASS ACT: But who would Griezmann choose?
If one of Europe's top forwards became available this summer City will be invariably linked – whether the Club actually join the bidding is another thing.
Case in point Antoine Griezmann.
The Atletico Madrid star set the European Championships alight last summer and is rumoured to be heading to the Premier League after this season ends – but to which club.
The London Evening Standard suggest four possible destinations – City among them – though the player himself has allegedly indicated he favours United if any deal does materialise.
The Standard write: "Atletico Madrid manager Diego Simeone says it is no surprise that his star forward Antoine Griezmann finds himself at the centre of transfer speculation involving Europe's top sides.
"Chelsea are ready to meet the £85m release clause in the French striker's contract but they will face a battle from the likes of Arsenal, Manchester United and Manchester City to secure arguably the most coveted player in Europe.
"Griezmann himself has offered indications that he may be leaning towards Old Trafford as his next destination, admitting in November that he "always" asks close friends Paul Pogba what it is like to play at Manchester United."
One story that appears in a number of media outlets is the pursuit of one of the Blues' Academy graduates – and it's not the first time the player has been linked with Tottenham.
ClubCall report: "Manchester City could face a battle to keep hold of defender Tosin Adarabioyo as Tottenham are reported to be lining up a swoop.
"City are keen to keep hold of the 19-year-old defender but he has so far refused to sign a new deal and a number of Premier League rivals are waiting in the wings. Spurs are said to be one of them, while Everton and Leicester City are also reported to be watching developments over his contract at the Etihad Stadium."
Reuters continue the Spurs theme with their preview of Saturday's game, writing: "Tottenham Hotspur were the first club to expose chinks in the armour of Pep Guardiola's Manchester City and the in-form north London side will seek to inflict further damage at the Etihad Stadium on Saturday.
"When City travelled to White Hart Lane in October they did so with former Barcelona mastermind Guardiola threatening to turn his first season in England into a cakewalk after his side opened up with six straight Premier League wins.
"A 2-0 defeat, which could have been heavier, proved not just a blip, but a huge reality check for the Spaniard whose side have never been the same since.
"Young England midfielder Dele Alli is also in a rich vein of form so Tottenham will head north confident of a first away win against one of their top-of-the-table rivals this season, having lost to Chelsea and Manchester United and drawn at Arsenal.
"With City and Spurs facing each other, the other teams in the top six will look to gain some ground."
Meanwhile, the Daily Mail report on City's 3-1 FA Youth Cup win over Liverpool last night.
Lee Carsley's side now progress to the last 16 of the competition and the Mail write: "He has enjoyed a taste of first-team training with Pep Guardiola, and it's probably time for some more for Jadon Sancho.
"During a season in which the fledgling winger has shone the brightest for the academy, Sancho was the pick for Manchester City and manager Lee Carsley as they eased into the FA Youth Cup fifth round.
"Southampton await next month - hours before Guardiola's side take on Swansea City in the Premier League - and another opportunity for home fans to marvel at someone who continues to dazzle."
The Mirror pick up on a nice story of how Kelechi Iheanacho managed to sneak into a bar to watch City's epic 2011/12 title triumph.
They report: "Iheanacho has revealed that the first time he ever watched Manchester City was when they clinched the title at the end of the 2011-12 season.
"The City striker was just 15 when he says he paid 12p to get into a bar in his native Nigeria to watch the final day of the season unfold, seeing now teammate Sergio Aguero score the crucial Premier League clinching goal in stoppage time against QPR .
"Now 20-year-old, who has now become City's second striker behind Aguero, described how everyone in the bar "was going crazy" as City pipped United to the league title."
Well worth a read.
Finally, occasional mancity.com columnist Simon Curtis has written a lengthy preview for ESPN about this weekend's top five clash at the Etihad, plus the damage already inflicted by Spurs on the Blues this campaign.
He writes: "Pep Guardiola's season -- and that of the team he steers -- has reached a pivotal moment.
"The enormity of the challenge, the steady accumulation of problems to attend to and the gradual realisation of how deep they run have brought things to a head. Once again, City's dirty washing is out and in clear view for everyone to see.
"Never before has the Catalan coach been confronted with such a scenario. Breaking new geographical ground was an obvious first, as was pitting his wits against the power and glory of the Premier League, but now Guardiola faces a multi-pronged challenge that will test every grain of his undoubted talent: How to haul Manchester City towards a successful climax to 2016-17.
"The first issue stems from the very core philosophy that has brought him this far: that of pass and move. City's possession has been long and untroubled for much of the season. Playing around in defensive and midfield areas, time stands still and all is right with the world.
"The ball pings gently and efficiently from foot to foot and player to player as if threaded along a piece of fishing line. During that glorious 10-win streak at the beginning of the season, it appeared enough to completely transform City, despite the personnel he was forced to employ.
Now, though, when the ball is safely delivered to the edge of the penalty box, things begin to happen to it that upset the apple cart."
More – much more – tomorrow…