Media Watch
1
"Man City's dominance deserved a win"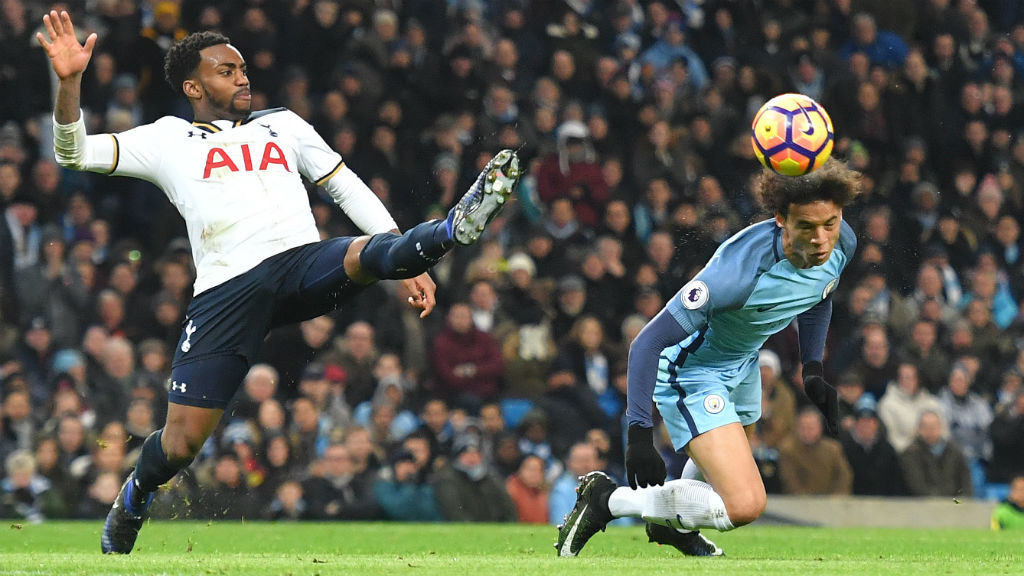 HEAD BOY: Leroy Sane
Still scratching your head, trying to figure out how Man City did not claim all three points against Tottenham on Saturday evening? So are we – and so are the press.
The general consensus in the post-match analysis is that Pep Guardiola's men were very unlucky to have come away with a draw – even Spurs boss Mauricio Pochettino admitted his side were second best.
Quoted on Sky Sports' website, he conceded: "It's true that Manchester City were better than us.
"I need to be honest. Sometimes in football you don't win.
"After the first half we didn't play in the way we wanted to play. It was a tough game for both sides.
"It was important, a massive point."
As for the journalists…
Peter Staunton of Goal.com reflected: "Sometimes the scoreboard is the biggest liar in the stadium.
"Tottenham may well have come away from the Etihad with a point on Saturday but this was the biggest robbery on British soil since the old gang got back together to knock over the diamond dealers at Hatton Garden.
"Mauricio Pochettino was almost at a loss in trying to describe how his Spurs team grabbed a share of the spoils. Spurs are the best team in the Premier League – the most consistent, the most fluid and the team with performances most in tune with expectation – but they resembled against City 10 hungover heads herded together on the morning of the game… with the bus driver slung in goal for good measure.
"This is the team that has inflicted big damage on Chelsea and City themselves. This is a team boasting a six-match winning streak, the team setting the bar higher than any other team other than Conte's side this season.
"Yet look again at what Guardiola's City did to them.
"This is where the scoreboard is outed as a liar. It was City's greatest display since they turned Lionel Messi's Barcelona here in November.
"City have thrown a damp blanket over many an opponent this season; an oppressive, but sterile, kind of dominance. They boast the ball but little spark. Here they had everything."
Wrote Dominic King of the Daily Mail: "From the first whistle, City followed Guardiola's instructions to the letter.
"Passes zipped about — rat-a-tat-tat — as if on a five-a-side pitch. David Silva was magical, Kevin De Bruyne imperious, while the forward line of Sergio Aguero, Leroy Sane and Sterling buzzed with intent.
"Spurs boss Mauricio Pochettino could only look on, hands wedged in trouser pockets, shaking his head as City dominated. So muted were Tottenham as an attacking force, they only touched the ball once in City's penalty area by half-time. The tally for City, by contrast, was 28.
"Yet, as at Everton, there was nothing to show for it. City were either too deliberate or lacked composure and Tottenham survived."
The Mirror's John Cross stated: "City really showed up, worked hard, pressed hard and their reaction was a really positive statement for Guardiola.
"Their first half performance was outstanding, scored two quick goals after the break and generally played so much better. The ending was cruel."
ESPN's Simon Curtis echoed: "Manchester City finally pulled out a display of verve, passion and directness and were rewarded with a 2-2 scoreline against Tottenham that said next to nothing about the flow of the game.
"Much has been said about City's indirect play, relying on too many passes to get anywhere near the opposition goal. That was not the case on Saturday, but still they conceded the opposition's first shot on goal and were pegged back to 2-2 in a match they had thoroughly dominated."
In the Manchester Evening News, Simon Bajkowski scribed: "Against an in-form Spurs team that had already outplayed them once this season, the Blues were excellent from the off and nobody would have denied they deserved the win...except they couldn't manage it.
"Two attempts, two Spurs goals and City had been sucker-punched in a tale that has become all too familiar this season."
*Sigh*
In other news, the Sun believe City are lining up a £20million bid for Burnley's Michael Keane.
According to Alan Nixon: "The Clarets planned to keep Keane for the rest of the season before selling him to the highest bidder.
"But the interest in him has grown dramatically in the past few days and a January deadline move could be on.
"City sent a delegation to watch Keane, 24, in action as boss Pep Guardiola realises he needs a top-class defender.
"The former Manchester United kid could be the answer and City have fortunes to spend both in fees and wages to make that happen."
What do you make of today's headlines? Tweet us @ManCity.