Media Watch
1
Pochettino praises Pep ahead of City v Spurs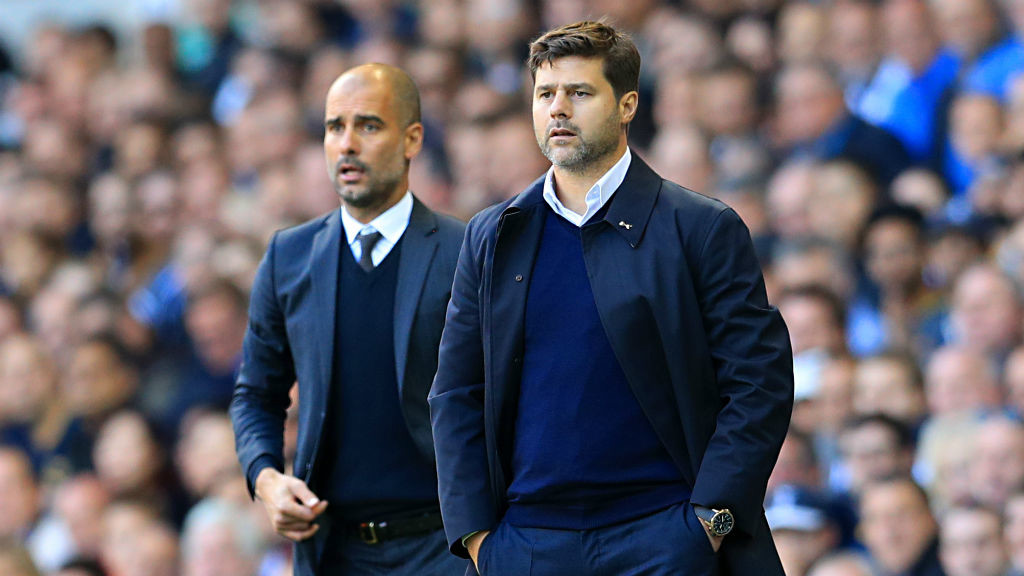 MEETING OF MINDS: Guardiola and Pochettino have had an entwined history during their careers
Manchester City face Tottenham Hotspur today in a battle near the top of the Premier League and as you can imagine, it takes up much of this morning's headlines.
Tottenham boss Mauricio Pochettino delivered his pre-match press conference yesterday and was asked about his thoughts on Pep Guardiola's transition to English football.
As reported by the Daily Express, the Argentinian is full of admiration for the City manager.
He said: "It means nothing for City to lose to Everton. It does not change my admiration or my thoughts about him. He needs time. He's in a position that is still that they can win titles.
"Sometimes it's about managing expectations. You cannot win titles after a few months. You need to wait until the end. And I'm sure Guardiola will fight with Manchester City at the end for big things."
"It's true that Manchester City has a different philosophy, not a different level because this season is not complete, but they have a different way to Tottenham.
"It's too difficult to measure if there is a gap or not. Tottenham is completely different to Manchester City. With Espanyol and Barcelona you could measure the gap. But here it is too difficult to measure the gap. We are in a completely different world."
Jack Pitt-Brooke focused on the entwined history of the two managers, who met several times when Guardiola was in charge of Barcelona and Pochettino ran City rivals Espanyol.
Writing in the Independent, he said: "Despite working with different materials, both managers share an idealised vision for how football should be played, a model of expansive football that they are trying to perfect.
"Some managers just want to win football matches but these two are in pursuit of something more. Guardiola touched perfection with Barcelona and nearly did so at Bayern Munich."
Former Arsenal and England centre back Martin Keown has called for City to focus on improving their defending if they are to overcome Spurs.
Writing in the Daily Mail, he said: "If City are going to stop in-form Harry Kane and Dele Alli, they need to be much better defensively and become harder to beat.
"It is all very well for the defenders to help the creative players going forward, but they need help when City lose possession.
"There are some players who do not react when the ball is lost and are only prepared to work again when their team win the ball back. There has to be a call to defend and to get back into shape."
That's all for your round-up today. Stick with mancity.com throughout the day for full coverage of City v Spurs!