Media Watch
1
City's Champions League future discussed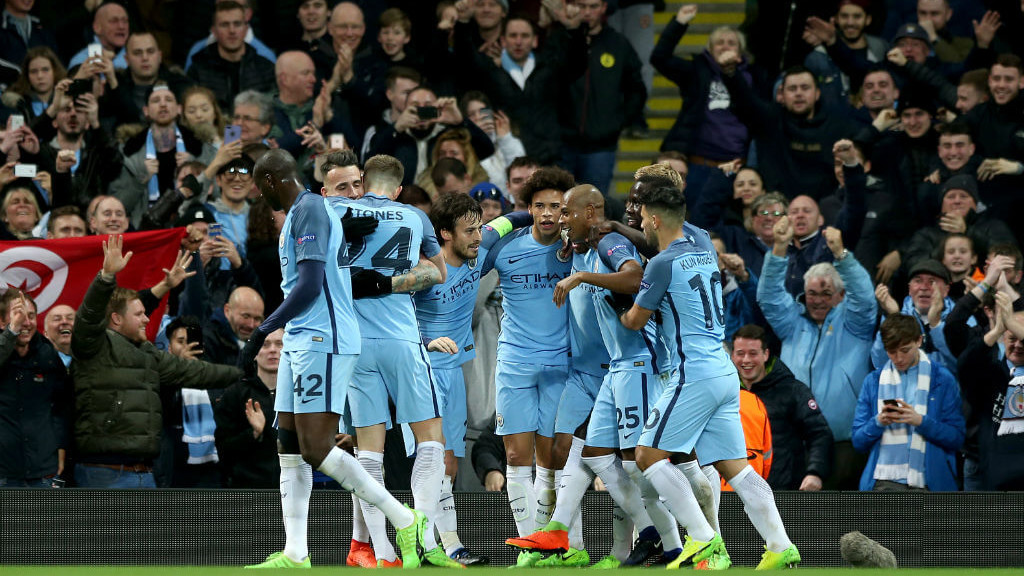 WHAT A NIGHT: City players and fans celebrate
With no match this weekend, the papers are filled with analysis of City's Champions League performance this week and the Blues' potential transfer targets.
Raheem Sterling has gained universal plaudits for his excellent performance against Monaco and the Manchester Evening News believe it was just the latest of a string of impressive showings.
Simon Bajkowski writes: "As far as the big picture goes, it seemed a pretty ordinary night for Sterling.
"He scored one, he made another and was one of four players to get a 9/10 in our player ratings. An impressive performance undoubtedly, but he's been putting in a string of them of late.
"On Friday, UEFA announced that Sterling had been crowned Player of the Week for his performance.
"Ahead of Atletico's, Kevin Gameiro, Juventus attacker Paulo Dybala and Leicester's Kaspel Schmeichel, it was the City man who was deemed the best in Europe for the latest round of games.
"More than just recognition though, this was public approval. The award was voted on by football fans and it wasn't a photo finish."
ESPN's blogger Simon Curtis decided to focus on the potential of City in this year's European competition with the second leg of the Monaco tie approaching.
He writes: "For a club that returned to European competition after a 25-year hiatus by being drawn to play in Wales (against Total Network Solutions in 2003), the prospect of reaching their first ever Champions League final and having to play it in the Millennium Stadium in Cardiff would also appeal to the sense of humour imbued in its long-suffering supporters.
"A similarly chaotic second-leg triumph in Monaco will have people believing that odd irony might just be possible."
On to transfer targets now, The Sun believe Pep Guardiola is interested in a reunion with Juventus' ex-Barcelona full-back Dani Alves.
Warren Haughton speculates: "Manchester City are eyeing a summer move for Juventus full back Dani Alves.
"The Brazilian who spent four years at Barcelona under City Boss Pep Guardiola, is keen to give the Premier League a crack before his retires."
Elsewhere, talkSPORT insist City are involved in a battle with other major European clubs for German left-sided midfielder Julian Brandt.
They report: "Real Madrid have joined Liverpool and Manchester City in the race for Bayer Leverkusen star Julian Brandt.
"The 20-year-old is touted as one of the brightest prospect in German football and he has weighed in with six assists this season.
"Both Liverpool and Manchester City have expressed an interest in the winger, with Reds boss Jurgen Klopp a particular fan of his talents."
Finally, the Telegraph's Guy Kelly ran with a feel-good story on City's amputee star Jamie Tregaskiss yesterday and you can read that here…
That's all for today! Stick with mancity.com throughout the weekend…