Media Watch
1
Gabriel Jesus praise, plus Swansea tactics talk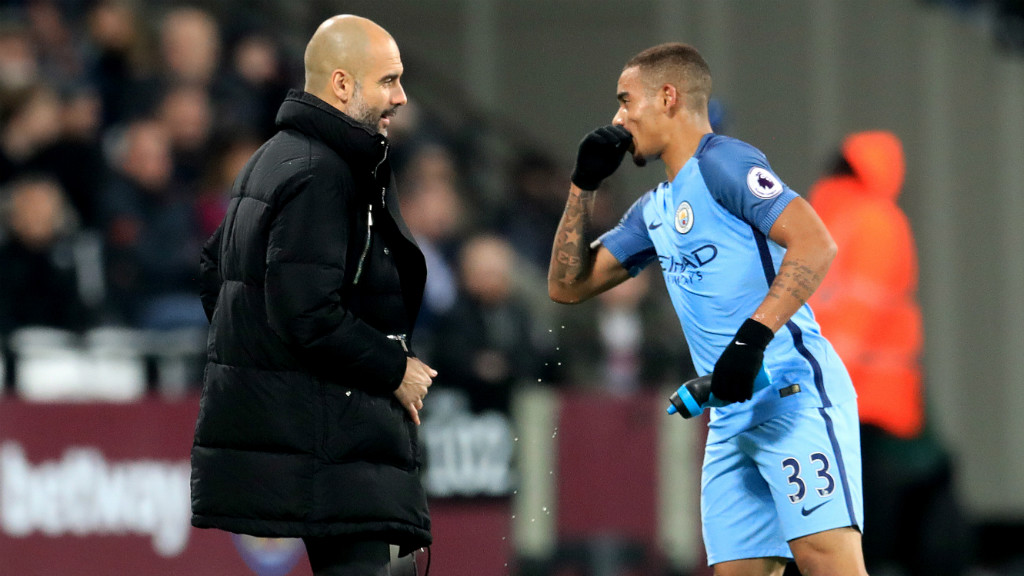 NICELY DONE: Pep Guardiola praises Gabriel Jesus for his display
Welcome to our matchday media round up, and there is much City-related positivity in the press ahead of the visit of Swansea.
Gabriel Jesus features heavily in Sunday's papers round-up, plus the media in Germany have identified a clutch of potential summer targets.
First to ex-player Glenn Hoddle, who cast his eye of the midweek win over West Ham and saw some familiar signs emerging.
He writes in the Mail on Sunday: "They are beginning to look like Guardiola's Barcelona, with one holding midfielder, two technical players in front of him and a front three who bewilder opponents with pace and speed. So much of what was good came from Jesus, who in two games has shown so much to excite.
"His pace, technical ability and his apparent hunger make him an enormous prospect. He's already dealt with being high profile at Palmeiras and with Brazil, including winning the Olympics.
"With Leroy Sane and Raheem Sterling as well, the team looks a little more youthful, although I still think Jesus could play with Sergio Aguero, either as two central strikers when they're playing three at the back or playing wide left or as a No 10."
Meanwhile, Guardiola expanded on his opinion of Jesus in his pre-match press conference in quotes picked up by the Guardian.
Paul Wilson reflects: "Guardiola claims to have known all along he would be physically strong enough for England.
"'We cannot forget he is only 19 and he has only played a total of two games and nine minutes,' the City manager pointed out. 'But we always knew he was physically strong, he's a fighter. Brazilian football is physical. People talk about the technical skills but I played with many Brazilians at Barcelona and I have managed many more and their biggest quality is how strong they are. Fernandinho and Fernando at this club are good examples of that. They are both amazingly strong.'
"City knew what they were getting, having watched Jesus on a number of occasions, though they did not realise he would be holding down a regular place for Brazil by the time he flew out to join his new team in Manchester. 'That in itself tells you a lot,' Guardiola said.
"'He's a striker for the national team of Brazil and that is not such an easy thing to accomplish when you are only 19. He's keeping out some huge players up front.'"
Finally reports in Germany suggest City are lining up swoops for a number of players including Bayern Munich' left-sided player Juan Bernat, Arsenal's Hector Bellerin, Valencia's Jose Gaya and Southampton centre-back Virgil van Dijk.
We'll have more same time, same place on Monday morning including all the reaction to the Swansea game!