Media Watch
1
Press purr over Gabriel Jesus' impact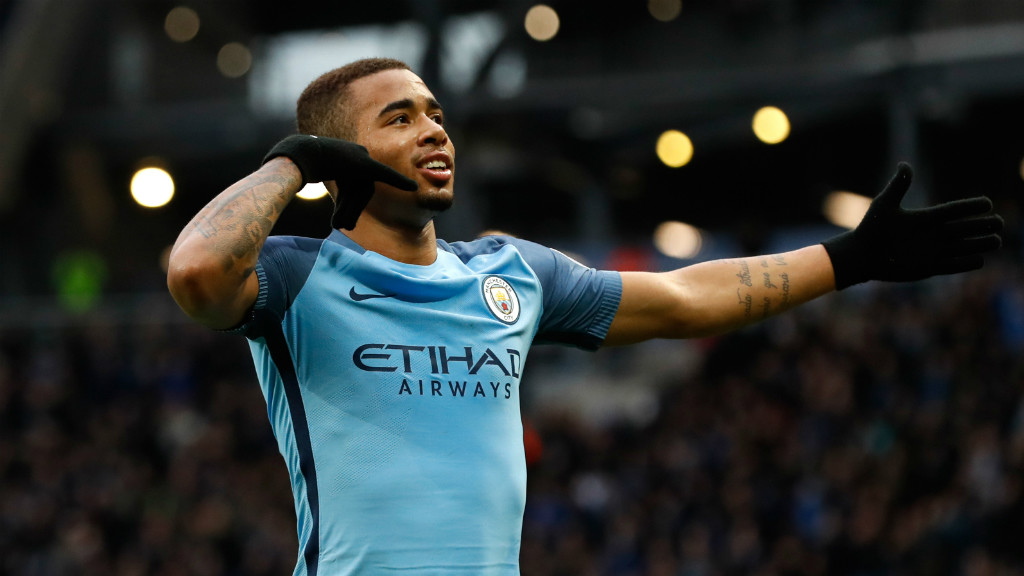 CALL ON ME: Gabriel Jesus celebrates his winner against Swansea
He's been deemed 'one for the future', but Gabriel Jesus has proven he's more than ready to become a Premier League star right now…
Man City's new Brazilian recruit has sent the footballing world into a spin again with a brace in the crucial last-gasp win over Swansea, with everyone in awe – not just of his talent, but the manner in which he has adapted to the English game to become an instant hit.
The 19-year-old dominates the headlines this morning and to say journalists are impressed is an understatement.
The Mirror's Andy Dunn purred: "Gabriel Jesus, as nailed-on a local and global star of the future as you could possibly find.
"Smart and smiley, fast and friendly, a natural-born footballer, a young man who has pasted a grin back on to the face of Manchester City.
"Keeping this boy away from the Spanish superpowers has been one of the modern City board's and Guardiola's most notable achievements.
"Jesus, in harness with the likes of Leroy Sane and Raheem Sterling, has given the club a different dynamic, an ­alternative feel, an aura for the future not just for now."
Sam Lee of Goal agreed: "Jesus has hit the ground running both on the pitch and off it.
"He arrived in England at the turn of the year, catapulted from a farewell party with his friends on a beach in Brazil straight into the Manchester cold and post-Christmas gloom.
"The one major uncertainty surrounding the youngster was how he would make the leap, yet he has taken everything in his stride.
"It is questionable how much you can learn of a person by their social media profiles alone, but Jesus' instagram feed, at that point the only - but very reliable - window into his new life, was constantly updated with videos of his adventures around the city.
"Whether he was out in the snow, walking down Deansgate or dancing to a street performer's saxophone, there was one constant: a broad smile.
"He has brought an army of friends and family with him from Brazil to aide his early development but he has certainly not been shy around his new team-mates.
"All of City's official Jesus-related media content - and has been plenty of it - showed him laughing and joking with everybody within earshot during his first weeks at the club, whether photographers, translators or Pep Guardiola's first team players.
"He can also be considered a contributing factor in Leroy Sane's recent good form, given the "shy" German, as Guardiola put it, struggled in his first few months at the club. But Jesus and Sane have struck up a friendship already and it is hoped that the Brazilian can bring his team-mate out of his shell even more.
"That is one aspect of Jesus' game that could never have featured in the all of the Jesus profile articles that were lapped up by City fans over the last few months.
"Each lauded his quality but there were, understandably, concerns that a young lad leaving his home country for Manchester and English football would need time to adjust and show his best.
"It is safe to say, though, he seems to have exactly the right temperament to be a vital player for City in the years to come.
"The club's top scouts had been attracted not just by his finishing ability but by his willingness to fight for every ball, though even they were cautious that he would need time to bed in and, of course, improve his game even further.
"He makes things happen and, so far, he has made a huge difference to this team."
Richard Tanner of the Express reflected: "What an impact the Brazilian teenager has had since his arriving early last month.
"It must have been a big culture shock on and off the pitch leaving Sao Paolo for Manchester in the middle of the English winter, but Jesus has hit the ground running.
"He has scored three goals, had another strike disallowed and claimed two assists while his enthusiasm and willingness to work hard has helped galvanise his team-mates.
"City will just hope he doesn't go the same way as two previous Brazilian stars, Robinho and Elano, who both started brightly but faded quickly. But Jesus looks to have the hunger and aggression to go with his bondless talent.
"Both goals showed Jesus has the classic striker's quality of being in the right place at the right time."
The Manchester Evening News' Stuart Brennan echoed: "The sight of Gabriel Jesus celebrating his two goals will have filled Pep Guardiola's heart with gladness.
"But what will have really sunk in for the Manchester City manager was not the poaching qualities of the boy from Sao Paolo.
"It will have been the memory of him in the second half chasing down the ball deep in the Swansea half and then incredulously beckoning to his less lively colleagues to do the same.
"Jesus was immense again. He chased every ball down, he worked the defenders, he was available, and his two goals, though not spectacular, were not flukes.
"He had ranged into the box from wide on the left when he saw David Silva nutmegging a defender and creating the space, and when the ball popped up he reacted faster than everyone else with a leaping volley from close range."
The Independent's Tim Rich wrote: "After two matches, which have produced three goals, three assists and two victories you could understand what lay behind Guardiola's smile.
"The boy from Sao Paulo carries with him the electricity that must have accompanied Colin Bell's first games for Manchester City half a century before."
Like many others, Eurosport dubbed him their Man of the Match, declaring: "Just how far the Brazilian can go remains to be seen but Jesus looks like he has all of the attributes of a world-class player.
"Scored two goals any poacher would be proud of but there's much more to his game than just putting the ball into the back of the net. He linked up superbly with his team-mates throughout, causing Swansea endless problems with his vision and creativity."
Writing for ESPN, Simon Curtis scribed: "The exuberance of the first half again revealed a glimpse of City's future. Things are changing swiftly and the beginnings of the Guardiola revolution are now plain to see.
"In Jesus, City have a catalyst to their already pleasing one-touch link play. It now happens at greater speed with the added slice of the exotic and unpredictable at the top end of the diamond.
"What an impact the youngster is having. After a goal at West Ham, two more here. The first an elevated toe-poke in among the flying feet, the second a cool tap-in after his header had been saved. A masterclass of flicks and feints completed the picture."