Media Watch
1
Blues linked with Premier League duo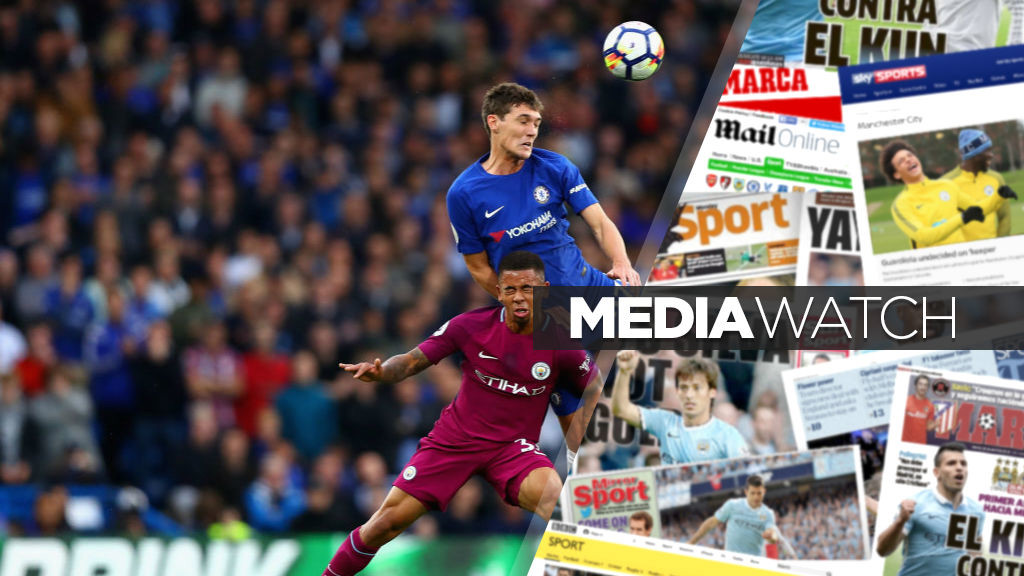 MEDIA WATCH: Blues linked with two Premier League players in Wednesday's newspapers.
There's a mixture of Champions League, Manchester derby and transfer chatter to get us started in Wednesday morning's Media Watch.
Both of this week's opponents have been sharing their thoughts ahead of the respective games, while on the transfer front, City are linked with moves for two Premier League players.
It's Leroy Sane who we begin with, though, with Sky Sports charting his rise from his earliest years in Germany to the summit of the Premier League.
Adam Bate has spoken to several men who've impacted Sane's career, including Norbert Elgert, from his youth team days at Schalke, who speaks glowingly of his time there.
He said: "His athletic ability is exceptional. His speed, his explosivity. It's fantastic. He has great talent and his attitude was always good. Leroy is a very open and extroverted character.
"We did have to work a lot during our time on his vision, his awareness and his positional play. But he was always prepared to listen."
The winger is currently preparing for this evening's Champions League tie with Shakhtar Donetsk, whose head coach, Paulo Fonseca, ranks City at the top of the European game at present.
His pre-match press conference has been covered in the Daily Mail, when he said: "If we look at City's performances this season, I think we can call them, if not the best, then definitely one of the best teams in the world right now."
Now, to those two transfer rumours.

Former Chelsea winger turned pundit, Pat Nevin, has claimed City are targeting the West Londoner's centre-half, Andreas Christensen.
The Daily Star report the story after Nevin's comments on Irish radio station, Newstalk.
He said: "I heard a wee whisper, and I don't know if it's true, but the player he would really like more than anyone else is Andreas Christensen from Chelsea. That's the one he'd really like."
Meanwhile, a story which received plenty of column inches in the summer has returned, with the Independent suggesting City are lining up a January bid for Alexis Sanchez.
Miguel Delaney writes: "Manchester City will return with a big offer for Arsenal's Alexis Sanchez in January, as they attempt to finally clinch the deal that Pep Guardiola was desperate for in the summer.
"Guardiola is said by sources to feel that the unbeaten Premier League leaders can do a double of domestic title and Champions League this season, so wants to press home with the purchase and add real strength in depth to his squad to seize the opportunity."
Looking ahead to Sunday's showdown at Old Trafford, Jose Mourinho has given an early indication as to who will be available for the Reds.

Speaking after the midweek Champions League fixture, he told the Independent: "The truth is Eric Bailly, no chance for the weekend.
"Phil Jones, a chance. Fellaini, a chance. Zlatan, a big chance. Matic is injured but will play for sure. I'm telling the truth. He is injured but he will play for sure. Carrick no chance."
Mourinho's midfield man, Juan Mata, says confidence is high on the other side of the city following the 2-1 win over CSKA Moscow and the significance of the derby is not lost on the players.
The Daily Star have his quotes, which read: "We are so happy, we face the weekend game with good momentum.
"It is important to win for your confidence level, Sunday is a big game, we know how important it is."