Media Watch
1
Kompany: It's all about the derby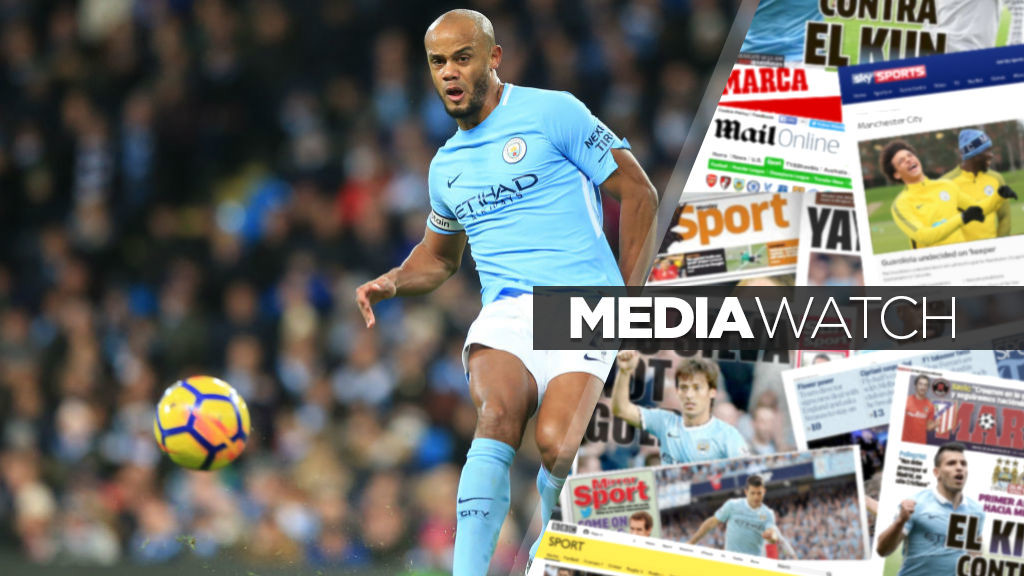 MEDIA WATCH: Your Tuesday media round-up!
You can tell the Manchester derby is nearing, as it has consumed a number of the football headlines – and it's only Tuesday!
In today's media watch, we hear our captain's thoughts on Sunday's clash, Frank Lampard's opinion on the Premier League title and praise for our Champions League squad…
Firstly, our skipper Vincent Kompany has been sharing his thoughts on the Manchester derby.
City will head to Old Trafford on Sunday 10 December for the first meeting of the season, and the captain has marked the clash as the most important game in the world.
Speaking to Sky Sports, he said: "I kind of press pause when it's a derby and the season doesn't matter to me anymore, it's all about the derby.
"Managers and players do like to downplay it, but I don't care, it's rubbish. The derby at that moment is the most important game in the world to me.
"It means more than anything else, and it will be everything I've got, everything the team have got and everything the fans have got to win that game.
"It doesn't matter which position we are in, whether we need a point, three points, I don't care, we need to make sure we leave that place with our heads high."
The Belgian even revealed that he enjoys the derby more than any of his team mates!
"I think it's a natural thing to want to almost put expectations a bit lower, because it makes you feel like the pressure is perhaps easier to deal with, but in my case I am happy to deal with pressure," he said. "I enjoy it more than anyone else and I am happy to say that the derby is more important than any other game. I don't care what anyone says.
"But it's not something that happens in your mind and you're in control of. It's 110 per cent that your manager asks from you when you play against West Ham at the weekend, and he'll ask the same for the United game.
"But the problem is in those derbies you get to 120 per cent, and nobody can explain why, but that happens in a game and it is out of everyone's control."
Next up, we hear from former Blue Frank Lampard.

The ex-midfielder has spoken about City's title hopes and the competition for the trophy.
Pep's side currently sit eight points clear of second-placed United at the top of the Premier League table, and are 11 points clear of Chelsea who are in third.
Lampard believes that the second and third place competitors are the only clubs still in contention for the title, but has praised City's team for their recent performances.
"Manchester United are still there, and I think Chelsea will be the other main challengers," Lampard told TalkSport. "I think the others will struggle for the consistency to close the gap on a team who are playing so well in Manchester City.
"But we certainly can't say it's over at this stage, yet.
"What the other teams, other than City, need to do is try and stay in contention and hope for a blip with [sic] City.
"At the moment it's not coming… but you have to stay in the game."
The former midfielder was complimentary of his ex-club because of the grit and determination shown this season.
"We've seen in the last two games City are not going to have it all their own way – they're going to come up against difficult games," he added.
"They've shown grit – to be fair to them – this week to get two results, and Manchester United is a huge game for them as well.
"But for the neutral, obviously, we want to see it [the title race] stay alive, but for City they want to put one foot closer to being champions in December, which is an early call."
Finally, the Telegraph has praised the club for taking such a strong squad to Ukraine to face Shakhtar Donetsk on Wednesday evening in our final Champions League Group stage clash.
While Wednesday's result has no impact on our current standings in the competition, Pep hasn't held back with the squad as the only notable absentees are David Silva who is not fully fit and Kevin De Bruyne who is suspended.
Jason Burt of the Telegraph wrote: "The fact that Pep Guardiola has taken his strongest squad – bar the suspended Kevin de Bruyne and David Silva – to Ukraine for the final, 'dead rubber' of a Champions League group fixture says it all about the approach he will adopt for Sunday's Manchester derby.
"Guardiola will go to Old Trafford to win just as he is going to face Shakhtar Donetsk to win even though Manchester City are already through to the last-16.
"He does not need the result in Kharkiv, where Shakhtar are playing their home games and where the temperature is below zero, but he wants it with his squad returning late on Thursday, recuperating Friday and only then able to train again on Saturday.
"If City win, with starts expected for Gabriel Jesus, Ilkay Gundogan and Bernardo Silva, they will create another record, by becoming the first English side to collect maximum points from all six of their Champions League group matches."
That's all for your Tuesday media round-up, we will be back tomorrow for your match day media watch!