Media Watch
1
Media Watch: 'City are on another planet'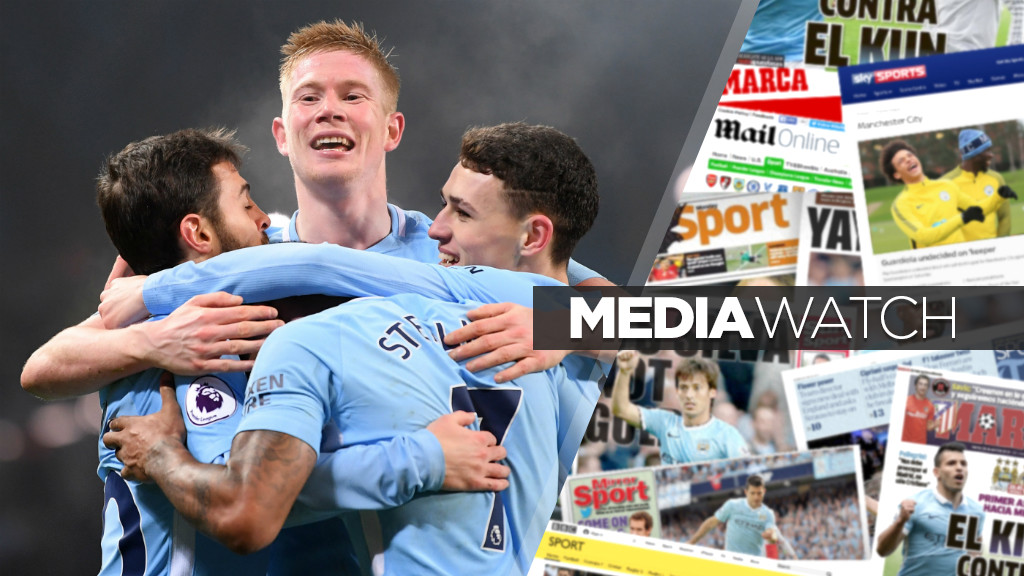 COSMIC CITY: Rio Ferdinand says City are 'on another planet'
Another performance that left the press purring…
Unsurprisingly, City's devastating demolition of Tottenham dominates the football headlines this morning – and the assessments make very pleasant reading.
The Blues smashed Spurs 4-1, courtesy of goals from Ilkay Gundogan and Kevin De Bruyne, plus a Raheem Sterling double and it was the manner of the victory that impressed the most.
The Express' Jim Holden reflected: "Another stunning exhibition of mesmeric football crushed Tottenham and put Pep Guardiola's team 14 points clear at the top – with still another match to play before Christmas.
"This was the 16th consecutive league victory for City, extending their English record and matching the best Guardiola ever managed with Barcelona.
"The scale of the achievement is clear enough. What makes it so much more compelling is the style and beauty of their play; forever taking risks in possession, forever passing the ball with clinical grace.
"Once again, the goals flooded in. It was four here as the crowd roared in pleasure; it could have been several more. Spurs were left completely flummoxed.
"Leroy Sane was a devastating threat on City's left flank, running at sprinter's pace with dexterity and intelligence and causing endless problems for Spurs full-back Kieran Trippier.
"In this mood, Guardiola's team are captivating. The passing and movement was sheer magic at times, and Spurs found it hard to keep possession or build any momentum."

Miguel Delaney of the Independent echoed: "Since it's long been beyond any reasonable doubt that Manchester City will win the title, the only real searching question about their season is just how long this remarkable record-breaking run will go on for, just how many goals they'll rack up.
"This thumping 4-1 win was sweet 16, and came after making another notional top-six team look like a mere mid-table side, and that before a run of games against actual mid-table sides.
"This could really get ridiculous, but then it would be such a natural and fitting consequence of some ridiculously good football, and some ludicrous riches of talent and resources. You could say City ran a pretty pathetic Tottenham Hotspur ragged, reduced them to rubble, all the rest of it, but then such imagery doesn't really match the elegant beauty of so much of their football.
"The outstanding Kevin De Bruyne was just one of many City players on another level, and they never looked like coming down off it once Ilkay Gundogan had opened the scoring with another set-piece goal after a mere 14 minutes.
"The simple logic is really that City are just this good, this potentially historic. They can win it all, as shown by how they are battering all."
Goal's Sam Lee hailed the Blues' strength in depth, scribing: "The frightening thing about this Manchester City team is that it doesn't matter which one of their players will make the difference, you just know one of them will.
"And increasingly you just know City are going to win, no matter who they play.
"At the start of the season, few gave City a chance should Vincent Kompany and Benjamin Mendy get injured.
"They have barely played a minute between them in three months, but that has merely allowed Nicolas Otamendi, whose game has improved beyond recognition, and Fabian Delph, an unlikely yet very capable left-back, to step up.
"Their work has been somewhat taken for granted because of the sparkling form of their many fine forwards. If Leroy Sane doesn't score early, Raheem Sterling will score late. If Sergio Aguero doesn't start, Gabriel Jesus will.

"It is a formidable collection of forwards, who have come up with the answers almost without exception this season.
"It does not stop there either. Nobody expected David Silva to miss Saturday's game, fewer still expected City to cope so well without him. Yet that is what happened, thanks to Ilkay Gundogan.
"On this evidence, at least, the omens are once again good for Guardiola's men."
Speedy Sane in particular caught the eye of the Guardian's Barney Ronay.
He raved: "Ashes to ashes, dust to dust, if Sergio, Kevin, David, Raheem and Gabriel don't get you. Well, then, Leroy surely must.
"With apologies for summoning a distant echo of the cricket, not least on a freezing night in east Manchester when a strange, white, Santa's beard‑like mist kept drifting in above the Etihad Stadium roof.
"But Tottenham were undone by raw speed here and above all by the thrilling precision of Leroy Sané on City's left flank.
"In Silva's absence, this time it was Sané who provided the most exhilarating moments of City's 4-1 victory in a spiky game played out to a soundtrack of thuds and thunks and bruising collisions.
"Not that Sané was alone in this. Kevin De Bruyne was brilliant once again, filling every part of the playmaker's role from tempo‑setting polisher of the ball to master of the jet-heeled counterattack.
"What to do about De Bruyne, how to clog his influence without opening holes for every other threat in this City team, seems to be an insoluble problem right now.
"Pep Guardiola's teams tend to approach each game like an expert wrestler, always looking for the overload, that moment where they can apply their own full strength to the weakest part of an opponent.
"De Bruyne's ability to release the ball with startling accuracy at high speed is key to exploiting these tender points. Here he linked with Sané repeatedly, not just seeing the space Spurs insisted on leaving down that side but timing the pass perfectly.

"It isn't hard to see why City's fans love to sing Sané's name. He is a wonderful spectacle when he starts to move, with a genuine sprinter's acceleration, seeming simply to stretch his legs rather than batter the turf in the manner of your standard-issue professional athlete.
"Sané's mother was a gymnast, his father a footballer, and he has that sense of total calm in the tightest of spaces that seems to translate across all elite sports.
"Here he was devastating at times, spending most of the first half doing horrible things to Kieran Trippier with a gallingly effortless grace."
Further praise arrived from the mouths of a former Blue and a former Red as Frank Lampard and Rio Ferdinand shared their thoughts for BT Sport.
Ferdinand stated: "For me, City are the best team in Europe. They're going to win the league; I'd put them as favourites for the Champions League with the form they're in.
"Tactically, they're on another planet to any team around right now. Sometimes, you have to hold your hands up and say: they're on a completely different level."
Lampard agreed: "They way they're playing, they are best team in the country and as Rio said, maybe in Europe.
"With the ball, they're the best and without the ball, they're the best. They probably work as hard if not harder than everyone else and they have the best individuals.
"That was an incredible display."
Meanwhile, the Daily Mail believe City are set to strengthen further with the addition of Augsburg left back Philipp Max, claiming the Blues monitored his display on Saturday.
According to Simon Jones: "The 24-year-old has been the form player in the Bundesliga and has already broken the club record for the most assists in a season with ten in 17 games.
"City want a left-back and a left-sided centre-back in January as Pep Guardiola covers injuries to Benjamin Mendy and Vincent Kompany.
"They have also checked on Aaron Martin at Espanyol while Real Sociedad centre-back Inigo Martinez, Clement Lenglet at Sevilla and Southampton's Virgil van Dijk."