Media Watch
1
Yaya Toure backed for Ivory Coast return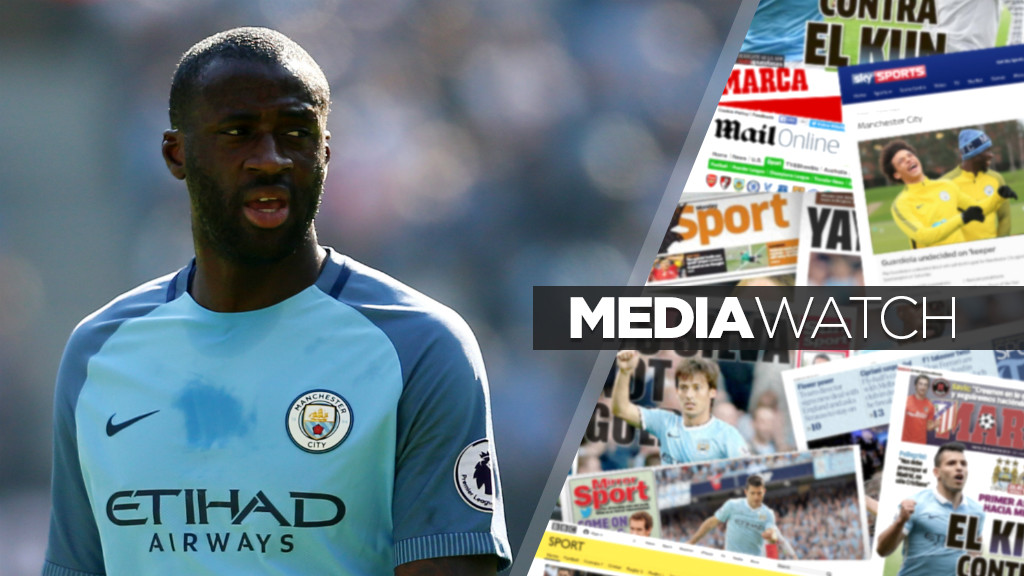 RETURN OF THE KING?: Will Yaya Toure change his mind about international retirement?
There's a little bit of everything in today's Man City round-up.
Transfer gossip, a match preview, updates from a loaned-our starlet and a plea for Yaya Toure to come out of international retirement...
As Goal explain: "The 33-year-old has been unavailable for selection by the Ivory Coast since September 2016, having decided to call it a day after earning 102 caps.
"But he has continued to show his class after forcing his way back into Pep Guardiola's plans at the Etihad Stadium, starring in both the Premier League and Champions League.
"Kolo Toure is now convinced that his sibling can be persuaded to represent his country again as they chase down a place in Russia next summer."
Kolo told True Africa: "I think Yaya can still play in one more World Cup.
"And I hope he will do it because he will make a big, big impact for Ivory Coast and he can bring something to the young players who need some influential players on the pitch and outside [help] as well.
"My brother is much better [than me]. He is a midfielder and I am a defender and I am very proud of what he is doing.
"He was once playing for a really low club and I was always talking about him and telling people about him when he was with Donetsk in Ukraine.
"I always told people he was better than me and now he has proved it and I am very happy for him."
In other news, the Daily Star believe Arsene Wenger is playing mind games with Guardiola, by keeping the City boss guessing following Monday's uncharacteristic use of a back three.
Paul Brown reports: "Ahead of his side's FA Cup semi-final showdown with Manchester City on Sunday, the Frenchman claims it's 'not a long-term plan'.
"Chelsea have beaten City home and away this season playing with three at the back and are favourites to win the title with that system.
"So switching back to his favourite 4-2-3-1 formation would be a big call for Wenger as his side pursue their last chance of silverware."
Asked whether he would stick with the system, Wenger replied: "I don't know.
"I just felt that sometimes the team needs to believe in something new, something different, just to find a bit of confidence back.
"Overall I felt that it worked quite well because we won the game. We had practiced on it before but we like offensive football so this was a bit more defensive-minded for us."
Elsewhere, ITV have taken an in-depth examination of loanee Manu Garcia's progress at NAC Breda.
The playmaker has become a key figure for the Netherlands outfit in the number ten role. He shared his thoughts on the club's promotion challenge, the potential of an extended stay and his conversations with Guardiola.
He revealed: "It was my decision [to join NAC]. I had some other options, but I think it was the best thing for me to come to Breda as the club is really good, it has the partnership with City and for these five months I knew I would have the chance to play.
"That's what I needed, to play games and show myself.
"Three or four City lads were here, so I knew them already. They talked to my new team-mates about me so everybody knew me a bit, and that made it easier to cope with.
"I think Dutch football started tiki-taka in Spain due to Johan Cruyff, so it's from Holland and here it's very attacking, possession football, similar to Spain.
"In the Jupiler League sometimes it's not that playing style, sometimes it's harder. It's also good for me, as it helps me improve other parts of my game, too.
"Every country has a bit of a different style. Here is a lot similar to what I was used to in Spain and different to England, but I'm coming from City, a club who like to play, want the ball and have a different style from most of the teams in England, so it's not very different here.
"I am enjoying it a lot. I've been playing the No.10 position, which allows me the freedom to come and receive the ball and play more or less wherever I want to, so it's a position I like a lot.
"They know my qualities and they try to get the best out of me.
"The team that is going to go up automatically is quite far ahead of us, so it's hard to get there. We're aiming to end up as high up the league so we get an easier draw, but it's never going to be easy. An easier play-off is what we want so we can do the best out of it and hopefully earn promotion."
Above all, Garcia is keen to impress Guardiola.
He added: "The first point of loan is to show the gaffer you can play at a high level and show yourself at a competitive level, not just under-23s.
"The aim for all of us is to try to go back to Manchester and make it in the first team.
"He told me to go out and play and try to improve my game, mature as a player and think that's what I'm doing at the moment and getting better every day."
In other news, there's always a snippet of transfer gossip. Today, it derives from TalkSPORT, who claim City, Arsenal and Chelsea have been put on 'high alert' since Kingsley Coman is allegedly 'getting cold feet' about joining Bayern Munich permanently.
An article reads: "The winger is currently on loan at the German giants from Juventus and is expected to join them on a permanent basis in the summer.
"But, according to Le Parisien, the France international is having second thoughts about whether moving to Bayern is the right decision at this point in his career.
"Coman has failed to establish himself as a first-team regular under new boss Carlo Ancelotti, while the club's interest in Bayer Leverkusen winger Julian Brandt has also left the Frenchman worried about his long-term future.
"Coman's indecision will be a huge boost to Arsenal, Chelsea and Manchester City - who are all waiting to pounce in case the 20-year-old does turn his back on a permanent move to the German champions.
"City are currently at the front of the queue for the winger as he is reportedly keen to link up with Pep Guardiola again after working with him at Bayern."