Media Watch
1
MEN: Silva won't care about PFA award snub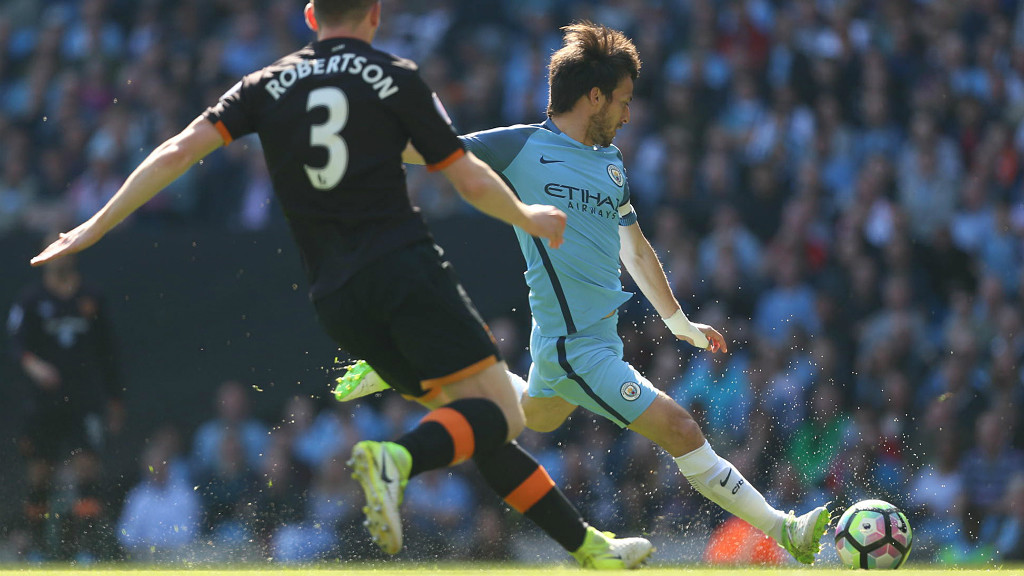 SUPER SILVA: El Mago was named captain for his 300th appearance for City.
It's time for your daily roundup of Manchester City news from across the media.
Let's start with the Manchester Evening News who discuss David Silva's omission from the PFA Player of the Year award shortlist.
MEN scribe Simon Bajkowski appears somewhat confused as to why the midfielder hasn't been recognised more often since his move to City in 2010, pointing out that no other player has created or assisted more top-flight goals during his time at the Club.
The Spaniard, who has been in sensational form in recent weeks, has only had one PFA Player of the Year nomination – and that was back in 2012.
This year's shortlist was announced on Thursday and, again, there was no room for Silva, leaving Bajkowski to ponder why.
"Another season, another set of awards missing David Silva," he writes.
"Manchester City's magician has created more goalscoring chances (598) and assisted more goals (63) than any other player in the Premier League since arriving in 2010.
"Described as "the perfect player for the modern game" by Colin Bell and "the greatest player to ever wear a City shirt" by Mike Summerbee", his continued brilliance is well-known to every Blue going.
"For whatever reason though, adoration at the Etihad has not transposed to recognition from those who dish out the individual prizes at the end of each year.
"There is no place for Silva in the PFA nominations for this year's Player of the Year; Eden Hazard, Zlatan Ibrahimovic, Harry Kane, N'Golo Kane, Romelu Lukaku and Alexis Sanchez make up the six-man shortlist.
"It has surprised many and none at the same time. Silva made the PFA Team of the Year in 2011/12 as he schemed City to the title, but has not been noted since."
Meanwhile, the Express believe City are in the hunt to sign Virgil van Dijk this summer – but say the Blues face competition from Liverpool and Chelsea for the Southampton defender.
"Liverpool are prepared to join Chelsea and Manchester City in the race to sign Southampton defender Virgil van Dijk," they write.
"The 25-year-old centre-back has emerged as one of the best players in his position since arriving from Celtic in 2015.
"Van Dijk is currently on the sidelines with an ankle problem but it is not expected to scupper a potential transfer."
That's all for today. We'll be back tomorrow for more media musings right here on ManCity.com!