Media Watch
1
Summerbee makes derby prediction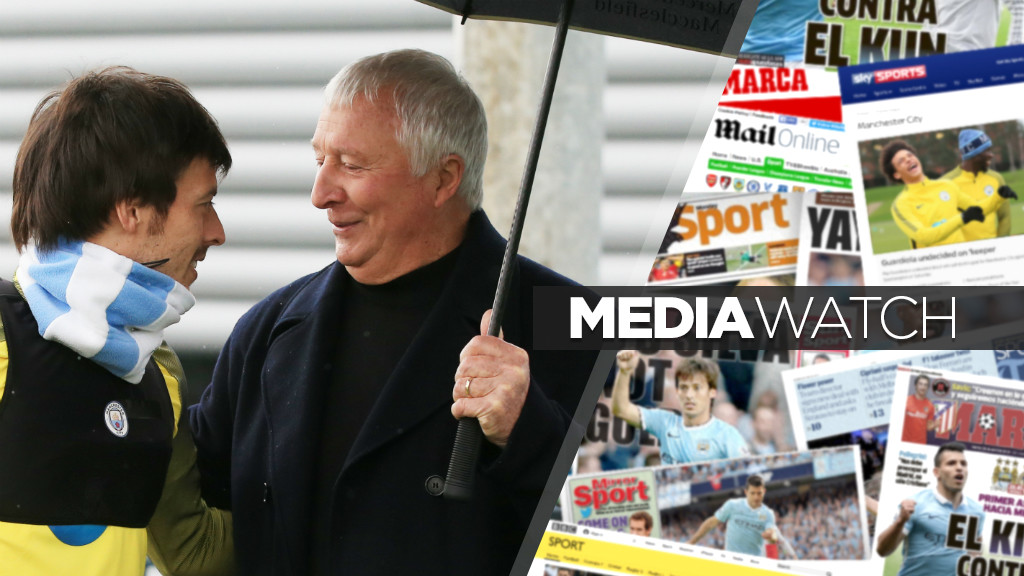 LEGENDS: Mike Summerbee greets David Silva at training
Anticipation is building as the countdown continues to Thursday night's mouth-watering Manchester derby...
The footballing world have been sharing their thoughts on the clash, in which Man City lock horns with neighbours United in a crucial game in the race for a top four spot.
Reds manager Jose Mourinho has attempted to put pressure on the Blues, while City legend Mike Summerbee is confident his side will claim what would be a vital three points.
Discussing the encounter with Gary Neville for Sky Sports, Summerbee stated: "I am very confident of winning the game.
"City and United are both doing very well – the two teams are playing exciting football.
"And as far as I am concerned with City, we are making progress all the time."
Summerbee, who represented the Blues for a decade from 1965 to 1975, featured in platy of derbies and he added the excitement lives on.
"When you've retired, you don't lose the enthusiasm for the game," he continued. "You kick every ball and you still get the nervousness.
"You get the same feeling as you do when you were playing. I'm not the nicest person if we lose!
"I'm a positive thinker though and I'm positive in what I say: it's a derby game City will come out of as winners."
Meanwhile, Mourinho believes City are favourites due to their lighter fixture list.
Quoted in the Mirror, he said: "They play now one game a week until the end of the season while we have the (Europa League) semi-finals which are very important for us.
"Obviously to play one match per week brings teams and players to other levels, so it's more difficult for us but we are going to try."
In other news, there's plenty of transfer gossip. Today's tales include speculation on Kylian Mbappe, Alex Oxlade-Chamberlain and Alexis Sanchez.
According to Paul Hirst of the Times: "Manchester City are losing interest in Kylian Mbappé after Monaco valued the teenager at £110 million.
"The 18-year-old forward is one of the most coveted players in Europe after five goals in the Champions League knockout stages, two of which came during Monaco's victory over City in the round of 16.
"Mbappé has 21 goals in 34 club matches this season and it is understood that City recently made an inquiry, but decided against pursuing their interest after being told he would cost €130 million (about £110 million)."
The Daily Star's Joel Watson reports: "Arsenal are prepared to offer Alex Oxlade-Chamberlain a big money deal to keep him at the Emirates.
"The midfielder will enter the final year of his contract this summer. And the Gunners have yet to extend his deal.
"They reckon Liverpool and Manchester City have been watching the player with interest.
"And they will have been impressed by his versatility as he's been employed in a number of different positions."
Finally, ClubCall claim: "Arsenal boss Arsene Wenger has told Manchester City to forget about trying to sign Alexis Sanchez in the summer.
"Both City and Manchester United and a host of European clubs have been linked with big money summer moves for Sanchez whose current deal has one more year to run.
"But Gunners boss Wenger believes the 24-goal hitman wants to stay, and flatly ruled out any possible sale to a Premier League rival."