Media Watch
1
Gossip: City 'leading the race' to sign Sanchez?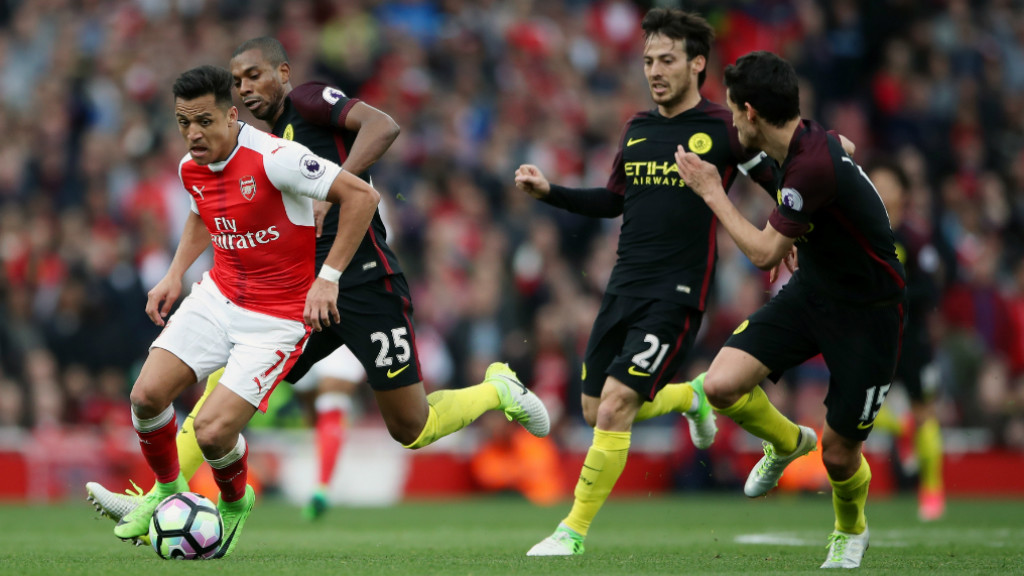 TARGET: Will Alexis Sanchez don sky blue next season?
The rumour mill is in overdrive this morning with the Man City-centric headlines packed with transfer gossip.
(You can tell the Blues have a week between games!)
With the dust having settled on Saturday's 3-1 win over Hull and the build-up to this weekend's trip to Southampton yet to begin, newspaper and website pages are being filled with tales of potential summer arrivals at the Etihad Stadium.
According to the Mirror, City are 'leading the race' to sign Arsenal's Alexis Sanchez.
An article explains: "That is according to Chilean outlet Cooperativa, who say the player's relationship with his former boss at Barcelona, Pep Guardiola, could see him switch to the Etihad in the summer.
"City are reportedly willing to pay £50million for the services of Sanchez who is out of contract at the Emirates at the end of next season.
"He has stalled on penning fresh terms in north London and has also been linked with a move to Chelsea."
Meanwhile, the Independent report Arsene Wenger has told Alex Oxlade-Chamberlain to remain with the Gunners, amidst alleged interest from City and Liverpool.
Writes Jack Austin: "Oxlade-Chamberlain will enter the final 12 months on his contract in the summer, along with a number of other Arsenal stars, including Mesut Ozil and Alexis Sanchez, as the club face losing a whole host for nothing in the summer of 2018.
"Reports earlier in the season suggested the England international would leave the Emirates in the summer with both Liverpool and Manchester City interested but Wenger has called it 'vital' the 23-year-old signs a new deal at the club."
Elsewhere, the Daily Mail claim Antoine Griezmann has handed his Premier League suitors a boost by ruling out a move to Real Madrid.
Tom Bassam scribes: "The £86million-rated striker has long been a target for Manchester United. Rivals Manchester City and Chelsea have also made contact over Griezmann's situation at Atletico Madrid, as have Barcelona.
"Real were also thought to be in the hunt but Griezmann has admitted such a move would not be possible given his attachment to city rivals Atletico.
"Griezmann scored Atletico's equaliser in their 1-1 draw at the Bernabeu and was asked afterwards about the prospect of moving across the city"
He said: "I do not rule out anything in the future, but I'm happy at Atletico and hopefully I can stay here.
"Interest from Madrid? I can't say 'yes' or 'no'. You never know what can happen in football, but moving from Atletico to Real, I don't know if it's achievable.
"Very few players have done so. For this reason, I think it's dead."
Finally, Football Italia believe Guardiola is still keen on signing Leonardo Bonucci.
Their piece states: "The former Barcelona and Bayern Munich Coach has publicly praised Bonucci as the best central defender in the world – not only because of his skills in stopping opposition strikers, but also his passing and vision to start moves from the back."
Discussing his transfer strategy, the City boss told press: "The defender has to be rougher and tough.
"You cannot compete with strikers like (Romelu) Lukaku, (Zlatan) Ibrahimovic, (Douglas) Costa.
"You have to be like that. We are looking for not just that, there have to be qualities of a player, for us it's so important."
The report continues: "City splashed out £47.5m on John Stones and 29-year-old Bonucci would cost even more, as Juventus have no intention of selling.
"The Italy international confessed he had been tempted by the chance to work with Guardiola, but ultimately had no reason to leave Turin."