Media Watch
1
Sky Sports: Nolito perfect for Pep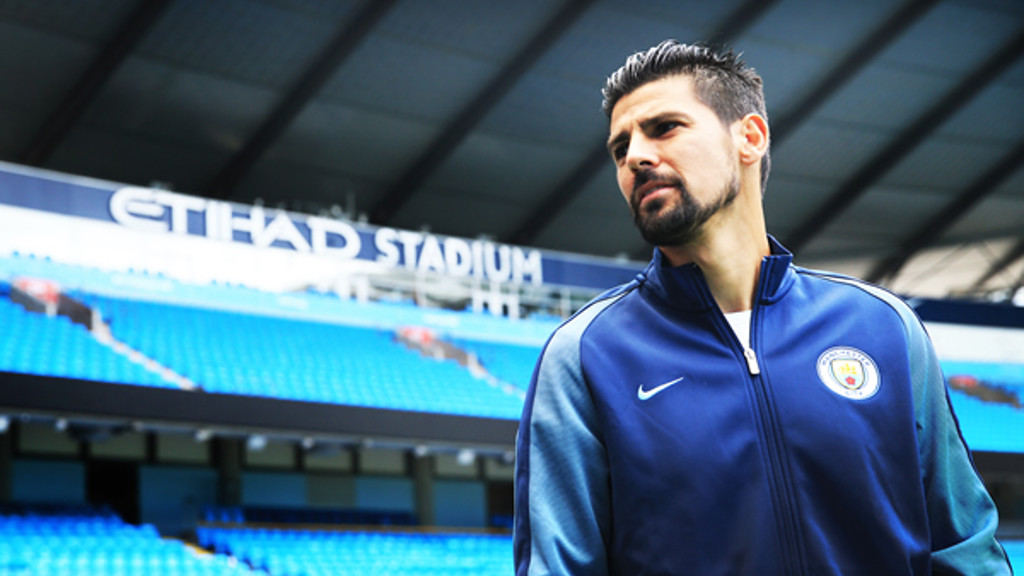 Nolito: "I think that Pep Guardiola is one of the best managers in the world. He knows a lot about the game and he's going to help me progress as a player and I'm sure he'll get the best out of me."
No prizes for guessing which topic dominates the City headlines…
Of course, it's the Manchester derby. As the countdown continues to Saturday's crunch clash, the media are fanning the flames of excitement.
Team selection is naturally a main talking point and Sky Sports' Peter Smith believes Nolito could star.
He writes: "Nolito has hit the ground running at Manchester City. With two goals and an assist to his name from just 155 minutes of Premier League football, the Spaniard has proven to be the most effective forward in the country in the opening weeks of the season.
"It should come as no surprise. The 29-year-old scored 25 goals and recorded 20 assists across the past two seasons with Celta Vigo before making his £14m switch to Manchester City. But more importantly, he's also the perfect fit for Pep Guardiola's plans.
"Playing wide on the left, Nolito offers the blend of creativity and industry Guardiola looks for. It's a style honed at Barcelona, where the forward spent three years working under the City boss and then-Barcelona B team coach Luis Enrique.
"With the pace, incisiveness and trickery associated with players from that camp, Nolito successfully cut inside from his flank to strike twice at Stoke and teed up Raheem Sterling for City's early opener against West Ham last time out. There was also a goal and an assist in the 5-0 destruction of Steaua Bucharest.
"But all that has been achieved with hard work. Nolito was withdrawn with 15 minutes still to play against West Ham, but just three Manchester City players recorded more high-intensity sprints.
"In Bucharest he showed his commitment to the cause by being involved in the most duels (19) and by making more tackles (4) than his team-mates.
"The 5ft 9in forward may not immediately seem a perfect match for the physical Premier League, but while many foreign players take time to adapt, Nolito has slotted into a familiar role under a familiar manager.
"The early signs are good. But with Sergio Aguero suspended for Saturday's Manchester derby, there will be added pressure on the Spaniard to step up. Fortunately, he's shown previously he can deliver on the big occasion.
"He may not be the star attraction but he has the potential to grab the headlines."
Meanwhile, ESPN's Tony Evans insists the pressure is all on Jose Mourinho and United.
His article reads: "After a 100 percent opening to the Premier League season, the Manchester United manager might have expected to go into the derby against Manchester City on Saturday on a high. Instead, his impact at Old Trafford has been overshadowed by Pep Guardiola's start at Manchester City.
"Guardiola's tactics have produced spells in the opening three games where City have been spectacular. The use of Kevin De Bruyne and David Silva as "False 8s" - inside forwards with a licence to roam - has given Guardiola's side a pleasing flexibility when pouring forward.
"In phases of the games against Stoke City and West Ham United, City looked like the type of team who could run away with the title.
"There have been shorter periods, too, when their soft underbelly was visible. Mourinho will have noted this. The problem is, so far, United's performances still betray signs of a Louis van Gaal hangover as Mourinho continues to put his stamp on Old Trafford, a process that will take time.
"Guardiola's system offers opponents a chance to exploit weaknesses. Using a front five of Sergio Aguero, Nolito, Raheem Sterling, De Bruyne and Silva means there can be gaps in the middle of the park.
"The manager's high pressing game also leaves space behind the back four. At his best, Mourinho would pick apart his rival's tactics and isolate the areas where his team could thrive. Anthony Martial has the pace and Zlatan Ibrahimovic the wit to expose the City back four, but United are less likely to take advantage in the midfield.
"It is hard to imagine United taking the game to their neighbours. Mourinho does not have the players to outpass and outrun City."
Finally, the Daily Express report Paul Scholes has told press City boast the top three players in the Premier League.
Quoted in the new book 'Class of 92: Out of Our League', he states: "There needs to be a real step up in quality in England.
"Other than Sergio Aguero, Kevin De Bruyne and David Silva, we don't have the best players. All the best players are in other countries."