Media Watch
1
Gundogan: There is potential to get better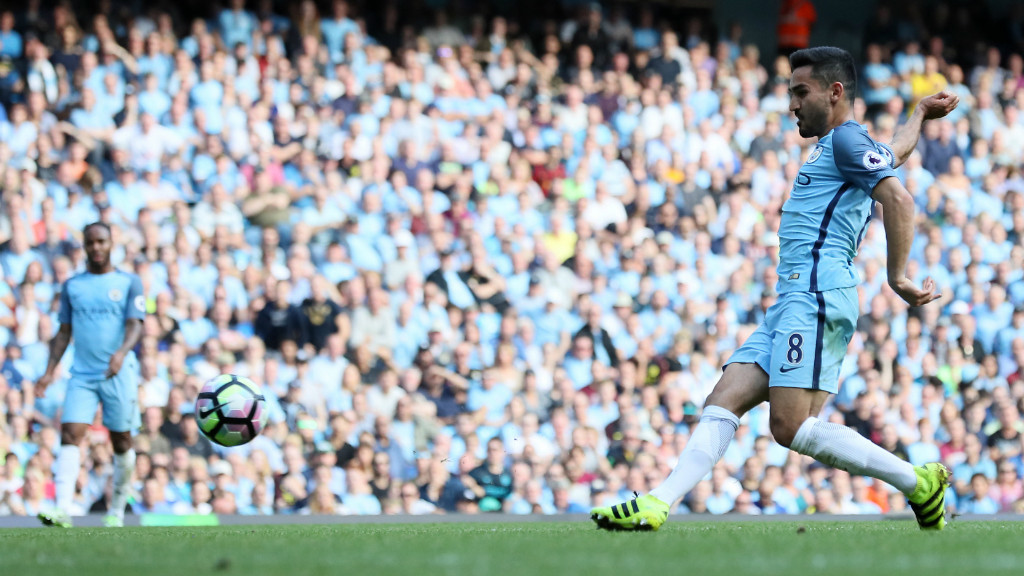 NUMBER FOUR!: Ilkay Gundogan struck in the 66th minute to establish a four-goal lead!
How do you improve on a 100% start to the season, with eight successive wins, 25 goals scored and four conceded?
Ask Ilkay Gundogan…
The Blues' summer recruit – on the scoresheet in Saturday's victory over Bournemouth – believes the best is yet to come.
Quoted in the Daily Star, discussing his side's form, he declares: "I think there is still potential to get better - but every single game is a new one starting from zero.
"Maybe we are in a good way to have that aura but it doesn't come automatically.
"We need to work for that. It's not a gift from outside that you get and then you have it.
"It's just a thing of working and earning things. Then maybe it's possible.
"We just try to be successful and enjoy our lives because they're not really bad - until now it's brilliant."
Meanwhile, Arsenal legend Thierry Henry insists it will be difficult to stop City in the title race.
Speaking on Sky Sports' Super Sunday, he predicted: "They will keep getting better - it will take something special to stop them being champions.
"They destroyed Bournemouth and if it wasn't for the mistake of Claudio Bravo against Manchester United they might have had a better second half and the score would have been heavier.
"They don't have that many new signings in their starting line-up, but there is a different attitude in what is being asked and what the manager wants from them. You can see that every time they have the ball and when they defend as well."
He added: "Last year when [Sergio] Aguero wasn't there to score, nobody was. Everybody can score, they will be difficult to stop."
Paul Merson echoed in his Daily Star column: "It will take something special to stop them winning the league because they already look like they've hit their stride – and in Aguero they have the best player in the league."
Former City forward Niall Quinn was also full of praise, stating: "They are a joy to watch. Kevin De Bruyne is setting the place alight.
"They are doing everything with such pace - the Pep stamp is coming up - they are awesome at the moment.
"You can see they buy into what Pep wants, the passing and energy. There is something tangible that they really want this – to bounce back – you get the feeling they want to make up for lost time."
Elsewhere, Neil Meldrum – deputy editor of the Bournemouth Echo – says City are creating an art form.
Reflecting on the Cherries' defeat at the Etihad Stadium, he scribes: "A banner hangs from the East Stand at the Etihad proclaiming how, on the sixth day, God created Manchester City.
"On the seventh, eighth and ninth days he presumably created Kevin De Bruyne, Nolito and Raheem Sterling. And found time in his busy schedule to spawn Pep Guardiola.
"Cherries were partly the architects of their own downfall in East Manchester, for the second season in a row, yet how hard it must be to prepare to face a team playing the kind of penetrative football we have not really seen before in the Premier League.
"This is a Manchester City team far superior to the one that beat Cherries 5-1 here last season. Scant consolation for Eddie Howe, but consolation nonetheless on an afternoon where any chinks of positivity will do.
"What we are witnessing from this Manchester City team is unique in its ability and quality. A creation of a new art form.
"Some might say it is a renaissance of Barcelona under Guardiola, but it is far more cogent than that. If Barcelona played 'Total Football' under Guardiola then what is the word for this?
"City attack with such force, such potency and such pace that there is surely not a team in the country able to withstand it. Not one."