Media Watch
1
Media City: 'Class act' KDB roundly praised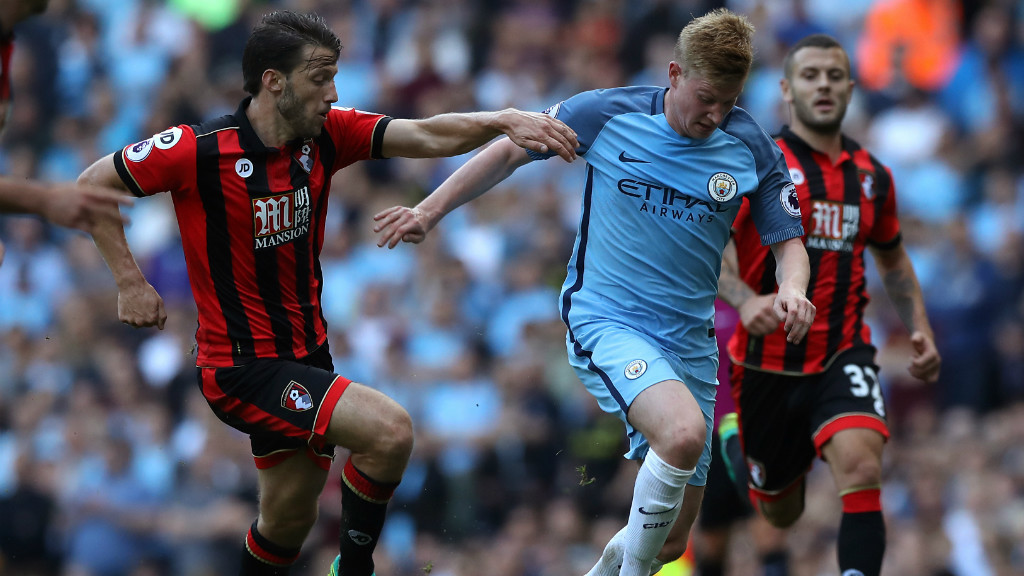 YOU CAN'T STOP ME: Harry Arter attempts to dispossess KDB as the Belgian midfielder storms past him.
The acclaim keeps rolling in for yesterday's man of the match Kevin De Bruyne.
De Bruyne scored City's first and had a hand in the other three goals as the Blues went on to beat Bournemouth 4-0 at the Etihad Stadium.
That is reflected in this morning's papers, which are full of stories highlighting the importance of the Belgian to City's trophy hunting cause.
Andy Dunn writes in the Mirror: "This is not just about Pep Guardiola. Not just about a footballing gospel that is winning disciples by the dozen by the day.
"This - this flawless, five-week, first date with English football with Manchester City - is not just about a perfectionist who salutes each and every goal with a salvo at one of his own.
"This - this smile-widening start to what will unfold as a spellbinding season - is not just about a leader as committed to principles as he is to points.
"This is about some seriously talented footballers. Step forward Kevin de Bruyne.
"There was the goal, the old under-the-wall trick loved by the impudent.
"There were the blink-of-an-eye breakaways, De Bruyne the gear-changing cog for the whirring wheels of Raheem Sterling and Kelechi Iheanacho.
"There were the darts, dancing feet and dummies. Somehow, though, the pass for Gundogan - covering only a few yards and obvious on replay - summed up as accomplished an individual contribution as a coach could wish for."
There was also praise for Aleksandar Kolarov after another swashbuckling performance at the heart of the defence.
Goal.com have reported: "Martin Keown says Aleksandar Kolarov played like England's World Cup winning former captain Bobby Moore in Manchester City's 4-0 win over Bournemouth.
"Keown believes the 30-year-old looks comfortable in the heart of the back line, stating that his tendency to move forward with the ball reminds him of the West Ham and England legend."
Finally, the transfer window may have only just closed but the rumours around City are already circulating ahead of the January re-opening.
Neil Fissler in the Sunday Express writes: "Manchester City are ready to make a move for Chilean international Alexis Sanchez if he fails to agree a new deal with Arsenal.
"Sanchez is out of contract with the Gunners in June 2018 and is set to be offered a new deal by Arsene Wenger who is desperate to keep in at the Emirates Stadium."
That's all for your round-up this morning! Stay tuned to mancity.com throughout the day for reaction to City's victory over Bournemouth.