Media Watch
1
Guardiola hails 'special Sergio'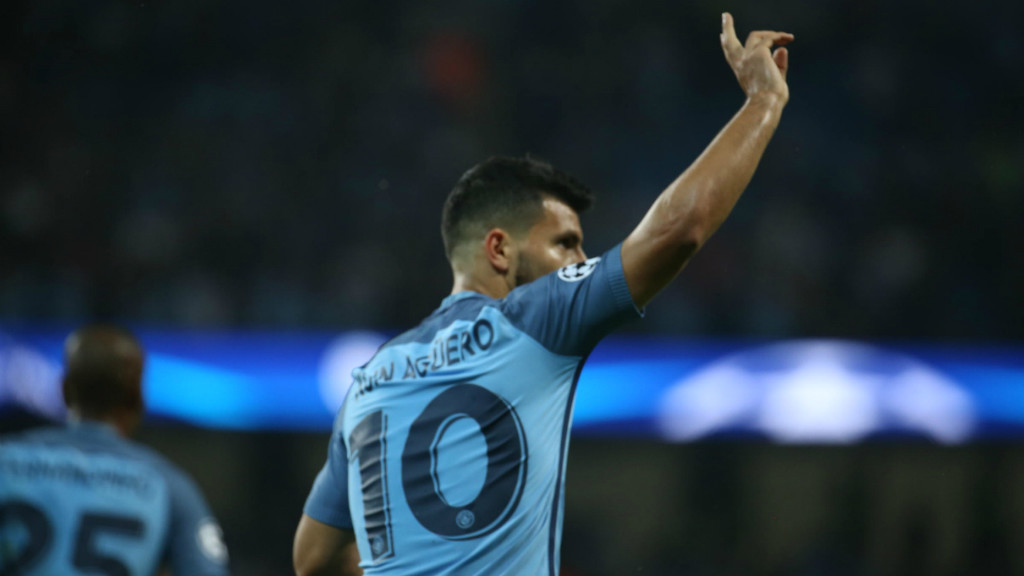 HANDS UP: Aguero wheels away in delight
Plenty of praise being heaped on the shoulders of Sergio Aguero and Pep Guardiola this morning.
City's superb start to the season has seen the Blues' boss deservedly lauded by the media. While Aguero's form has been ridiculously good.
So let's begin our sweep of this morning's press coverage.
We'll kick off with the Daily Mail who write: "Aguero hit another hat-trick as Guardiola's superb start at Manchester City continued with an emphatic victory over Borussia Monchengladbach in their Champions League Group C opener.
"Aguero followed up his treble against Steaua Bucharest in the play-off round with three more goals as City swept aside the Germans 4-0 in their delayed clash at the Etihad Stadium.
"City have now won seven in succession since Guardiola took charge in the summer while Aguero - who will miss the next two matches as he completes a domestic suspension - has scored nine in just five appearances.
"Guardiola said: 'Sergio is one of the best, no doubts about that. He has a special quality in the box. He's a special player."
Meanwhile former United favourite Roy Keane, now a pundit for ITV, has been widely quoted this morning following his comments during last night's highlights show.
Never one to mince his words, Keane said he feels Guardiola should have the nickname currently associated with Reds' boss Jose Mourinho.
The Express report: "Keane has put the boot into new Manchester United boss Jose Mourinho - claiming Pep Guardiola is the real 'special one'.
"Manchester City's manager has settled quickly at the Etihad.
"The Spaniard's adapted to his new surroundings and taken City to the top of the Premier League table in style.
"Guardiola's side have won all seven of their opening competitive matches this season, while Keane's former side suffered against City at the weekend.
In the battle of the bosses, Guardiola came out on top in a 2-1 victory at Old Trafford, and United legend Keane has indicated City's chief is not someone he would contest with.
"Mourinho reckons he's the special one, to me this guy (Guardiola) is," Keane said.
"I think what was important when he first went in there, the decision to get rid of two or three really important characters from Man City - he made the decision, 'you're not for me'.
"He says he's a challenging coach and he doesn't look like he's messing about.
"They're playing with a lot of confidence, he's rotating the squad and the players are playing with a lot of confidence after a decent start. I wouldn't like to mess with him."
And there's not many people Keane would say that about!
The Blues' boss is also widely quoted this morning for challenging City fans to love the Champions League more.
City reached the semi-final of the competition last season and Pep wants more passion on European nights, though the circumstances of last night's hastily rearranged game certainly played a part.
Outside 90 quote Pep saying: 'Our fans have to know we need them in the Champions League. In the Premier League, everyone comes here but in the Champions League, they don't.'
They continue: "The feud between City fans and UEFA stems from a number of penalties being imposed by Europe's governing football body between 2012 and 2015 after the Sky Blues were found guilty of breaching Financial Fair Play (FFP) regulations.
"Groups of City fans have been known to boycott Champions League games at the Etihad Stadium and as was the case on Wednesday, the Champions League anthem has often been met with jeers and whistles, which Guardiola believes needs to stop.
'We need them to compete against the best teams in the world,' he said.
'With our supporters and their songs, we are stronger.'
Finally, City fans wondering why Kelechi Iheanacho doesn't receive the same headlines as United's Marcus Rashford should read the EPL Index feature on both players.
Both teenagers have burst on to the scene in the past 12 months and EPL Index have an interesting stats-based look at the city rivalry of each striker.
They write: "Most Blues' fans can't understand why Iheanacho isn't getting the attention his Red counter-part is receiving but statistically, he's the deadliest out of the two academy graduates.
"Rashford's rise from his debut brace against Midtjylland to his England goal within three minutes of making his international bow has been nothing short of exquisite. The 18 year-old became the youngest Three Lions star to score on his debut and after netting a hat-trick against Norway U21's, he's now scored on every competitive debut he's made. That's some achievement and it's no wonder he's the one everyone's talking about but has Manchester City's 19 year-old star been overlooked?
"The Nigerian forward scored his third senior goal in five international appearances for Nigeria on the same evening as Rashford's U21 debut hat-trick and the Blues star got the nod ahead of new signing, Leroy Sane to start in the Manchester derby in place of Sergio Aguero who missed out due to suspension. However, instead of bursting onto the scene like Rashford, Iheanacho's rise has been slightly more progressive, though with deadlier effect."
That's all for today – keep checking in with City Now throughout the day for the latest breaking news on City…