Media Watch
1
Media City: Xavi hails Pep effect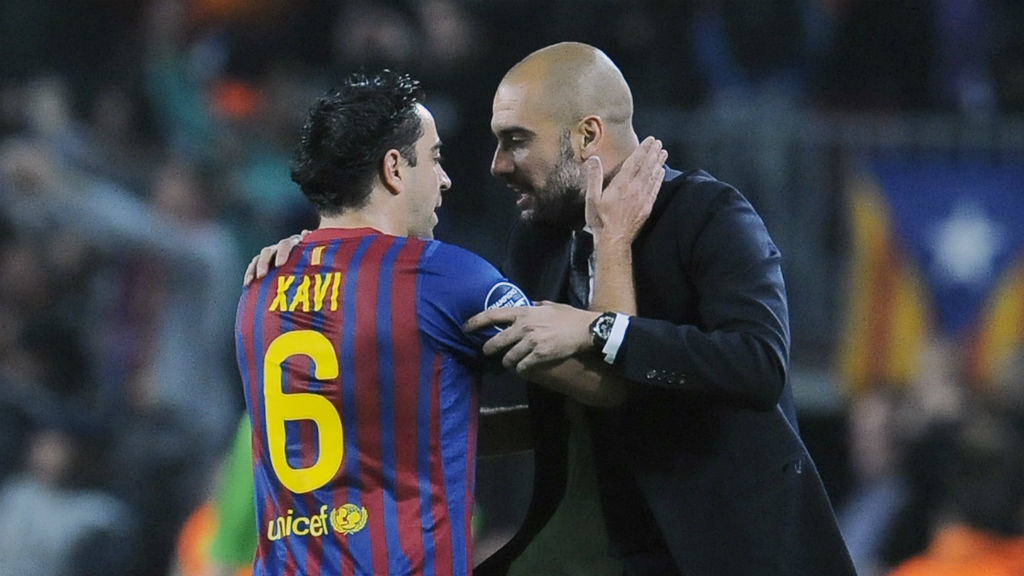 TEACHINGS: Xavi and Pep had an excellent relationship during their time together at Barcelona
Pep Guardiola has been the most influential man in world football over the last decade, that's according to former Barcelona star Xavi.
That's right, it's another day and another heap of praise for the City boss from one of his ex-players.
City currently sit top of the Premier League table having made good progress in the UEFA Champions League and EFL Cup but the World Cup winning midfielder believes this is only the beginning of Pep's work in Manchester.
IN OTHER NEWS: LEWANDOWSKI TIPS LIVERPOOL FOR PREMIER LEAGUE SUCCESS.
Speaking at the Aspire4Sport congress in Amsterdam, Xavi, who played under Guardiola at Barcelona for four years, said: "Guardiola improved us all."
"His way is the Barcelona way. He has been the most influential person in world football in the past 10 years. If anyone can change the dynamics of English football, it is Guardiola.
"He is influential, obsessive and a perfectionist. City will learn a lot from him and they are beginning to see a style [develop]."
Elsewhere, the Daily Star have selected their Premier League team of the season so far, with Kevin De Bruyne making the cut.
The Belgian midfielder is City's only representative despite the club's impressive start to the league campaign.
James Phillips writes: "The best player this season, he was sorely missed when Spurs beat Pep Guardiola's side. A perfect blend of creativity, goal threat and dynamism."
Finally, transfer gossip season is under way again with The Times reporting that Arsenal full-back Hector Bellerin is tempted by rumoured interest from City and Barcelona.
Paul Hirst writes: "Héctor Bellerín could reject an offer to stay at Arsenal and leave for Manchester City in the summer.
"Arsenal have offered their Spain right back a five-year deal that would almost double his pay packet of £50,000-a-week.
"Barcelona, who lost Bellerín to Arsenal on a free transfer in 2011, are also interested in bringing the Catalan back to the Nou Camp.
"Sources close to the player insist that Bellerín's preference is to join City, where he would be reunited with Pep Guardiola."
That's all for today's media round-up. We'll have updates throughout the day with another full round-up this time tomorrow on mancity.com.